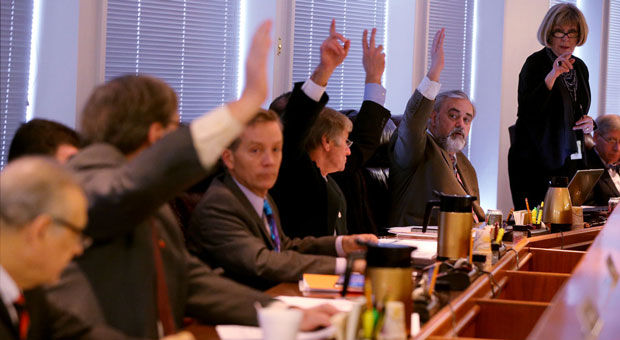 The state ethics panel Gov. Terry McAuliffe convened last year has recommended a salary increase of up to $15,000 for state lawmakers as part of its last package of clean-government proposals.
During its final meeting Monday morning, the Governor's Commission to Ensure Integrity and Public Confidence in State Government voted unanimously to adopt a set of eight new recommendations for the 2016 legislative session.
The panel also recommended new limits on gifts from personal friends, an outright ban on the personal use of campaign funds and widening the ban on political fundraising during legislative sessions to include veto sessions and special sessions lasting more than one day.
The commission, announced shortly after former Gov. Bob McDonnell's corruption convictions in September 2014, will officially conclude its work after compiling its proposals in a formal report.
---
---
Among the recommendations is a proposal to boost legislators' pay by formally combining the $15,000 members receive each year for office and staff expenses with the salaries lawmakers receive. Members of the House of Delegates receive salaries of $17,640 per year. Pay for state senators is slightly higher at $18,000 per year.
The office funds are already available for legislators' personal use. For members who already treat the entire $15,000 as personal income, pay would essentially be unchanged.
Under the proposal, each lawmaker would get a new $15,000 office allowance that could not be treated as personal income. Any unspent office dollars would return to the state.
Former Rep. Rick Boucher, a Democrat who represented Southwest Virginia and now co-chairs the ethics commission, said the salary proposal would bring clarity to legislators' pay, which he called "something of a guise" because it makes lawmakers' compensation appear lower than it is. Increasing salaries to $33,000 in the House and Senate would bring Virginia more in line with other states, he said. The last raise went into effect in 1988.
"That's important to enable people who are not of independent means to run for the General Assembly," Boucher said during the sparsely attended meeting at the Capitol. "It promotes competition in legislative races."
After acknowledging the inherent difficulty in state lawmakers pushing to raise their own pay, Boucher said the panel's recommendation could "create the opportunity" for the legislature to discuss it.
The governor's office also voiced hope that the proposal would "generate further public discussion."
"The governor agrees with the commission's conclusion that greater transparency is needed with regard to legislative compensation," said McAuliffe spokeswoman Christina Nuckols, who has assisted the commission with its work.
In the past, the legislature has shown little appetite for boosting its pay. The idea got a cool reception Monday from House Speaker William J. Howell, R-Stafford.
"The speaker is not interested and does not feel that the House as a whole is interested either," said Howell spokesman Matt Moran.
The panel also recommended new limits on personal gifts to lawmakers, a key issue in the McDonnell scandal. The ex-governor and his wife, Maureen, were convicted on corruption charges — which they are continuing to appeal — after accepting more than $177,000 in gifts and loans from businessman Jonnie R. Williams Sr. while helping promote his company's dietary supplement, Anatabloc.
The commission recommended a ban on gifts valued at more than $5,000 from personal friends, except when the state's Ethics Advisory Council grants a waiver. Gifts valued at more than $1,000 would require disclosure on forms that list officials' financial interests and sources of income. The proposed rules would not apply to gifts from relatives.
"Under current law, if an individual is a personal friend, there's no limit and there isn't even a disclosure requirement," Boucher said. "Of course, what is a personal friend is a fairly nebulous concept."
McDonnell said he did not disclose gifts from Williams because he considered Williams a personal friend.
Other new recommendations from the commission include:
Requiring local voter registrars and electoral boards to file the financial disclosure documents required of other officials.
Aligning two-year budget cycles to gubernatorial terms to give governors more time to craft their own budgets rather than overseeing budgets their predecessors drafted.
Providing state funds for gubernatorial transition offices rather than relying on volunteers "who may have interests divergent from the public."
Developing a uniform evaluation system for judicial candidates at all levels.
The commission, convened shortly after the McDonnell convictions, issued its initial set of recommendations last November. The highlight of an ethics-reform package the General Assembly passed this year was an aggregate $100 annual cap on gifts.
Boucher said Monday that the General Assembly "fell short" on ethics reform in the 2015 session, noting specifically that lawmakers did not accept a recommendation for an independent ethics commission with investigative and enforcement powers, limited the gift ban to apply only to lobbyists and did not act on a recommendation to require the disclosure of non-bank loans exceeding $5,000.
"Some progress has been made, but it is small progress measured against the scope of the recommendations we put forward," Boucher said.
The panel also voted to recommend its unaccepted proposals again.
Other commission members present at Monday's meeting were former University of Virginia president John T. Casteen III, Fairfax County Board of Supervisors Chairwoman Sharon Bulova, Hampden-Sydney College President Christopher Howard, former president and CEO of BB&T Scott & Stringfellow John Sherman Jr. and former Del. Viola Baskerville, D-Richmond, who served as secretary of administration in Gov. Timothy M. Kaine's administration.
McAuliffe's office said the commission "provided valuable ideas reflected in the measure passed by the General Assembly this year."
"The governor is proud of the significant progress his administration has made on ethics reform in collaboration with lawmakers, but he remains convinced of the need for stronger oversight and meaningful prohibitions against conflicts of interests," Nuckols said.
At the end of Monday's meeting, Boucher thanked commissioners and staff members for their work. A former state senator who represented Virginia's 9th District in Congress from 1983 to 2011, Boucher said he had "a lot more fun" in the General Assembly.
"This was an opportunity for me to reconnect with my political roots in a way," Boucher said. "It's been a privilege and a pleasure, and I have enjoyed it thoroughly."