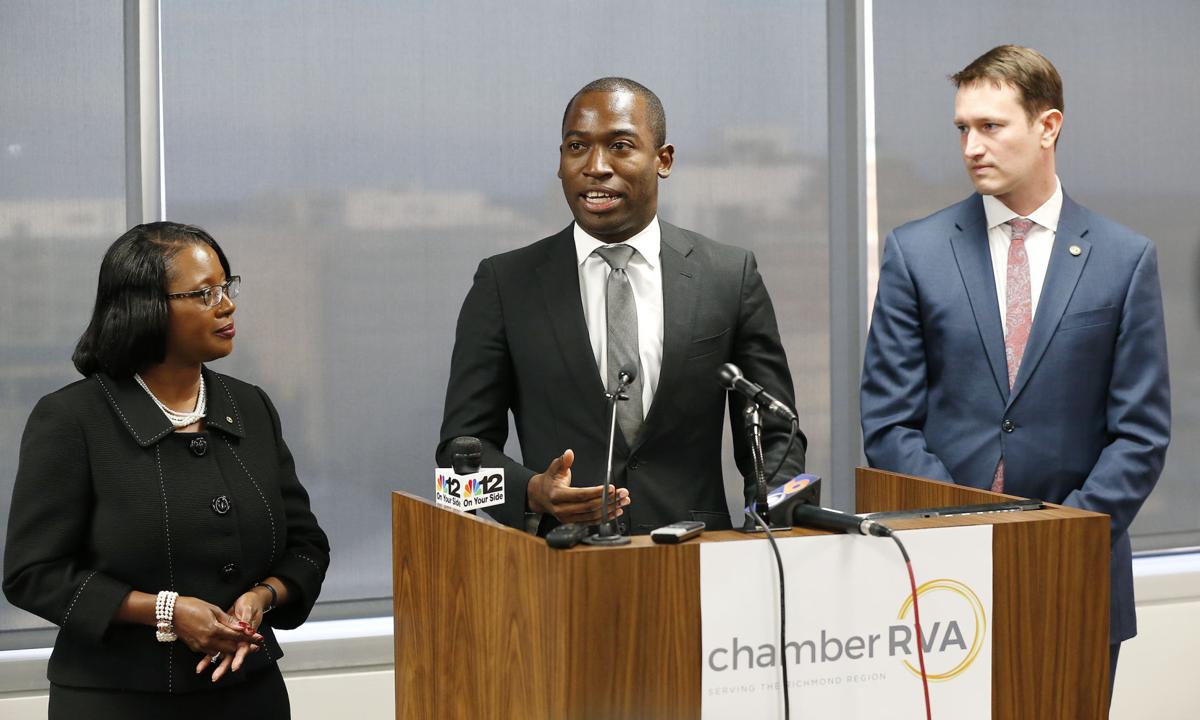 Richmond Mayor Levar Stoney fired his top administrator Wednesday on the heels of a scathing report laying out how five of her relatives secured jobs with city departments she oversaw.
At least one — Chief Administrative Officer Selena Cuffee-Glenn's daughter Alexis K. Glenn — received higher pay than nearly everyone in a similar job with the city even after the city's Human Resources Department initially refused to sign off on it, according to the report by city Inspector General James Osuna that was sent to the City Council on Wednesday. Another relative, Cuffee-Glenn's niece, received a background check and a job offer for a position paying $70,000 before ever filling out an application.
"In my opinion, the conduct detailed in this report erodes the public trust, violates the spirit of good governance and has diminished my confidence in the CAO to continue to serve in her role," Stoney said in a statement issued late Wednesday.
The report comes four months after the Stoney administration provided information in response to a Richmond Times-Dispatch inquiry about the hiring of Cuffee-Glenn's daughter that the investigation contradicts.
In a text message Wednesday night, Cuffee-Glenn said the inspector general report was based on "mere conjecture without foundation or basis." She said the hires outlined in the report didn't violate any city hiring policies.
"I stand by my record of service and by the fact that I have done nothing unethical," she said. "Although I have no choice but to recognize the mayor's decision, I am saddened that I will not be able to continue the good work that I and the thousands of other wonderful employees of the city have begun to make Richmond the city we all deserve."
Cuffee-Glenn told investigators that she informed the mayor her daughter had been hired after her daughter started in March, but Stoney's announcement of Cuffee-Glenn's firing said he found out in May, the same month The Times-Dispatch first reported it.
"In May, after I learned that a relative of the Chief Administrative Officer had gained employment with the city, I met with then-Inspector General Lou Lassiter and pledged that my administration would fully cooperate with a review of the circumstances surrounding the process that accompanied the hiring and compensation," Stoney said in a statement Wednesday evening, adding he had met with Osuna earlier this week and was "concerned and deeply disappointed" by the report.
Late Wednesday night, Stoney spokesman Jim Nolan said Cuffee-Glenn informed the mayor of the hire in March.
Additionally, two of Cuffee-Glenn's second cousins and one of their spouses got jobs with city departments between January and March. None is named in the report.
A whistleblower's complaint initiated the inspector general probe in April. The investigation revealed that Public Works Director Bobby Vincent Jr. and Public Utilities Director Calvin Farr Jr. were aware that Cuffee-Glenn's daughter was looking for a job with the city and helped facilitate her hiring.
A Stoney spokesman in May told The Times-Dispatch that Cuffee-Glenn had no role in her daughter's hiring and had not spoken directly with her subordinates about it.
Vincent sent an email to a deputy director in DPU in early February asking them to meet with the daughter. When the deputy director asked who she was, Vincent replied: "Your new policy advisor/admin support analyst." He punctuated the statement with a smiley face, investigators noted.
The exchange set in motion a back and forth between Public Utilities and the Department of Human Resources about hiring Glenn to a provisional position as an administrative technician senior. At issue was her pay.
Public Utilities requested an hourly rate of $26.44 — well above the average of $20.30 for other city employees with the same position. Interim Human Resources Director Karen Garland initially refused to approve the rate, according to the report. It cites an email Garland sent back to Public Utilities saying she wouldn't approve anything higher than the average salary for Glenn.
But later that day, she signed off on the rate the department originally requested, equivalent to a $55,000 salary. Garland did not return a call seeking comment late Wednesday.
"The investigator did not find any evidence on [Cuffee-Glenn's] direct involvement, but based on emails and interviews, high-level subordinates to [Cuffee-Glenn], including the [Public Works] and [Public Utilities] directors were involved in the hiring and compensation levels of [Alexis K. Glenn]," the report states.
Glenn started her job with the city on March 18. On her first day she made more than all but two city employees with the same title, the report states. The person she replaced made $18 an hour. Three DPU staffers told investigators Glenn's pay rate was "directed by upper management from DPU," the report states.
Public Utilities Director Calvin Farr Jr. initially told investigators that he did not know Glenn was Cuffee-Glenn's daughter. After investigators showed him an email about the hire, he changed his story, saying Cuffee-Glenn told him to "evaluate [Glenn] just like everyone else after she was hired," the report states.
Farr declined comment when The Times-Dispatch sought an interview with him on the matter in May. He did not return a call seeking comment late Wednesday. Vincent, the Public Works director, could not be reached.
All five of Cuffee-Glenn's relatives were initially hired to what are called provisional positions. City departments are allowed to make the hires to fill vacancies on a temporary basis if an employee leaves and "it is essential that the vacancy be filled," according to city guidelines. The positions last 90 days but can be extended if administrators who answered to Cuffee-Glenn signed off.
Glenn's position was renewed after The Times-Dispatch's report. At the time, the Office of the Inspector General declined to comment on whether it was looking into the hire and Cuffee-Glenn refused to answer questions.
Cuffee-Glenn came to the city from Suffolk under then-Mayor Dwight C. Jones. Stoney retained her when he took office in 2017. She has overseen major initiatives during his tenure, including 18 months of negotiations on the $1.5 billion plan to redevelop the area around the Richmond Coliseum.
Cuffee-Glenn's husband, Keith R. Glenn, also works for the Richmond Sheriff's Department, which does not fall under the chief administrative officer's purview.
Stoney named Cuffee-Glenn's deputy, Lenora Reid, as interim chief administrative officer. The council must approve an acting CAO.
According to the report, Reid renewed three of Cuffee-Glenn's relatives' provisional jobs with the city in July before they expired — and before the findings of the investigation were made public.
Asked whether Cuffee-Glenn's relatives would lose their jobs, too, a Stoney spokesman said the administration does not comment on "ongoing personnel matters."