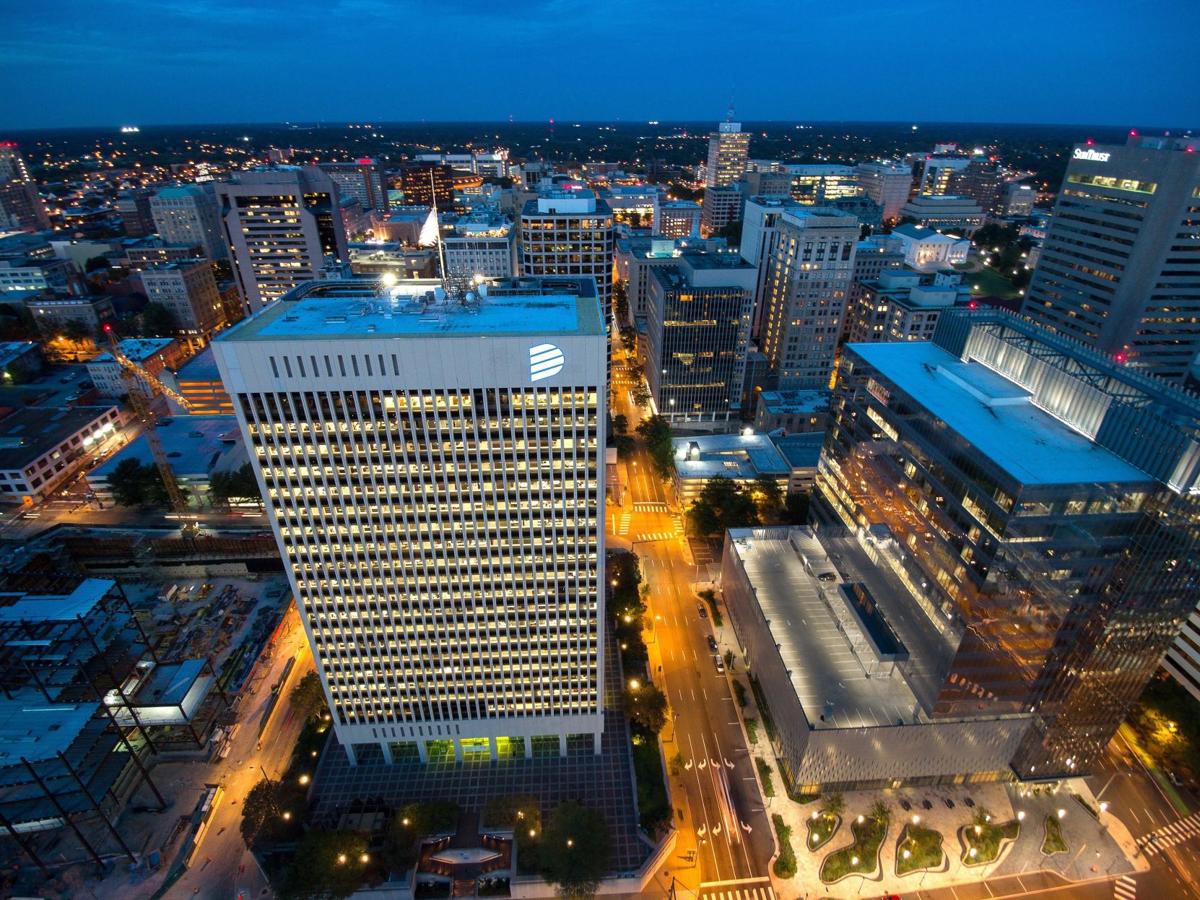 Thirteen candidates who signed a pledge refusing to accept campaign cash from Virginia's two big utilities won seats in the House of Delegates on Tuesday. Seven of those support prohibiting Dominion Energy and Appalachian Power from making political donations.
The pledge, signed by nearly 60 mostly Democratic House of Delegates candidates, made headlines earlier this year.
And in the traditionally business-friendly General Assembly, where no corporate concern has held more sway of late than Dominion, the state's largest utility, an influx of Democratic lawmakers who see the company's clout as excessive could augur a shift in debate on major issues during the legislative session next year.
"I just felt their influence might be too big," said Democratic Del.-elect Cheryl Turpin, an environmental science teacher in Virginia Beach who unseated Republican Del. N.D. "Rocky" Holcomb III, of her decision to sign the pledge to refuse campaign contributions.
In a statement, Democrat Schuyler VanValkenburg, a government and history teacher who defeated Republican Eddie Whitlock for the Henrico County seat vacated by retiring GOP Del. Jimmie Massie, said the pledge was "not anti-Dominion but rather a statement of good governance."
"Dominion is a state-regulated monopoly and as a first-time candidate, I wanted my constituents to know that I would be overseeing Dominion with their interests at heart," VanValkenburg said.
Several other candidates who signed the pledges could not be reached or declined interview requests.
The election, which saw Democrats make stunning gains in the House, came near the end of a year roiled by controversial Dominion plans. Those include capping and closing its coal ash ponds, a much-opposed natural gas pipeline it wants to build across the state, and transmission line projects in Prince William County and across the James River near Jamestown that have been fought tooth and nail.
In perhaps one of the few points of common ground with her vanquished conservative opponent, Del. Robert G. Marshall, R-Prince William, Del.-elect Danica Roem, a former journalist and Virginia's first openly transgender delegate, vowed vigilance Friday on the company's unpopular proposed transmission line between Gainesville and Haymarket to power an Amazon data center expansion.
"They're dealing with an investigative reporter now in the 13th District. I'm not going to put up with B.S. from them for even a minute. If they do anything that screws over the people of Gainesville and Haymarket, there's going to be hell to pay," Roem said.
And in September, the Virginia Supreme Court upheld a 2015 law that froze the State Corporation Commission's ability to review utility electric rates and order refunds to customers, a decision that could allow Dominion, the top corporate donor to state campaigns, to reap a $1 billion windfall by 2022.
Sen. J. Chapman "Chap" Petersen, D-Fairfax City, who had few allies during the past session when he attempted to repeal the rate freeze and unsuccessfully pushed a bill that would ban candidates from accepting donations from public service corporations such as Dominion and Appalachian, sees the political winds changing.
"I look up on the hill and I see the U.S. Cavalry riding to my rescue," said Petersen, who intends to revive both bills in the session that begins in January. He added that he felt "vindicated" by the success of candidates who tossed conventional Virginia political wisdom to the wind and swore off the support of Dominion, whose muscular presence in campaign finance and lobbying might at the General Assembly are seen as matters of course.
"I think the people that go around touting how you can't cross Dominion and you can't get elected or re-elected, or our party caucus can't raise money without Dominion, that way of thinking is going the way of the Dodo bird," Petersen said.
Petersen noted that Gov.-elect Ralph Northam campaigned on banning corporate and business donations and imposing a $10,000 cap on all donors except party committees. Eliminating contributions from public service corporations, Petersen said, is a much lighter lift and less legally fraught.
"I think if we got a bill to his desk, I think he'd sign it, period," Petersen said. "So that's my goal."
Asked whether Northam would support a ban on public service corporation contributions, a Northam spokesperson said that "he believes in comprehensive campaign finance reform and will work with the General Assembly in a bipartisan fashion to get it done."
Josh Stanfield, executive director of Activate Virginia, the political action committee that circulated the pledge to candidates, said no one expected the Democrats to win so many races, including coming within two seats of capturing the majority in the House, with recounts still pending. Still, it shouldn't come as a surprise that the pledge didn't prove to be a liability, he said.
"This is popular," Stanfield said. "People are not stupid. For-profit entities do not give money to anyone without expecting something in return. ... When you have a candidate that says, 'I'm not going to take that money because I want to represent your interests,' how can that not be appealing?"
Stanfield said a cadre of 13 lawmakers who campaigned on limiting the influence of the utility in state government will make it harder for other Democrats to "sweep the issue under the rug" when it comes to campaign contributions.
"There is a traditional, pro-business coalition that has always ruled Virginia's legislature," he said. "They get insulted when you suggest there's something uncouth going on."
Asked how the election might affect the crucial issues that could come before the legislature, including the rate freeze, coal ash cleanup and others, Dominion spokesman David Botkins said the company is "looking forward to getting to know the new members and working together on keeping low, stable rates; ever more reliable service by investing in the grid; and more clean energy."
"These are bipartisan priorities," Botkins said. "It's things like that Facebook and Microsoft considered when deciding to locate their job-creating data centers in Virginia."
Bob Holsworth, a longtime political analyst and former Virginia Commonwealth University dean, said the shift against Dominion recalls the 1970s crusade led by populist gubernatorial candidate Henry Howell against what he called the "Very Expensive Power Company," with an important distinction.
Then, ire at what was then called the Virginia Electric and Power Company was stirred up by the company's customer service and cost. This backlash, Holsworth noted, is more about controversial projects, such as the proposed Atlantic Coast Pipeline, and the "sense that Dominion has too much influence in state government."
"My sense is even with these elections, these remarkable elections last night, that's unlikely to be a majority position in the assembly," Holsworth said Wednesday. "I think Dominion is unlikely to want this to become far more extensive."
Holsworth predicted Dominion, possessed of a "very sophisticated government relations operation," will become more attentive to potential objections to its actions and "even more comprehensive in the education and information it tries to provide to lawmakers."
He noted, though, that many of the new lawmakers lacked the backing of the state Democratic Party and are likely to maintain the "grass-roots orientation" that brought them into office.
"Certainly I think with more Democrats in the legislature, with more candidates who are successful through grass-roots organization, there are going to be more bills proposed about changing Virginia's campaign finance law, but I'm not sure there's a critical mass to accomplish that," Holsworth said. "I think it's significant because what it represents is a populist wing of the Democratic Party that has probably gained more seats last night than at any time in the last 30 or 40 years."
Del. David J. Toscano, D-Charlottesville, the House minority leader, said Wednesday that "it's hard to predict" how a rate freeze repeal and a bill to end utility donations to candidates will play out during the next session.
"Depending on what happens with these vote totals, we could have 17 new people who will have many different points of view on this," Toscano said. "I can tell you that there are a number of folks who are very concerned about the regulated utilities giving contributions to candidates, and I think that bill's going to come up and I think there's going to be a lot of support for it and we'll just have to see how much support there is."
A handful of lawmakers from both parties have expressed support for rolling back the rate freeze, which was pitched in 2015 as necessary to protect consumers from potential price shocks that might be imposed by then-President Barack Obama's Clean Power Plan to limit carbon emissions from power plants.
The State Corporation Commission has said the 2015 law would not have shielded customers from any rate increases from the plan, which has stalled in federal courts and is being rolled back by President Donald Trump's administration.
"Now the Clean Power Plan doesn't exist anymore. So some of the rationale for that initial legislation may be out the window," Toscano said. "And I think that there will be a close examination about whether we should keep that in effect. But it will depend a lot on the people who are in the room at the time."
One of the lawmakers who stood with Petersen last year as he called on Gov. Terry McAuliffe to send down a bill to undo the rate freeze after his own was killed was Del. Sam Rasoul, D-Roanoke.
Rasoul, who has refused to take contributions from any special interest political committees, also supports a ban on contributions from public utilities. He called the 2015 rate freeze "the most corrupt utility law in America ever."
"People are not going to stand for that kind of legislation," he said. "We need to do better. And I'm hoping with our new gains in the House we can build some momentum behind that change."
(804) 649-6453
Twitter: @rczullo
Staff writer Patrick Wilson contributed to this report.