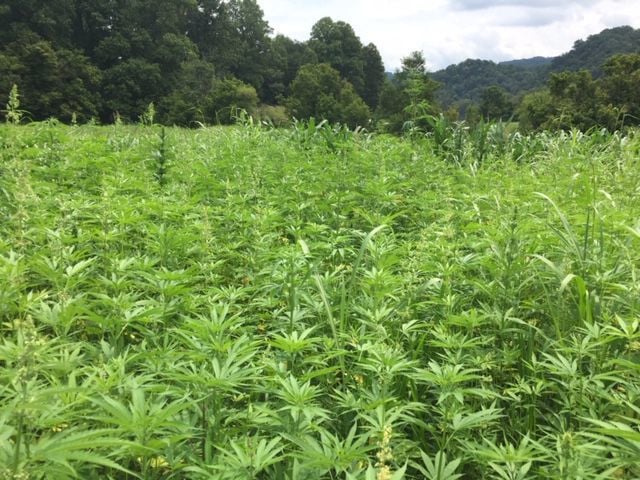 After the federal farm bill opened up the world of industrial hemp, Virginia policymakers are exploring how to change state laws and regulations to make it easier for farmers to pursue a new cash crop.
The farm bill President Donald Trump signed in December lifted restrictions on the cultivation of hemp, long touted for its potential uses as a fiber but tightly controlled due to its kinship with marijuana.
The federal law, which effectively legalized hemp by redefining it, was welcome news to people like Fernando Winnegan, a 50-year-old Chesterfield County resident who has been traveling to hemp conferences in the hopes that the plant could offer a viable path forward for his family's 160-acre farm in Southampton County.
"It's a game-changer in everything," Winnegan said. "This can save farms in Virginia."
But the mishmash of federal and state rules that will govern hemp cultivation is still a work in progress.
The federal bill allows states to craft plans for legalizing and regulating hemp farms. Now, in an attempt to clear away any state laws and regulations that might stand in the way of hemp cultivation, Del. Danny Marshall, R-Danville, has filed legislation that seeks to conform state law with the new federal policy.
"The whole purpose of this — and the reason we made it emergency legislation — is so that we can have this done and have it hopefully signed by the governor before the planting season starts in the spring," Marshall said in an interview.
Marshall's bill, House Bill 1839, includes an emergency clause allowing it to take effect immediately if it passes during the current General Assembly session.
The administration of Gov. Ralph Northam hasn't taken a definitive stance on Marshall's bill. The Virginia Department of Agriculture and Consumer Services is still researching the implications of the federal farm bill, according to Secretary of Agriculture and Forestry Bettina Ring. Regardless of what happens in the General Assembly session, Ring said, VDACS will produce a plan on how Virginia can move forward with hemp cultivation.
"Certainly the agriculture community is excited about the opportunities that this would open up for our farmers," Ring said.
Virginia's hemp plan, which will include detailed information on how the state will track and inspect hemp fields to ensure compliance with the law, will have to be approved the U.S. Department of Agriculture.
"I think we are trying to be very careful and responsible in how we move forward," Ring said.
Under current state law, hemp can only be grown for research. Several state universities have hemp research programs that have been exploring how to grow the plant in Virginia and its possible uses. Though it's historically been harvested for fiber used for textiles, rope and paper, hemp proponents say it also has promise as a biofuel and livestock feed. The rules get trickier when it comes to feeding hemp to humans.
Some farmers see CBD — the trendy, non-psychoactive cannabis compound found in both hemp and marijuana plants — as a potentially lucrative market for hemp producers. But Virginia just set up a system of heavily regulated dispensaries that will make and sell medicinal CBD oil by growing cannabis plants in indoor environments. And some state lawmakers say they are worried about mixing up unregulated CBD products made from hemp grown on farms with the closely monitored CBD oils offered by the state-sanctioned dispensaries opening later this year.
State Sen. Dave Marsden, D-Fairfax, who has filed legislation to specify that the state's definition of marijuana no longer extends to hemp, said he doesn't want hemp products to be used medicinally.
"This stuff could do some real harm to people compared to the very careful process we're going through with a much better product," said Marsden, who helped create the state's CBD oil program.
Marshall said he, too, wants to avoid any overlap with the state's medical cannabis policy.
"We said that we're going to concentrate just on hemp," Marshall said. "We're going to leave the marijuana to the side."
Last year, the four public higher education institutions participating in the state's research program — James Madison University, the University of Virginia, Virginia Tech and Virginia State University — planted about 135 acres of industrial hemp throughout the state. Regulators inspect the plants to ensure they contain acceptably low levels of THC, the psychoactive compound in marijuana.
Michael Timko, a U.Va. biology professor who has been researching hemp, said the federal farm bill's passage was a "very important step," but the future of hemp in Virginia will depend in large part on how the state responds.
"The states that are more proactive in putting their regulations in are going to be the ones that are going to be able to move forward quickly," Timko said.
Trying to navigate the rules of transporting hemp material across state lines and importing seeds have been some of the biggest challenges in Timko's research. He said he's still trying to get clarity on what the federal changes mean for his work. But there's a problem: The federal offices implementing the farm bill have gone dark because of the government shutdown.
"I've got seed orders sitting ready to go," Timko said. "And I don't know whether I need to get DEA approval or not."