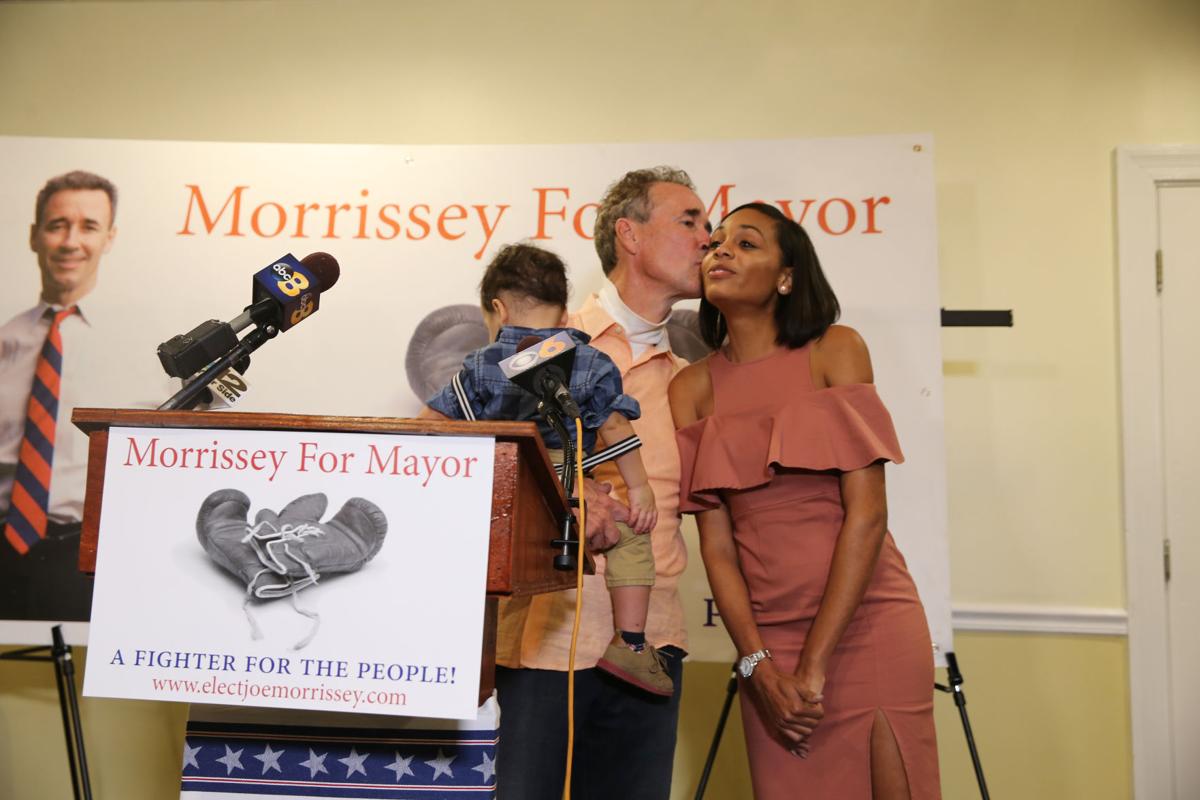 A three-judge panel delayed a trial looking into an ethics complaint against former Del. Joseph D. Morrissey initiated by former Gov. L. Douglas Wilder in light of a new, unrelated complaint filed Monday.
In its most recent complaint, the Virginia State Bar charged Morrissey with destroying evidence and making false statements in court in an attempt to cover up a 2013 sexual relationship with a then-17-year-old receptionist in his law office.
Morrissey, a defense attorney and candidate in Richmond's mayoral contest last year, could have his law license suspended or revoked if the ethics complaint is upheld.
"It has come to the panel's attention that new charges have been filed on the eve of trial," said Powhatan County Circuit Judge Paul W. Cella, the head of the panel overseeing the hearing. "In the interest of fairness and in the interest of judicial economy, these charges should be consolidated."
On Wednesday, the panel was set to hear two other, separate complaints involving Morrissey in what was expected to be a two-day trial in Richmond Circuit Court.
The Wilder complaint centers on Morrissey's representation of Wilder and his National Slavery Museum in 2013. At the time, Wilder was seeking to fend off the city of Fredericksburg's efforts to collect $320,000 in unpaid taxes. Wilder's complaint questions Morrissey's competence and diligence in the matter. Morrissey has said Wilder filed the complaint only after he was unable to pay an outstanding legal bill.
A second complaint involves Morrissey having another attorney represent a client on his behalf. That attorney had passed the bar exam but not yet taken the oath of fidelity to Virginia. The client — who in 2013 faced a felony charge of malicious wounding and three misdemeanors in King and Queen County, all of which were ultimately dropped — allegedly was never notified of the change, which would be a breach of the bar's Rules of Professional Conduct.
State Sen. William M. Stanley Jr., R-Franklin County, represented Morrissey in court and told the judges that he would be retained as Morrissey's lawyer in the newest bar complaint as well. He asked that a three-judge panel, and the same three judges — Cella, retired Hampton Circuit Judge Louis R. Lerner and retired Fairfax County Circuit Judge Jonathan C. Thacher — be appointed.
"I think the court ruled properly," Stanley said. "Today, we were ready to defend Mr. Morrissey and vindicate him. ... We were confident that we were going to win."
Stanley said he hadn't yet studied the new complaint thoroughly but said that "we vehemently deny the allegations."
Morrissey declined to comment, as did Edward L. Davis, who represented the Virginia State Bar.
Within earshot of those in the courtroom, Morrissey told his supporters that the judges criticized the bar for the timing of the new charges.
"It puts them in a bad position," he said. If they proceeded and found him guilty of any wrongdoing, Morrissey explained, then it could appear the new complaint influenced their decision.
No date has been set for the new combined trial.
If convicted, it wouldn't be the first time Morrissey's law license was suspended. It was suspended for six months in 1993 and for three years in 2000. In 2011, he was indefinitely banned from practicing in federal courts for repeated ethics violations.
Morrissey also has been convicted of assault and battery, three counts of contempt of court, and a probation violation. In 2014, in the case involving his underage receptionist, he entered a plea deal in which he agreed to serve three months in jail on a single charge of contributing to the delinquency of a minor. Morrissey has since married the woman, Myrna Morrissey, and the couple have two children together.
(804) 649-6527
Twitter: @AliRockettRTD