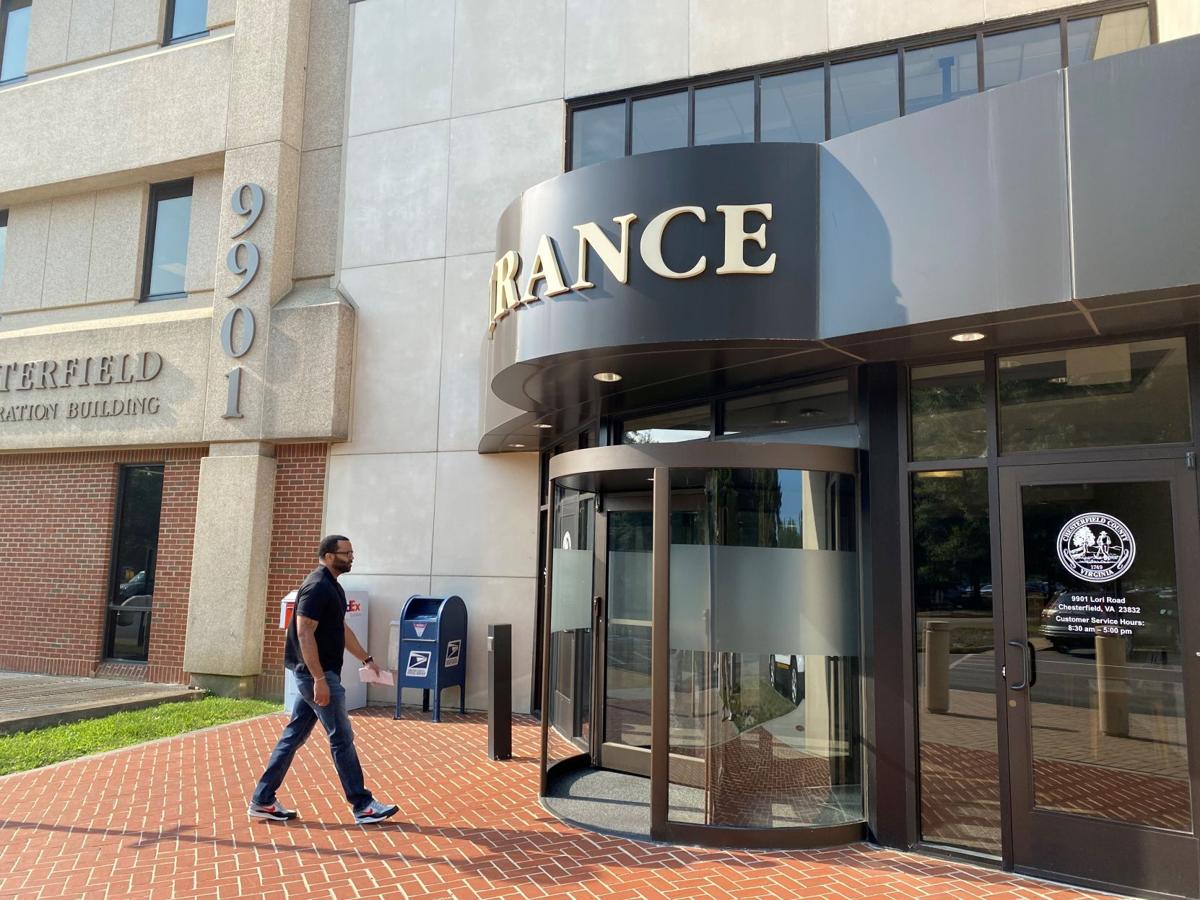 In the latest round of coronavirus federal funding relief, Chesterfield County will spend its share on infrastructure, public safety and cybersecurity.
Chesterfield is receiving a total of $68.5 million in federal funding through the American Rescue Plan Act. The county got half in May and will receive the rest in 2022.
Last week, the Board of Supervisors approved the county's spending plan for the entire $68.5 million that must be spent by the end of 2024.
County officials looked to this new round of funding as a way to make more long-term and substantial investments in Chesterfield, said Matt Harris, deputy county administrator for finance and administration.
"I think our plan is very, very reflective and in the spirit of what we've been asked to do," Harris said in an interview.
President Joe Biden announced the $1.9 trillion American Rescue Plan Act in January. The federal relief plan has funded vaccinations, child tax credits and school reopenings and sent $350 billion to local, territorial and tribal governments.
Local governments like Chesterfield have to spend the money on: investing in infrastructure such as water, sewerage and broadband; providing relief to small businesses, households and tourism; paying for COVID-19 mitigation efforts; and replacing lost revenues.
"Within these overall categories, recipients have broad flexibility to decide how best to use this funding to meet the needs of their communities," according to the U.S. Treasury Department.
Nearly $55.8 million of Chesterfield's money is set aside for wastewater improvements and park maintenance. The remainder will pay for other county endeavors; for instance, $4 million is allotted to continue the expansion efforts of the county's affordable housing program, with initiatives such as working with regional housing advocates and the community development department to identify areas in the county for affordable housing opportunities, according to the county.
An additional $2 million will fund Chesterfield's efforts to purchase more teleworking kits and modify office spaces and several conference rooms to address a hybrid working environment.
Nearly $2.4 million will fund a Real Time Crime Center — the "nerve center" that will have data from records, public cameras, available intelligence and agency response in one central place — to allow Chesterfield to stay on top of violent crime, according to the county. An additional $1.5 million will cover the costs of purchasing land for a new Midlothian police station by Midlothian Turnpike and Chippenham Parkway.
About $1.5 million will fund fire department and emergency medical service enhancements, including a permanent mobile integrated health system that provides home wellness checks as well as setting up a mobile ambulance company "in harder hit areas," meaning it will be directed to areas of great medical need, Harris said. The county did not name the areas that will receive the service.
Three small businesses in the wedding industry spoke at a public hearing last week, asking for the county to provide financial help. The companies said they have not be able to receive any federal funding relief throughout the entire pandemic.
"We did not receive any specialty funding for our industry ... and we were essentially out of work for 14 months," Emmett Hickam, owner of Richmond Bridal Consulting, said during the public hearing. "We are in desperate need of your help."
The wedding industry has struggled during the pandemic. Due to the COVID-19 restrictions in place for most of 2020 and part of 2021 — such as limits on indoor and outdoor gathering capacity — many weddings were postponed or canceled. All capacity restrictions were lifted in May.
"APRA, at least from our perspective, from the local government [perspective] is not really geared to that [assisting small businesses]," Harris said.
American Rescue Plan money can be used for small businesses and nonprofits, depending on the locality. Chesterfield used part of its Coronavirus Aid, Relief and Economic Security Act federal funding last year to support small businesses.
The county awarded a total of $3.3 million to nearly 360 businesses grants to help them back on their feet and gave a total of almost $2 million for about 80 child care grants, Harris said.
While all of the American Rescue Plan funds have been assigned, Harris said "that's not to say the plan can't be amended."
"But I think by and large the plan that we put forward will be the plan we take action on in the coming months and years," he added.
The Chesterfield County School Board unanimously approved $51.4 million in federal aid on June 1. The funding comes from the third round of Elementary and Secondary School Emergency Relief fund through the American Rescue Plan Act.
The school system will spend nearly $40 million on instruction, including supporting the virtual academy, one-on-one tutoring and after-school remediation as well as placing one full-time substitute in each school. Other funding will go toward hiring 13 school-based interpreters, offering incentive bonuses for bus drivers and paying for professional development for new teachers.
Hanover County received $29.7 million in federal funding: $20.9 million for the county and $8.3 million for Hanover County Public Schools. The Board of Supervisors approved the funding last week.
A majority of the county allocation — $16.9 million — will pay for installing high-quality broadband access countywide. The remaining $4 million will be split; $2 million is allotted for small business and community support, while the remainder will fund pandemic mitigation efforts.
The school system's chunk will pay for additional instructional staff to address learning loss, technology and equipment and will fund an electronic onboarding system for new hires, transitioning out of the current paper-heavy process.
In Richmond, $154 million in federal American Rescue Plan funding is expected, with an anticipated $123 million for Richmond Public Schools.
Mayor Levar Stoney's administration has earmarked the money for public infrastructure, offsetting COVID-19's impact on the economy and boosting compensation for essential workers, but it wants the public to help decide what should come first.
In a 6-2 vote Monday night, the Richmond School Board approved using $65 million of its federal funding to address a literacy crisis among students. The funding will pay for extending after-school opportunities and investing in teacher licensure to have endorsements for reading. Last year, 66% of kindergartners through second-graders were reading below grade level, according to RPS.
Henrico will spend its $64.2 million in federal aid on addressing septic issues. The county is set to spend $40 million on repairing at least 780 septic systems across the county; the rest of the money will be set aside to fix other septic problems reported to the county.
For Henrico, the project is years in the making, said Bentley Chan, the county's director of public utilities. Before the federal funding was assigned, the county was exploring other avenues to finance the project.
Henrico County Public Schools is seeking community input on how to spend its $78.3 million federal aid package through an online forum and a public hearing on Aug. 12 at the New Bridge Learning Center Auditorium.
The school system has ideas on how to spend it, including allotting $60.5 million to renovate and replace facilities on The Academy at Virginia Randolph's campus; $4.5 million to continue funding 30 school counselors, 15 reading specialists and 13 library assistants; and $3.2 million to extend summer school offerings for the next two years. The remaining $10.1 million will be spent on several endeavors, including supporting virtual learning and providing devices to all students.