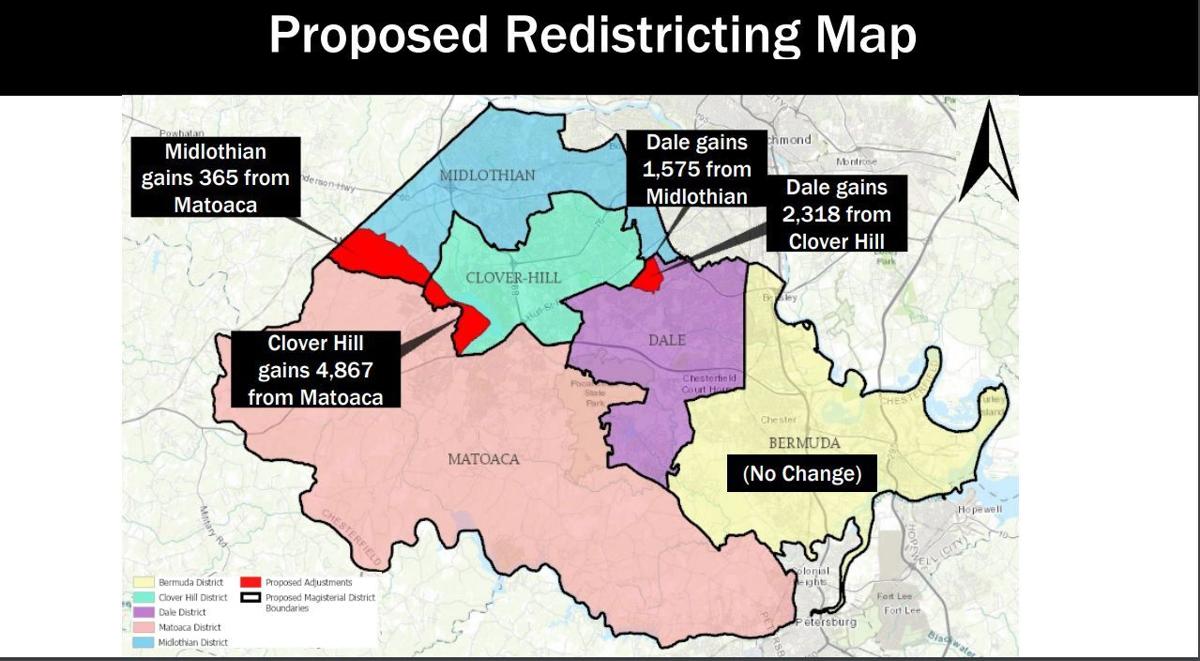 Chesterfield County's top elected officials on Wednesday got their first look at draft revisions of lines determining the magisterial districts they represent.
The process, known as redistricting, is legally required every 10 years to ensure the county is sliced up into similarly sized pieces that don't dilute or concentrate the voting power of any racial group. Changes the Board of Supervisors ultimately must approve have the potential to affect local elections for the decade to come in a shifting county, long seen as a conservative stronghold but increasingly politically competitive.
Chesterfield's population shot up nearly 15% in the past decade — an increase of nearly 50,000 people — in growth largely driven by an influx in residents of color. Now home to 364,000 people, Chesterfield must take its fresh 2020 census data and redraw lines that keep its five districts evenly sized.
Ideally, each district will have about 73,000 residents, staff told the board on Wednesday. The redistricting process does not affect school boundaries. Every decade, the county also establishes voting precincts.
According to the plan, the Dale District would gain 2,318 Clover Hill residents and 1,575 Midlothian residents, while Clover Hill would add 4,867 residents from Matoaca, and Midlothian would gain 365 Matoaca residents. The Bermuda District would remain untouched and Matoaca would not gain any residents, only lose them.
The draft districts range in size from 71,658 residents to 74,786 residents and are based on 2020 U.S. census data the county received in August.
The county saw its largest increase among racial groups with its Black residents, with the population growing by nearly 25% to about 81,000 people, according to census data compiled by the Weldon Cooper Center for Public Service at the University of Virginia. Weldon Cooper's data includes people who identified as more than one race.
Chesterfield's Hispanic population nearly doubled from roughly 23,000 residents to over 40,000. All five districts saw at least a 65% increase in Hispanic residents.
Several requirements must be followed when redrawing the magisterial districts lines, including that they roughly resemble either a square or a circle, have clear boundaries such as rivers and streets, and have equal populations between districts, with less than a 5% deviation each. The process cannot break a voting bloc up into several districts.
Virginia voters overwhelmingly voted in November in favor of an amendment to the state constitution that is meant to curb gerrymandering. Voters approved shifting map-drawing duties — for Virginia's U.S. House of Representatives districts, as well as the districts for seats in the Virginia House of Delegates and the Virginia Senate — to a 16-member bipartisan commission of lawmakers and citizens. If the commission deadlocks, the duties will transfer to the conservative-leaning Virginia Supreme Court.
"The proposal that, that we have come up with, I think, balances out all of the factors that we have talked about up to now," County Attorney Jeffrey Mincks said during Wednesday's work session.
The supervisors did not discuss the draft plan on Wednesday. Next steps include holding two community meetings through a Facebook livestream on Oct. 13 and Oct. 19. A public hearing is slated for Oct. 27.