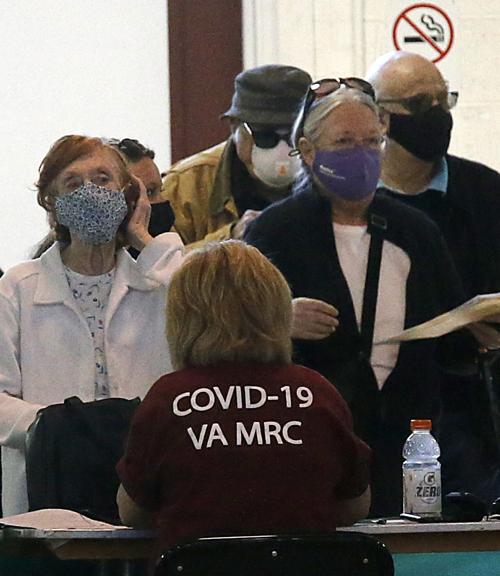 Four community vaccine clinics at Virginia State University's campus, Danville, Portsmouth and Prince Williams County have recently opened to inoculate residents in communities that are experiencing high COVID-19 rates and barriers to vaccine access.
Henrico County officials want the Richmond Raceway site to be the fifth.
The move would boost the number of vaccines available at the complex, which has been open to Richmond-area residents since January, with a committed number of doses from the state.
Tony McDowell, deputy county manager for public safety on Tuesday told the county's Board of Supervisors: "I am here tonight to speak in a public forum and beg for shots."
The raceway clinic can vaccinate between 5,000 and 6,000 people in a 10-hour shift, said Jackson Baynard, chief of Henrico's Emergency Management and Workplace Safety department.
"We would like to get 18,000 doses, 3,000 doses for six days a week," Baynard said in an interview.
This past week the raceway received 11,994 doses.
"This is disheartening, I didn't expect to hear this tonight," said Varina District Supervisor Tyrone Nelson. "There are low-income Black and brown people who still haven't gotten shots in the Richmond [and] Henrico Health Districts."
Amy Popovich, nurse manager at the Richmond and Henrico Health Districts, said she has been advocating for more doses from the state. The health district is currently in phase 1b, which includes residents between the ages of 16 and 64 who live with certain underlying health conditions, such as cancer and heart problems and front-line employees like bus drivers, grocery store clerks and farm and restaurant workers.
"Although the vaccine supply is increasing, we still aren't getting as many as we could use," Popovich said in an interview.
Popovich said Henrico County and the raceway have demonstrated they can run an effective vaccine operation.
County Manager John Vithoulkas said he will work on setting up a call in the next few days, expecting that Danny Avula, the state's director for vaccine distribution, and other state officials, will participate.
Upcoming clinics at the Richmond Raceway are scheduled to vaccinate approximately 11,800 people between Wednesday and Saturday.
The discussion came on the heels of a public hearing on the county's proposed spending plan for the year beginning July 1, which totals $983.9 million for operations and an additional $224 million for capital projects.
The draft budget proposes a historic salary increase for all 10,000 county employees, who as a result will receive a minimum salary increase of 4.4% and up to nearly 18%. The Board of Supervisors spent last week going through the proposals in daily work sessions.
Jesse Wysocki, the chief operating officer of the McShin Foundation, was among three people to weigh in on the plan, questioning why the Richmond-area recovery organization is not receiving funding in the proposed budget.
According to the budget proposal, the foundation had requested $140,200.
In the county's non-departmental budget, $60,000 is allotted toward McShin, to be used for opioid treatment scholarships for Henrico residents. Other nonprofits with the same or similar mission may receive some of the funding for an opioid treatment scholarship, according to the proposed budget.
"What we all have heard as board members is with this [opioid] epidemic, with this issue, it does indeed take a village. It does take a village to embrace and help. I don't think McShin can handle the region on its own," Three Chopt Supervisor Tommy Branin said.
"Do not think that you all were slighted in any way or had money pulled from you in any way. This county needs all the help we can get from as many groups as we can get," Branin added, speaking to Wysocki.
The supervisors are scheduled to vote on the budget proposal on April 13.