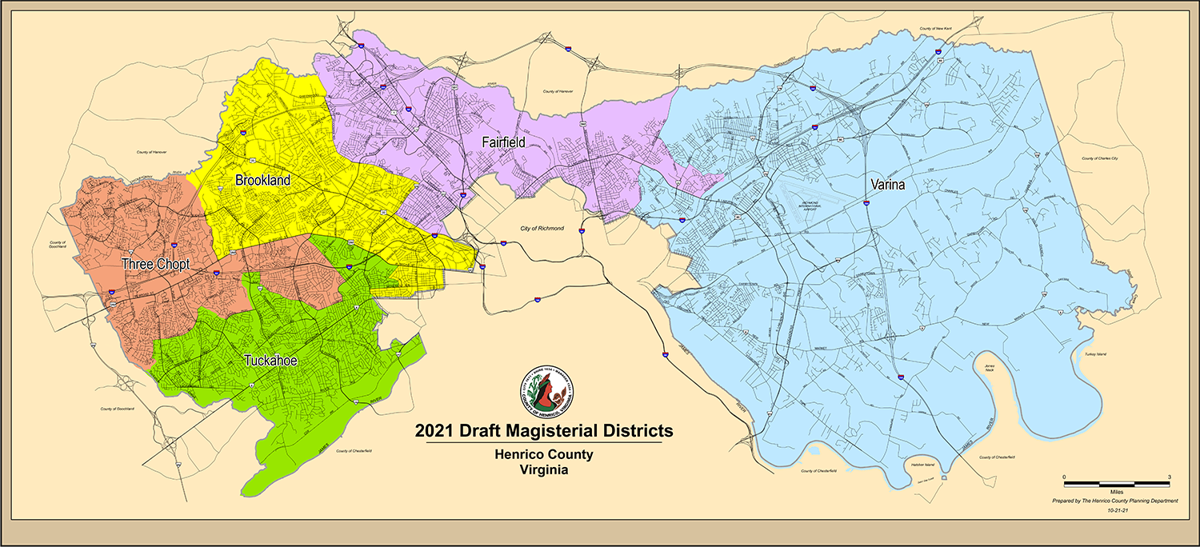 This process, known as redistricting, is legally required every 10 years after the latest census to ensure the county is sliced up into similarly sized pieces that don't dilute or concentrate the voting power of any racial group.
"What we want as a representative democracy is to have one person's vote equal to another person's and so to do that you're going to want to have equal populations or as close as possible as you can between all five districts," Deputy County Attorney Andrew Newby said during a presentation Monday night of the draft redistricting plan.
The five districts are ideally looking to have about 66,900 residents each, with less than a 5% deviation each. The redistricting process does not affect school boundaries.
Henrico's population saw an 8% increase over the past decade, increasing its population from 306,935 residents to 334,389 residents. The bulk of the county's growth is located in the western portion, in the Tuckahoe, Three Chopt and Brookland districts.
The county held its first of two community information meetings about proposed boundary lines on Monday at the Eastern Henrico Recreation Center. Residents can attend a second meeting Wednesday at 6 p.m. at the Henrico County Government Center located on 4310 E. Parham Road.
Residents can participate in Wednesday's meeting either in person or virtually.
Besides attempting to reach optimal population sizes, the county will also work to keep its districts "contiguous and compact, with clearly defined and observable boundaries," according to a county news release," and avoiding splitting its 91 voting precincts.
The Three Chopt District saw fast growth for the western part of Henrico. According to the plan, Three Chopt's new population size would be 68,889 after giving away residents to both Brookland and Tuckahoe. Without moving residents, Three Chopt would be roughly 8,000 residents over the ideal population size.
Tuckahoe's population would be 67,757 residents after adding the Three Chopt areas near Regency Square mall located off North Parham Road and Henrico's Doctor Hospital located off Skipwith Road.
Brookland would also receive parts of Three Chopt and also areas of Glen Allen from Fairfield. Approximately 68,744 residents would live in Brookland.
As Fairfield is expected to give land to Brookland, it would also receive the areas of Lakeside from Brookland. Fairfield's new population would become 64,722 residents, with a decrease of Black residents from 61.27% to 57.34% of its overall population.
Varina is expected to receive areas west of Laburnum Avenue from the Fairfield district, for a new population size of 65,091 residents, including a slight increase of its Black residents, from 55.76% to 56.63%.
One resident asked if the county would ever be able to equalize the Black and white populations among the five districts.
"People live in particular communities, and the way the districts are drawn, Fairfield and Varina end up being the majority African American districts and the populations in the other three districts are not the same," Newby said.
"Solutions have to be made, even if it doesn't ultimately end up [having] racial equality in the composition of the districts," he said. "Race cannot be the sole controlling factor that dictates each of the districts the Supreme Court has said that racial gerrymandering is not allowed."
The Board of Supervisors is scheduled to hold two public hearings on Nov. 30 and Dec. 14, before the redistricting plan is submitted for approval by the Office of the Attorney General.