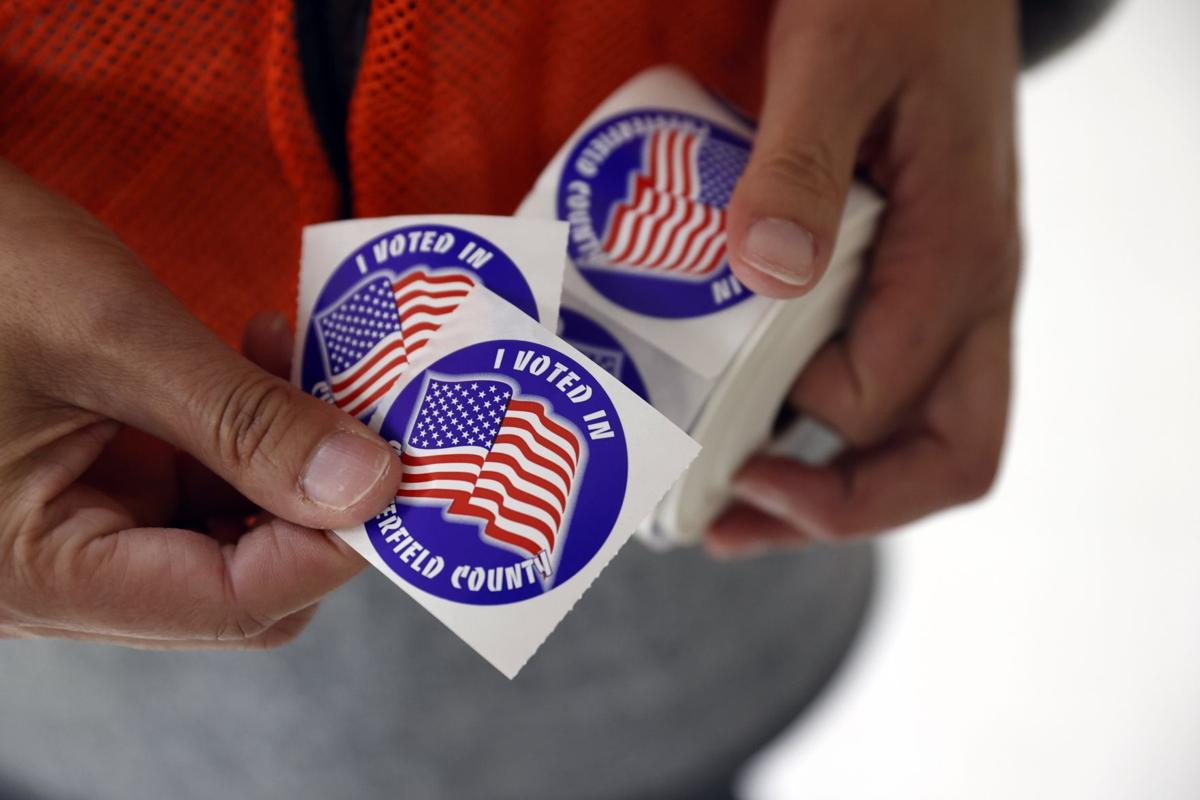 In several local elections Tuesday, Richmond-area voters pushed out the incumbent candidate, making way for a fresh face.
As Virginia voters overwhelmingly elected Republicans in all statewide contests Tuesday, in the cities and counties surrounding Richmond, voters elected both Republicans and independents.
Glenn Youngkin, the commonwealth's next governor, is the first Republican to win the statewide office since 2009.
With all of Hopewell's precincts accounted for by 1 p.m. Wednesday, incumbent Republican Sheriff Steven M. Kephart Jr. appeared to have lost to Travis L. Stanley, an independent candidate, by 450 votes. Stanley received 3,138 votes compared to Kephart's 2,688.
In the treasurer's race, as two independent candidates — and no incumbent — vied for the position, Shannon Foskey appeared to have come out on top. Foskey received 3,122 votes from all precincts, while A.J. Eavey III received 2,678 votes.
Incumbents who kept their positions in Hopewell included Commonwealth's Attorney Richard K. "Rick" Newman and Commissioner of Revenue Debra Kloske Reason.
Goochland County voters appeared to have unseated incumbent District 2 School Board member Billie Jo B. Leabough. Leabough received 1,089 votes as of 9 p.m. Tuesday night, while challenger Angela Small Allen had received 1,264 votes.
Two referendum measures were before Goochland voters on Tuesday and, unlike the casino referendum in Richmond, both appear to have passed. The measures concerned issuing bonds for public school construction projects and building a new courthouse and fire station.
According to election results as of 10:36 p.m. Tuesday, the public schools project had the support of 84.46% of voters, while 80% of voters were in favor of the courthouse/fire station proposal.
In Louisa County, four Board of Supervisors seats were up for grabs and, as of Wednesday morning, one race came down to a single vote.
In the Patrick Henry District, one vote separated incumbent Fitzgerald A. Barnes, an independent, from Republican challenger William D. Woody Jr.
Barnes secured 1,234 votes compared to Woody's 1,233, according to unofficial state election results.
Elsewhere, Republican challenger Rachel Jones appeared to take the Green Springs District seat from incumbent Robert F. Babyok Jr., an independent. She earned 53.2% — or 1,652 votes — out of 3,105, compared to his 46.4%, or 1,441 votes.
Other incumbents who kept their seats, facing no challengers, included the Mineral District's Duane Adams, a Republican, and the Mountain Road District's Tommy Barlow, an independent.
School Board members Debbie Hoffman, Sherman T. Shifflett, O. Gail Proffitt and Gregory Strickland were elected to continue serving on the board, with none facing opposition.
In Louisa's Town Council race for the Mineral District, Thomas Runnett appeared to beat David Lawson by a margin of 103 votes to 39. Neither candidate currently serves on the council.
In a special election for the District 2 Board of Supervisors seat, Republican candidate Steven W. McClung is set to win against opponent Amy Kingery, an independent. The seat was vacated in January. As of 10:57 p.m. Tuesday night, McClung earned 2,150 votes compared to Kingery's 679.
In the treasurer's race, incumbent Rebecca "Becky" Nunnally faced no challengers.
Results were still unofficial in the city of Richmond and will remain that way until they're officially certified a week or two from now, but incumbents were poised to win, with 71 of 72 voting precincts reporting.
Richmond Sheriff Antionette V. Irving was ahead by more than 37,000 votes over Mike Dickinson, a late entry into the race running as an independent. As of 4 p.m. Wednesday, 76% of ballots cast were in favor of Irving.
Treasurer Nichole Richardson Armstead, who also was first elected in 2018, appeared to have fended off challenger Shirley Harvey, with nearly 63% of votes as of 4 p.m. Wednesday.
Commonwealth's Attorney Colette W. McEachin ran unopposed Tuesday after winning the Democratic primary earlier this year.
Staff writer Holly Prestidge contributed to this report.