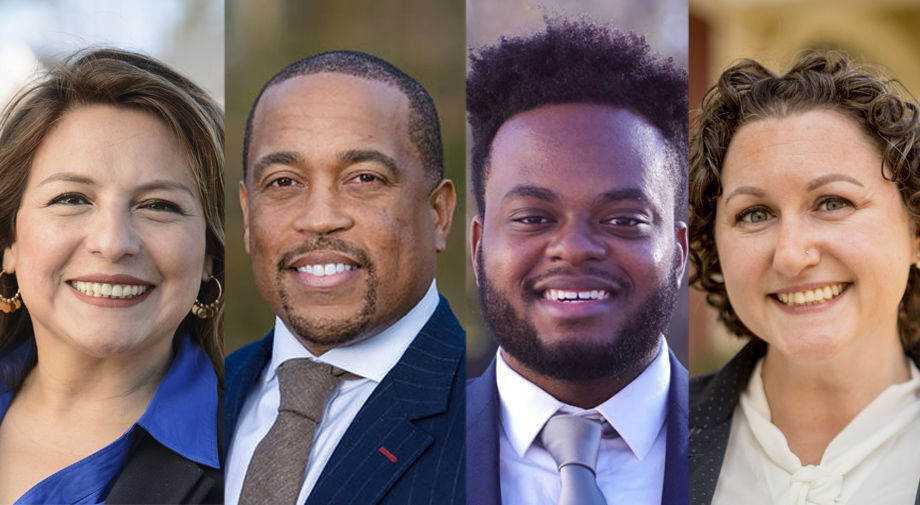 When Del. Elizabeth Guzman was first elected in 2017, she made history as one of the first Hispanic women elected to the Virginia legislature, flipping a seat that Republicans had held since 1994. In 2019, her re-election helped Democrats take the majority in the House of Delegates.
The Democrat from Prince William County did it with the help of two local Democratic activists who knocked doors for her campaign, praising her progressive agenda. Now, they're running in a four-way primary and seeking to unseat the lawmaker, though they say it's never what they intended.
The seat, they say, appeared open at the start of the year, when Guzman joined a crowded primary for lieutenant governor. Weeks later, Guzman said she would seek both seats, though she withdrew from the lieutenant governor's race in April, lacking enough cash to compete.
As Tuesday's primary nears, Guzman is at risk of losing her seat representing the 31st House District. Her challengers are Rod Hall, formerly an adviser in the Obama White House; Kara Pitek, a government contracting expert; and Idris O'Connor, an advocate for the homeless who until recently worked for a local community college. Pitek and O'Connor previously knocked doors for Guzman.
The 140-seat Virginia legislature has just five lawmakers of Hispanic descent in a state where one in every 10 residents is Hispanic, according to population estimates.
The race comes in a historic primary year for Virginia Democrats: 13 of 54 House incumbents face primary challenges, a record-breaking number, according to the Virginia Public Access Project. Control of the House, where Democrats hold a 10-seat edge, will be up for grabs in November.
Hall presents a formidable challenger to Guzman. Hall had raised $214,000 through May 27 to Guzman's $347,000, but she raised some of her funds in her bid for lieutenant governor. Hall has a string of high-profile endorsements, like House Appropriations Chairman Luke Torian; Rep. Bobby Scott, D-3rd; and Sen. Scott Surovell, D-Fairfax.
Guzman has the incumbent's advantage and support from House leaders, including Speaker Eileen Filler-Corn, and powerful labor unions in the state.
Supporters of Hall say Guzman gambled away her seat when she decided to run for lieutenant governor. Guzman's supporters say that if she is defeated in the primary, it could leave the legislature without a needed voice in a state with a growing Hispanic population.
On the campaign trail, Guzman is highlighting her record as a voice for working-class Virginians on issues like guaranteed paid sick leave, increasing the minimum wage and expanding the types of workers who qualify for it, and expanding collective bargaining among public sector workers.
"For the communities that I represent, I've lived their struggles. We share the same battle, and that's where my commitment comes from," said Guzman, who works in social services and who immigrated to the U.S. from Peru as a young single mother with a few hundred dollars. Guzman said she worked two minimum wage jobs to pay for a small apartment.
Guzman said she decided to run for both seats because remaining in public office was a priority and her bid for lieutenant governor proved "unrealistic."
"I didn't want to risk the voices of the communities I represent," Guzman said.
Hall said that unlike Guzman, representing the House district is not a "political backup plan," but insisted he didn't get into the race to challenge Guzman, but rather "when it was an open seat."
Hall works as a policy adviser for a large legal firm, K&L Gates LLP. He is chairman of the Virginia Aviation Board and serves on the Virginia Passenger Rail Authority.
He says he plans to wield his policy expertise in transportation and infrastructure to help expand and improve mass transit options in the 31st House District, which sits in a part of Northern Virginia with infamous traffic congestion.
Hall said securing universal preschool for the state's toddlers is also a key priority. When his father died unexpectedly after Hall turned 4, his mother became a widow with limited child care backup and a demanding job as a special education teacher's assistant.
A quality early childhood program in his native Louisiana brought the nourishment and security they needed. "Were it not for that program, I believe my life would have taken a different turn," Hall said in an interview.
As a father of two Black sons and a Black man himself, Hall said he is also interested in criminal justice reform and boosting police accountability. A recent TV ad is focused on a conversation with his son about interacting with police.
O'Connor and Pitek, the two other candidates in the race, have been far outraised by Guzman and Hall, according to financial disclosures.
O'Connor, who works for the Cooperative Council of Ministries as an advocate for people who are homeless in the Prince William area, said in an interview that housing insecurity is a top priority for him, along with expanding access to health care coverage and lowering the cost of college in the state until it is eventually free.
Pitek said she is running on a platform of "equity and inclusion," focused on affordable housing and education. Pitek said she hopes to bring her experience in federal procurement to the legislature to improve accountability when it comes to state spending.
O'Connor and Pitek said they campaigned for Guzman and never intended to run against her. But by the time she announced she would try to hold onto their seat, they had put significant effort into the race.
"I was never out to challenge her, at all," O'Connor said on a break from door-knocking.
"This is not the race I signed up for," Pitek said.
Del. Hala Ayala, D-Prince William, is seeking the nomination for lieutenant governor and won't return to her seat in the House.
"For years, it was just me on the floor of the House of Delegates, fighting off misguided and ugly attacks against immigrants and Latinos from Republicans," said Del. Alfonso Lopez, D-Arlington, who helped launch a Latino caucus in the House in 2018.
"Having Hala, having Elizabeth, has been amazing. I know Hala is not coming back, but the idea of not having Elizabeth in the House is just unthinkable. We can't go backwards. As we say, representation matters."
Alonzo Washington, the executive director of CASA in Action, which advocates for immigrants and working-class Virginians, said the group has been pleased with Guzman's advocacy in the legislature, including her work on paid sick leave and advocating for Hispanic people through the pandemic.
"If she loses, which I don't even want to say, we have one fewer voice for the Latino community, which is unacceptable."
Washington said that in Maryland, lawmakers launched a Latino caucus in 2015 with six members; it eventually grew to seven. Now, the caucus' website lists four members.
While Guzman has a significant advantage in a district where she has won twice, Hall's funding, community ties and endorsements are notable. Aside from Torian, Scott and Surovell, Hall was endorsed by Virginia Legislative Black Caucus Chairman Del. Lamont Bagby, D-Henrico; Ayala; Senate President Pro Tempore Louise Lucas, D-Portsmouth; and six other lawmakers.
Torian and Hall are both active at First Mount Zion Baptist, a large church in the middle of the 31st. Torian could not be reached for this story.
Surovell described Hall as an impressive candidate that he had been eyeing for nearly a decade.
He added that Guzman had already asked for his support in the lieutenant governor's race, which he declined. He said it's rare for politicians to seek two offices at the same time because "it's incredibly risky."
"At the end of 'The Bachelor,' the guy doesn't give out two roses. That's not how the show ends," Surovell said.
Del. Don Scott Jr., D-Portsmouth, like Surovell, said he pledged his support for Hall months before Guzman formally announced she would be seeking re-election, during a golf tournament hosted by Torian in early fall of last year. Scott said it was a "no-brainer."
Scott said he was surprised by Guzman's path given the competitive environment among Democrats in Northern Virginia, where even committed candidates draw challengers.
"It's a little cray cray up there," he said. "People know that."
(804) 649-6254
Twitter: @MelLeonor_