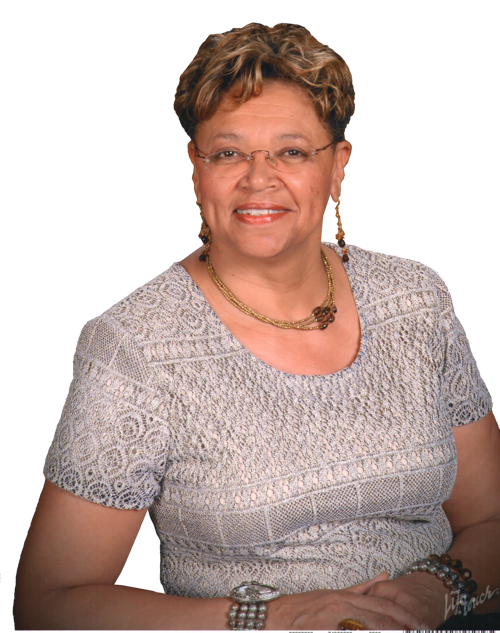 One of the Richmond City Council's longest-serving members faces a challenge this year from a community activist.
Running in the 6th District council race are Councilwoman Ellen Robertson and faith-oriented community organizer Allan-Charles Chipman.
The Richmond Times-Dispatch asked each candidate to answer five questions in 600 words or fewer in this fifth installment of weekly questionnaires with council and School Board hopefuls. Their responses to the questionnaire are below in alphabetical order by last name, along with biographical information.
Responses were edited for length and clarity.
QUESTION: What is the most important issue facing residents of the 6th District, and what do you plan to do about it if elected?
Chipman: Beyond systemic racism, the most important issue is our housing crisis. As I stated during the Navy Hill process, the city of Richmond is not in an arena crisis. It is in a low-income housing crisis. We can't stop COVID-19 if we can't house our residents. As the second-highest city in the nation for evictions, with thousands facing eviction, we need to address this issue now. I support expanding the homestead exemption program and developing a community stabilization fund as seen in California and in Pittsburg, Ga. I support bringing HUD's Housing Plus Pilot Program to Richmond to use some of our vacant housing stock to deal with the homelessness crisis. We must deeply reform the types of incentives such as the incumbent's tax abatement programs that have funded the gentrification of our neighborhoods and redirect those funds to housing stability as those abatements expire.
Robertson: 6th District residents face uncertain times, not knowing when COVID-19 will pass. Families are worried their children's education will be compromised, widening the academic achievement gap. Income security, from the lowly paid laborers at $7.50 an hour to the business owners with doors closed, is preventing families from paying for rent/mortgage, food, health care and transportation. Saving accounts and investments are tapped out.
Many are sick and others mourn the loss of loved ones. COVID-19 impacts us all in different ways and degrees, but none are spared. The 6th District is home to the majority of the city's poor, homeless, unemployed and hungry. Thousands of new young adults in downtown and Manchester are searching for a productive career. Property owners, from seniors, first-time and single-family homeowners to multifamily developers, are all seeking tax relief and reduced cost of living in the city.
As a councilwoman, my top priorities are to provide residents and small businesses with resources to get us through this crisis and to a full recovery by reducing and waiving costs and fees, extending and deferring tax payments, freezing foreclosure sales, increasing income grants and loans, and providing emergency health care, housing, schooling and food as needed.
Future investments must resolve racial and income disparities and mandate justice for all. We must increase affordable housing, education funding and reform our justice system for police, the courts and to the justice center. I have a long track record and history of fighting for these priorities and will continue to lead the change.
QUESTION: Do you support raising the city's real estate tax rate to fund improvements to Richmond Public Schools? Why or why not?
Chipman: Absolutely not. I am currently helping a senior in court who was evicted from their family home due to falling behind on real estate taxes. Cost-burdened households have increased by about 10% from 2000-2016. Housing prices, per an RTD report, have increased 52% over the last couple of years but wages haven't. The 6th District specifically has seen the most of these increases in assessments with some areas seeing a 15% increase. Some homes assessed at $217,000 in 2018 are now being assessed at $279,000 due to surrounding development. Our long-term neighbors are already struggling to keep up with rising assessments. Many can't afford a tax increase in the midst of an economic crisis.
Robertson: Fully funding Richmond's public schools is essential. We have some of the brightest young minds right here in the 6th District and Richmond. We need to embrace that and provide the necessary tools to our students, as they lay the groundwork for a more sustainable future for generations to come.
However, I do not believe in raising real estate taxes to accomplish this. Richmond's real estate taxes are already the highest in the region. I will work to reduce the tax rate and address the accelerated tax burden due to unprecedented increased assessment values. I will also fight legislatively to achieve a dedicated share of real estate and meals taxes to close the gap in RPS funding.
QUESTION: Do you support the use of tax dollars to build a new downtown arena? Why or why not?
Chipman: No, I do not and, unlike the incumbent, I did not support tax dollars for Navy Hill due to the longitudinal data on fiscal impact. If Richmond decides to be an arena city, the private market has already sent offers to develop the arena at no cost to the city if the RFP is crafted in a fair way and not crafted exclusively for the political donors of the mayor and the incumbent. The first year in recent history that Richmond went without a coliseum, the New York Times listed Richmond as one of the top places to visit in the world. Richmond is evolving and so must our downtown but not in a way that harms our financial future. Read the room. We have greater funding priorities.
Robertson: Richmond must redevelop its prime real estate downtown. Investment decisions shall not be made prior to residents' adoption of the Richmond 300 Master Plan and the small area plan.
QUESTION: If elected, what legislation or policies will you propose to promote racial equity?
Chipman: It is not enough that the city ends the era of Confederate statues, we must also end the era of Confederate outcomes in our city. Unfortunately, some of the incumbent's policies have funded those outcomes. This is why, when elected, I will implement the Equity Assessment Index to proactively root out and remedy racism and disparate impact in our policy procedures as a city. From the voter suppression in moving the registrar's office off of a GRTC transit route to the heinous police brutality towards those crying for racial equity, it is clear that we need more than yet another report on equity. People want equity when it counts. We need a rubric to identify and prevent policies furthering inequity.
Robertson: The following are adopted resolutions and ordinances I patronized that show my leadership in racial equity changes:
Equity and Inclusion Policy
Alternative to Incarceration to reduce mass incarceration
Fair and Equal Housing Policy
Office of Community Wealth Building goal to reduce poverty by 40%
Established the Affordable Housing Trust Fund
$10 million for affordable housing annually
Mandatory zoning which allows homeless shelters by right
An equity and affordable housing 5-10 year policy plan
Homeless Prevention Policy Plan
Tax relief for Seniors and the Disabled
I also support minority business disparity studies, an end to affordable housing taxation, eviction prevention fund and increased racial representation in government.
QUESTION: Do you believe Mayor Levar Stoney deserves a second term? Why or why not?
Chipman: The upcoming mayoral election is not about what Levar Stoney deserves. The question in both the 6th District council race and the mayoral race is what type of leadership do the people of Richmond deserve? Do they deserve a leader that passes symbolic measures to pad their résumé? A leader who fights for the priorities of the residents? These are questions that the voters of Richmond are deciding as they vote in this election.
Robertson: Mayor Stoney's works speak for him. I will support him if it is the decision of the city's voters.
Editor's Note: Allan-Charles Chipman's bio on civic/government experiences has been updated to correct a spelling error that was inadvertently inserted by the Richmond Times-Dispatch during the editing process