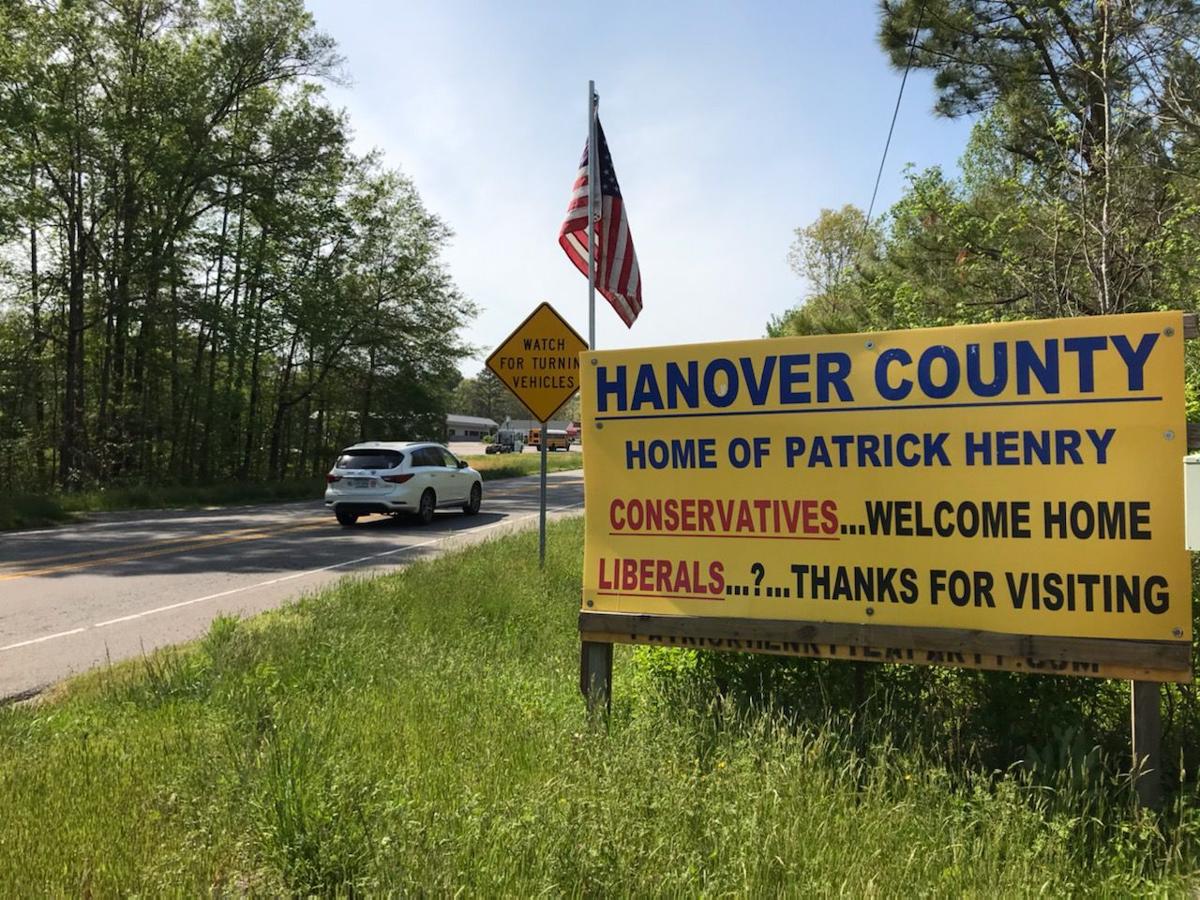 You could call the message near a Hanover County gateway a sign of the times in a nation with a growing intolerance for different political views.
The sign sits about four-tenths of a mile past the Henrico County border on Mountain Road, which is what Staples Mill Road becomes once you enter Hanover. The yellow background and red, black and blue lettering are hard to miss. So is the message.
CONSERVATIVES...WELCOME HOME
LIBERALS...?...THANKS FOR VISITING
Obscured by a plank beneath this message is the script identifying the sign as the handiwork of the Patrick Henry Tea Party. Perhaps that led a reader to question the sign.
"I would welcome an article probing the fault line indicated by this sign, as well as who is behind it. Its prominent placement on the county line really made it look like an official government statement," the reader wrote.
First and foremost, it must be said that whatever signal the sign sends, it's protected by the First Amendment. And from a county standpoint, it appears to be in compliance.
Tim Wilson, a code compliance officer for Hanover County, said his review of a photograph of the sign indicates that it appears to fall behind the ditch line and behind a Virginia Department of Transportation information sign. "Based on these factors, I believe that the sign is out of the right-of-way," he said.
This type of sign does not require a sign permit, Wilson said. It falls under a provision of the county zoning ordinance that allows such signs if they display a noncommercial message, are not illuminated, are erected by the property owner or displayed with their permission, and do not contain language or images that are obscene or defamatory.
The sign neither is official nor the first welcome that U.S. Route 33 motorists see when driving from Henrico into Hanover. Almost immediately upon crossing the border, you'll spot a sign in the median from the Hanover County Sheriff's Office urging motorists to drive safely. That's a message we all can get behind.
But the fault line the reader spoke of is real. As a nation, we've lost the capacity to disagree agreeably, or even to debate substantive issues in a rational way that does not resort to lies, conspiracy theories and name-calling.
Yes, Hanover County is what Chesterfield County once was — a reliably Republican jurisdiction. Hanover residents voted 2 to 1 for Donald Trump in 2016 and 2020.
But liberals and progressives, believe it or not, do populate Hanover — a county with around 108,000 residents.
Should they be made to feel unwelcome?
In another era, that's an easy question. Every jurisdiction in America should be home to divergent political views. But Hanover Board of Supervisors Chairman Sean Davis and South Anna Supervisor Sue Dibble, who represents the area where the sign is located, did not return messages before Tuesday's deadline. A query to the web page of the Patrick Henry Tea Party also went unanswered.
Official or not, that sign at Hanover's gateway gives the county a whiff of political intolerance. Thanks for visiting? Some folks passing through might breathe a sigh of relief as they exit the county.
Rachel Levy, a member of the progressive group Together Hanover, is one of those nonconservative Hanoverians whom the Tea Party wishes would keep it moving. She's running as a Democrat for the House of Delegates in the conservative 55th District, a seat occupied by Republican Del. Hyland F. "Buddy" Fowler Jr.
She said the sign reflects a typical attitude "that if you're not a conservative or don't fall in line with their beliefs, then they say you're not from here or that you don't live here or that you don't belong here. Which, as you know better than anyone, is what they say about Black people and is the essence of birtherism."
We're eviscerating the comity that allowed people with warring political views to call each other neighbors. Not only is legitimate political debate under assault, but voting rights and democracy itself.
Look, I'm as frustrated as anyone with today's political dysfunction. I don't know how The Big Lie of a stolen election became the truth to millions of people. Or how seditionists became "patriots" and a political party became captive to a cult of personality, purity purges and conspiracy theories. But I've got news: The fault line dividing red and blue is not nearly as neat as imagined.
You will always have people within your county, your town or even your cul-de-sac with different mindsets. Such pluralism was once quintessential to the American ideal.
Now, too often, freedom's just another word for exclusion.
And that's truly a bad sign.