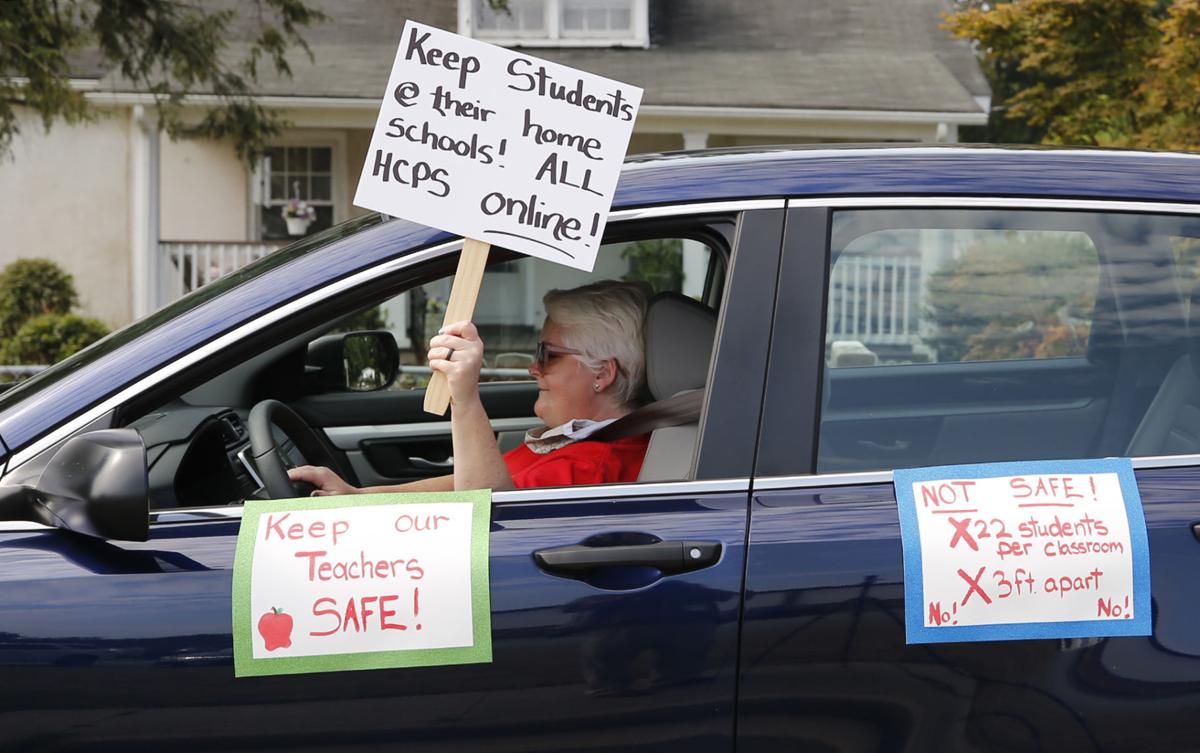 David Chung won't be there to greet his band students when the Hanover County school year begins a week from Monday.
Worried that his presence at school could cause the coronavirus to spread, potentially infecting students and their families, the band director at the former Stonewall Jackson Middle School made the decision this week to submit his resignation.
He hoped that the school would agree to let him teach virtually, as 40% of Hanover's students will continue learning online. He said the school division denied his request.
"I will not actively participate in a school district that will harm their students and families in the name of 're-opening,'" he wrote on his Facebook page afterward. "This is not normal. It will not become normal."
Chris Whitley, a spokesman for the school division, confirmed Chung's resignation Friday. Whitley declined to comment on Chung's decision, but noted that teacher placements for the upcoming year are based on enrollment.
Hanover is the largest among school divisions in the state planning for students to return under a relatively normal five-day, in-person schedule. It is one of 10 school divisions that will bring back students for four or more days each week, according to the Virginia Department of Education.
No matter what any of the state's school divisions are planning, parents are divided over what they think is the safest or best option as COVID-19 cases persist.
Hanover County has recorded 768 confirmed cases and 34 deaths from the highly contagious disease, according to the Virginia Department of Health data last updated Friday morning.
In Hanover, some parents and school division employees have protested the school division's decision to give families the option of enrolling in an online school or sending them back to attend in person.
Other families say they are grateful for the choice, worried about job loss from staying home or for their children's mental health. A little over 60% of families opted to go back.
About one in five of the school division's teachers who responded to a division survey said they would be interested in teaching exclusively online.
Whitley said staffing assignments are still being finalized but that priority is being given to teachers with medical conditions that place them at higher risk for contracting COVID-19.
"To date, we have granted approval to all teachers who have provided the necessary medical documentation," he said.
In an interview Friday, Chung said he has been perturbed that the school division is trying to reopen for in-person instruction, noting that the positivity rate in the Chickahominy Health District, which includes Hanover, has been hanging around 6% in recent weeks.
The positivity rate is a measure of how many people test positive for the disease, helping health experts determine how the disease is spreading in their communities.
Chung said the rate in the health district is about 1% higher than what he's seen some health experts say indicates a high risk of transmission.
"It's not necessarily about my safety ... it's for the students," he said. "If I somehow was to become a host and I passed it to one of my students, who passed it to their grandmother … I would feel some responsibility for that."
Dr. Thomas Franck, executive director of the Chickahominy Health District, said the positivity rate in Hanover was at 5.6% as of Friday.
He acknowledged that some experts consider over 5% an indication of high risk, but that Virginia health officials are considering 10% as a threshold for managing the pandemic.
Franck said the positivity rate is only one factor for the consideration of whether he would recommend schools be open. He cited the socialization of young students, the drawbacks of online-only instruction and the economic impacts on parents who are unable to work from home and can't afford childcare.
Both he and Whitley said the school district and local health officials would work together to investigate cases and determine if classrooms or schools must close. Franck said it's unlikely that he would recommend that the whole school system change its plans, as outbreaks can be contained if individual schools are closed.
"Each case is unique, so a one-size-fits-all approach is not a viable option," Whitley said. "As we have often shared, we will be ready to pivot if a need arises."
Chung said he was not sure whether he would quit his job last summer when the school division initially announced its plans, thinking that he would have the option to teach online after hearing from officials over the summer.
While he's concerned about making enough money to pay his bills next month, he said he may have some opportunities to freelance as a percussion instructor, and is also taking some online certification classes for information technology. He hopes that could lead to a new job.