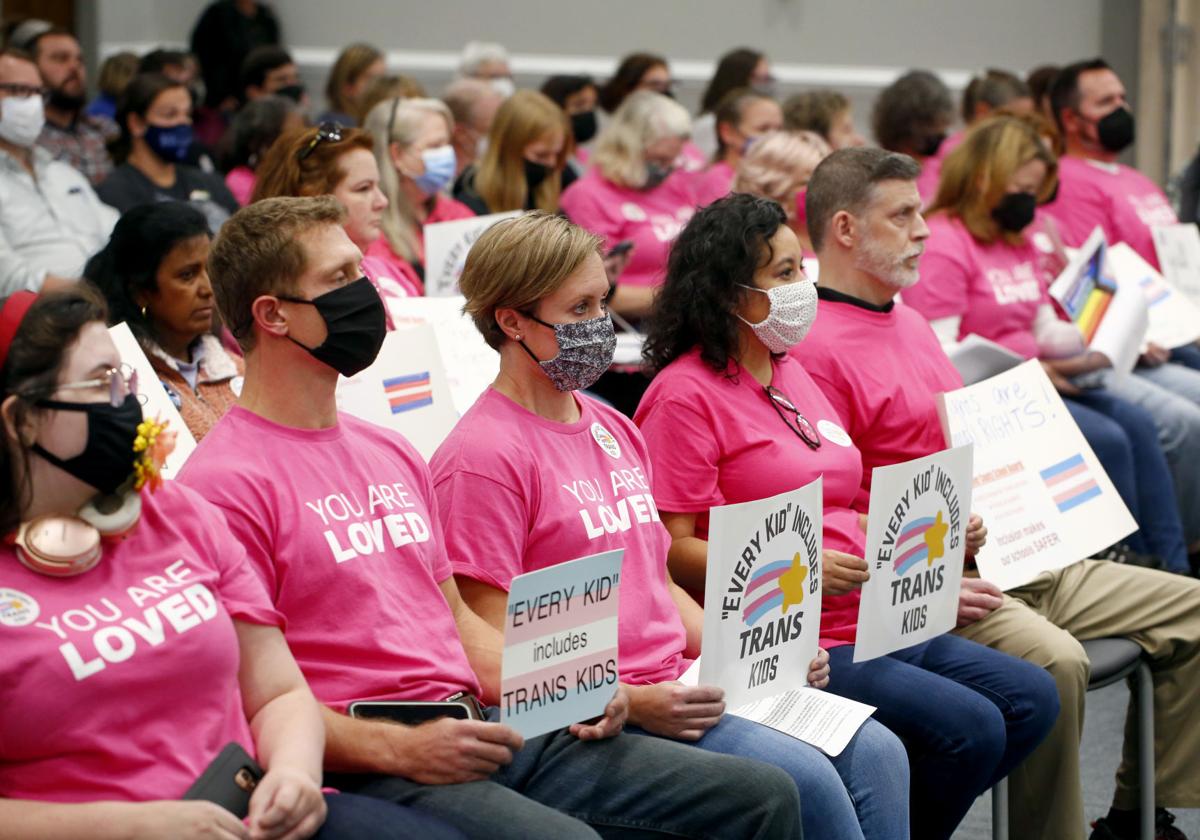 Hanover County's School Board heard from more than a dozen people Tuesday night on both sides of the transgender policies issue, though the board has yet to be served a lawsuit filed by the ACLU of Virginia last week on behalf of five parents of transgender students.
The lawsuit stems from the board's Nov. 9 actions, in which it shot down a policy that would allow transgender students to use bathrooms and locker rooms that conform to their gender identities. School boards were required to adopt such policies before the start of the current school year.
As of Tuesday night's board meeting, Lisa Seward, the School Board's attorney, confirmed that her office had not yet been served. Once the school division has been served, it has 21 calendar days to file a response. That window begins the day after the board is served.
The board did not discuss the ACLU lawsuit in open session. During public comment, it was largely the families and supporters of transgender students who spoke out, encouraging the board to follow the state law and adopt such a policy.
By not doing so, "you are setting a tone in these schools for how these kids are treated," said parent Sarah Bridges, and "perpetuating bullying" of transgender students.
The Rev. Rebecca Highfield echoed those thoughts, telling the board that it "is choosing to disregard the full humanity of transgender students," but that "history is on the side of justice and inclusion."
In other news, the board unanimously approved relaxing minimum requirements for substitute teachers as a way of addressing the substitute shortage. Where individuals were required to have a minimum of 60 college credit hours, an associate's degree or a bachelor's degree, they now must have a high school diploma, which is the minimum allowed by the Virginia Department of Education.
The board also is seeking public comment on school year start times for next fall and for the 2023-24 academic year, because it's considering starting before Labor Day in two years.
Nancy Disharoon, director of accreditation and accountability, told the board Tuesday night that the pre-Labor Day start has a number of benefits, including aligning with neighboring school divisions.
Locally, Chesterfield County opens ahead of Labor Day, and Henrico County will do so for the 2022-23 and 2023-24 school years. Richmond opened early for virtual middle and high school students this year, and is considering opening in mid-August next year for all students.
Early starts mean earlier ends to the school year, which may appeal to some families who wish to start summer vacation plans earlier, Disharoon said.
For the proposed 2022-23 school year, plans call for two flexible learning days, down from four this year. Half days — which Disharoon said are not popular with parents or teachers — only show up for the last four days of the school year. Half days during the year, which are typically when teachers have time to wrap up grades for the nine weeks' periods or semesters, have been replaced with full teacher clerical days and either student holidays or student flex days.
School Superintendent Michael Gill pointed out that Hanover students who attend Maggie Walker Governor's School already start ahead of Labor Day. The school schedules will not affect fall sports practices, which are set by the Virginia High School League.
Those who wish to weigh in are asked to email their thoughts to HCPScalendarinput@hcps.us now through Jan. 5. The board will vote on the upcoming school year in the coming months, but will not vote on the 2023-24 school year until early in 2023.
In 2019, the General Assembly passed a law allowing every public school in Virginia to start before Labor Day. That legislation chipped away at the so-called Kings Dominion law, which the northern Hanover County theme park and others in the tourism industry had championed in 1986 to ban Virginia schools from opening before Labor Day without a waiver.