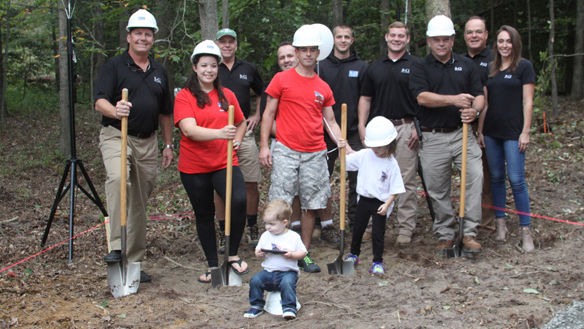 MECHANICSVILLE -- A local builder's efforts are bringing more than just smiles to the family of a local disabled Iraq War veteran. Todd Rogers and R-CI Builders teamed up with nonprofit veterans support group Homes for Our Troops and is beginning construction on a new home for Sgt. J.P. McGuire on a lot just off New Ashcake Road in Hanover County.
HFOT is a national organization that builds mortgage-free homes for severely injured veterans, and has built 222 homes since it was founded in 2004.
Last week, R-CI officials, McGuire and his wife Brittany and their two children, Trace and Aubrie, assembled on the site of their new home for a groundbreaking ceremony.
Rogers, president of R-CI Builders, is no stranger to community-based charitable projects, but being a part of this one was something that inspired the Hanover businessman from the minute he heard about it.
It all began when Rogers learned about the project through the Homebuilders Association that was advertising for builders interested in constructing homes for returning disabled veterans.
"Immediately, we responded, especially since this veteran was right here in our own backyard," Rogers said.
HFOT named R-CI as the official builder for the project, and the process began about a year ago. After HFOT located and purchased a lot, Rogers and his staff began planning for the project.
And there's a lot to consider, like specialized plans for the totally handicapped-accessible home and special VA inspections to ensure the home meets requirements.
"It's something different from what we normally build," Rogers said. "They design these projects all over the country."
The project that Rogers first envisioned has expanded to include neighbors, contractors and members of the Hanover community.
"We did this because we are thankful for the service of our troops. The community support and support of our R-CI vendors has been off the charts," Rogers said.
Many have contributed services or materials for the project, and HFOT also has provided supplies from its national vendors.
Rogers' firm is tasked with putting together all those pieces that will eventually result in a 3,700-square-foot single story home that will allow a new sense of freedom for its recipient, Sgt. James "JP" McGuire and his family.
Rogers said a special part of this project has been just getting to know JP and his family. "We couldn't have had a nicer young man and family to be doing this for. It makes you understand the troops and the sacrifices they make."
McGuire was on his second tour of duty in Iraq when he stepped on an IED, resulting in the loss of his right leg.
The young veteran hasn't allowed the injury to prevent him from pursuing his dreams. He works full-time as a product specialist at Bellwood, and volunteers as a wrestling coach at his alma matter, J.R. Tucker High School.
The couple has two small children, and the new home will make it easier for McGuire to keep up with the energetic youngsters.
The home features widened doorways for wheelchair access, pull-down shelving, lowered countertops and other special needs adaptations.
McGuire said the efforts to assist him and his family are life-changing, and has overwhelmed him with the response.
"HFOT and R-CI both took this project on with no questions asked," McGuire said. "They have been here for me the whole process, ready to answer any questions I had."
The new surroundings will offer McGuire the freedom and peace of mind that allows him to focus on the important things in his life.
"This is a home that is made for me, totally handicapped accessible," McGuire said. "I don't have to worry about if I can get around the whole house, take care of the kids, anything I want to do. I can't thank them enough."
The new home also allows his wife Brittany a new sense of freedom: the ability to leave home with the confidence that JP can access the entire home.
"The house will be such a help in our daily lives, not only for my husband but for me caring for him," Brittany said. "To have everything 100 percent accessible allows him to do so much on his own."
And the kindness and generosity displayed by HFOT, R-CI and the community won't be forgotten by the appreciative family.
"Both HFOT and R-CI have taken us into their families. We couldn't be more appreciative."
The home should be move-in ready by the spring.