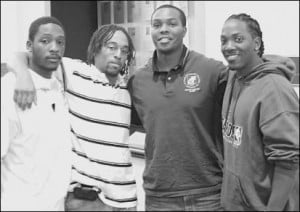 Hassan Shonekan wanted to reach out to at-risk youth in his community. So he started volunteering at the Dooley Center for Alternative Education at St. Joseph's Villa.
There, he served as a mentor to children, striving to help them, he said, "get back on the right path."
At first he wasn't sure if his efforts were making a difference.
"You might feel like you're doing this and not getting anywhere," said Shonekan. "But one girl we saw outside the school, and she remembered our names, and gave us hugs and thanked us. And she's doing fine."
Shonekan is a member of Brothers For Change (B4C), an organization founded in 2005 by JoJo McDuffie and Leonard Abbott at Randolph-Macon College. According to its mission statement, B4C provides Shonekan, and other young men, with a way to promote leadership and responsibility.
"Basically, the mission of the group is to unite all men on the R-MC campus, to help them develop character-wise and build diversity—and to have a group, regardless of socio-economic background or color. We don't discriminate," said Shonekan. "There's a misconception that the group is all African-American, but that's not the case."
The most evident characteristic shared by each of the group's 43 members is a passion to give to the community.
B4C participates in a number of service projects, including winterizing houses, aiding the homeless, and working with The Hanover Arc, an organization of and for people with mental retardation.
And every year the group organizes a Community Day for underprivileged children.
"Community Day is open to the county, to children ages five – 17," said Chris Chalk. "We offer varsity sports, food."
And judging by the event's growing success, kids love it. The first year, 30 children participated; last year, that number had increased to about 80.
Like the Community Day it sponsors, B4C continues to thrive as well. When the group first started, members met in a study room.
They now have a permanent room where they hold regular meetings every Monday night, and R-MC has made the B4C House a special housing option for the campus community.
"The house is used for our activities, and to open what we're doing to the campus," said Easton Davis. "If people are interested, they can come find out what we're about."
Students learn about the group in various ways.
"Maybe they saw our activities on campus, or heard about us from the newspaper, faculty, or the fund raisers we do," said Chalk.
"They want to join us because they want to give back to the community, and the group is an avenue to do that," said Shonekan.
Members of the group work together to decide on, and implement, projects they decide will benefit both the local and global community.
In addition to volunteer work, B4C has also advocated for bills to raise the minimum wage and eradicating biased policing.
"Each topic we've done, has been something one member wanted to do, and took the initiative," said Davis. "(For example), I have a passion about the atrocities of what's going on in Darfur. A lot of times people care about something, but they don't have support. We judge, but don't listen."
This can take compromise sometimes, adds Davis. "That's why we consider ourselves brothers!"
Community Day will be held March 8, from 10 a.m. – 6 p.m. at Brock Center on the campus of Randolph-Macon College. For more information, call B4C's faculty advisor, Anthony Keitt, at 752-4715.