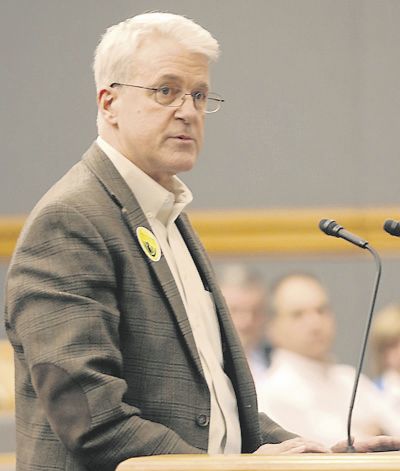 HANOVER -- Thanks to a 90-day deferment issued by the Hanover County Board of Supervisors, stakeholders in a dispute involving an industrial park located off Cedar Lane will have additional time to seek a resolution.
The panel unanimously approved the measure at a recent meeting where a number of Cedar Lane residents packed the board room urging supervisors to grant the deferral.
The board was scheduled to hear an appeal to a site plan approval that allowed the developer, Scannell, to open the first phase of a proposed industrial park located at the intersection of Cedar Lane and Route 1.
Residents of Chickahominy Falls and other neighborhoods in the Cedar Lane area organized and formed a community group last year to oppose the site plan approval, citing safety concerns regarding the number of trucks potentially entering and exiting the development from a single Cedar Lane access point.
That access point is adjacent to the entrance of Chickahominy Falls, a 50-plus development that has about 50 residences.
At a meeting of the supervisors earlier this month, landowner Linda Allen said all parties involved were participating in ongoing discussions to resolve the access problem. Neighbors contend they were promised four access points when original plans were unveiled, and have voiced support for a Route 1 entrance to accommodate the expected truck volume.
"I wanted to come tonight to give you assurances that if you don't see something happening, that doesn't mean that things aren't happening," Allen said, referring to ongoing negotiations with the involved parties. "There's a lot of misinformation out there and there's a lot of anger and fear out there," she said at an earlier board of supervisors meeting.
Allen said she's received numerous contacts regarding the project, and has attempted to dispel incorrect information circulating among the public.
"I met with Roger Glover (Chickahominy Falls developer) yesterday and told him, 'Please, let's keep the tone down'," Allen said.
Last week's meeting was again packed with Chickahominy Falls residents and Cedar Lane neighbors from Cedar Lea Park and other developments located along the two-lane road. They voiced familiar and similar concerns regarding safety, quality of life and property values, and expressed their opposition to the Cedar Lane entrance/exit.
Cedar Lea resident Craig Williams said he moved his family to Hanover for quality of life reasons, but supports planned commercial development. He noted his concerns regarding how that development is blended with residential communities like Chickahominy Falls and Cedar Lea, as well as safety concerns regarding the truck traffic.
"I think it's essential that you have a plan as to how you transition from residential into more commercial property," Williams said. "The idea of having a 50-plus lots community right across from a concrete building without any type of buffering with all this traffic just doesn't make sense to me."
Allen pointed out that the developer was providing more buffering than required in her statement to the board earlier in the month.
Williams said the current approved site plan would have negative effects on property values, quality of life and future "prospects for residential use."
Coalition board member Karen Unger urged supervisors to grant a deferral "that would allow the developers and planning director time to continue their efforts."
Rick Albee, president of the Cedar Lane Coalition and a Chickahominy Falls resident, acknowledged progress in talks with the developer and county planning, but said there's still work to be done in finding common ground.
Those talks have yielded some concessions from Scannell, including the addition of a right in/right out lane on Route 1 to be constructed within 24 months of the Phase 1 opening and a renaming of the project to the Cardinal Commerce Center. Once the entrance on Route 1 is operational, trucks would use the Cedar Lane access for entrance but would exit on Route 1.
"That would certainly seem to do a lot to reduce traffic on Cedar Lane," Albee said. "It's puzzling to us why they couldn't install the Route 1 exit and place the signage right away. If the trucks would obey those signs in two years, they surely would obey them when it first opens."
He urged supervisors to request a full traffic study of the entire project to determine "what would be best" in terms of access.
"We are encouraged and appreciative that the developers are engaged in discussions," Albee said. "
"Our primary concern with regards to this project was, and remains, the anticipated truck traffic and associated negate safety impacts on Cedar Lane as a result of the project," Albee said. "We strongly urge all parties to continue the discussions in good faith and come to a mutually beneficial solution to keep Cedar Lane safe."
South Anna supervisor Sue Dibble moved for a deferral, noting that she had met with the developer, coalition officials and others in recent days regarding the site plan appeal. "I can say that I am very encouraged by our progress; however, we do have more work to do," Dibble said. "I'm encouraged and thankful for Scannell for offering to change the name. I believe they do want to be good neighbors. They hear you like I hear you."
Dibble also raised the possibility of a revived traffic impact study. "I agree that it is a safety issue," she said, explaining she had no concerns with trucks entering on Cedar Lane but identified issues with those trucks exiting across three lanes of traffic on Cedar Lane.
Dibble said she hoped the parties could reach a resolution in the coming weeks and issue a memorandum of understanding that clearly defines a revised site plan complete with multiple access points.
The board approved a 90-day deferral, but the matter could come back at an earlier date if a resolution is reached with all parties in agreement.