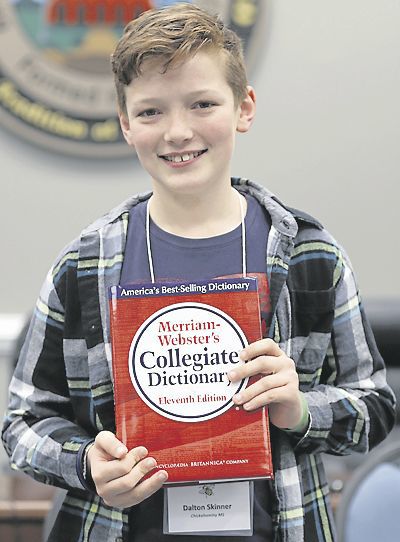 ASHLAND – After nine rounds, Dalton Skinner, a seventh grade student at Chickahominy Middle School, won the Hanover County Public Schools' 2019-2020 Division Spelling Bee. The winning word was "dishevel."
Gracie Antill, a fifth-grade student at Mechanicsville Elementary School, was the runner-up.
The competition was held at the Hanover County School Board Office on Wednesday, Jan. 15, and is the second of four levels of the National Spelling Bee. 
As the division champion, Dalton will represent Hanover County Public Schools in the Richmond Times-Dispatch Regional Spelling Bee on Saturday, March 21, at the Library of Virginia.
Hanover County Public Schools also congratulates each of the 18 winners of the elementary and middle school level spelling competitions who competed in the Division Spelling Bee:
Battlefield Park Elementary School -- Hank Smith -- Grade 5
 Beaverdam Elementary School -- Harper Evans -- Grade 5
Chickahominy Middle School -- Dalton Skimmer -- Grade 7
Cold Harbor Elementary School -- Draven Chesworth -- Grade 4
Cool Spring Elementary School -- Ava Fenderson -- Grade 4
Elmont Elementary School -- Ava Wilson -- Grade 4
John M. Gandy Elementary School -- Lyla Patterson -- Grade 5
Kersey Creek Elementary School -- Olivia Hussey -- Grade 5
Laurel Meadow Elementary School -- Gianna Strattman-Lassiter -- Grade 5
Liberty Middle School -- Hannah Rice -- Grade 8
Mechanicsville Elementary School -- Gracie Antill -- Grade 5
Oak Knoll Middle School -- Lucy Jurista -- Grade 6
Pearson's Corner Elementary School -- Noah Hetrick -- Grade 5
Pole Green Elementary School -- Evan Luck -- Grade 5
Rural Point Elementary School -- Alden Croxton -- Grade 4
South Anna Elementary School -- Miles Noah -- Grade 5
Stonewall Jackson Middle School -- Connor Wilborne -- Grade 8
Washington-Henry Elementary School -- A.J. Lopez -- Grade 5