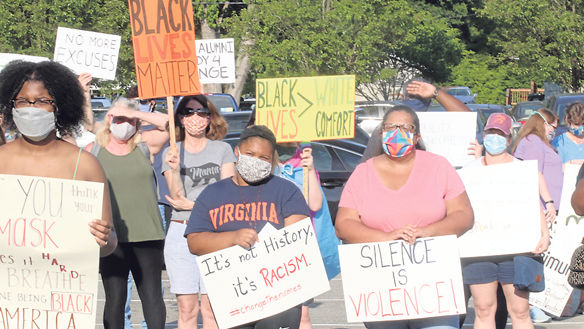 ASHLAND -- About 150 people showed up at the Central Office of Hanover County Public Schools for what was described as a community school board meeting in Ashland last Tuesday, about an hour before the regular meeting of the Hanover County School Board was to get underway in the ongoing virtual format.
Several former students and parents spoke to a crowd that showed its support with numerous banners and frequent applause.
Alicia Neumann, one of the Together Hanover-sponsored event organizers, said the meeting was called in response to perceived inaction from the school board regarding several issues, including the changing of two racially offensive named schools and mascots.
"As an organization, as a community, we are coming to speak out against the inability of our county leaders to recognize that hatred doesn't have a home here, and that the names of the schools represent something that should have been put to bed years and years ago," Neumann said.
She noted the names not only affect African American students negatively, but also send the wrong message to all students. "The Confederate-named schools hurt the black students who are attending the school and also hurting the white students by making them think that white supremacy is OK when it's not," she added.
Together Hanover is requesting action on several items, including the school name changes and creation of a third-party commission to guide Hanover schools regarding racial injustice, and the resignation of school superintendent Michael Gill.
Another demand, the termination of Hanover High School principal Kristine Reece, stems from an email she sent to teachers that some viewed as censorship.
Responding to reports of teacher comments on social media regarding ongoing protests and other current events, Reece wrote in an email to staff: "I need to remind you, that as employees and educators, you are to be mindful of posting on social issues. Please remember that we must remain neutral so all students feel welcome in our class and our building.
"Oftentimes, we have the best intention of making sure students feel welcome and in the process unintentionally ostracize others." The email continues: "Please do not create a situation where your compassion and love for people impacts your students, your classroom, or school community as we must not comment on social issues."
Reece sent another email several days later that offered an apology for those who had received her message with unintended meaning. "I care deeply about our students, families, and staff of color, and I wrote my message from a place of conscience and compassion for our broader community. I sincerely apologize if my message did not convey that."
She noted the initial message was not an attempt to silence teachers and staff. "I want to be clear that I respect and value your personal opinions and feelings, no matter the topic. This is certainly your rights, and I was not implying that you should remain silent. Rather, my intent was simply to reinforce our collective and professional responsibility as we navigate these important issues with our students."
A former Patrick Henry High School student was one of the speakers who expressed feelings regarding experiences in Hanover County.
"Any conversation that makes someone feel uncomfortable is a conversation worth having," Joey Coles told the crowd.
"Growing up in Hanover County schools and attending school every day is being 10 years old and having to come home and ask your parent what is the 'N' word.
"Growing up in Hanover County schools is informing the administration of racist remarks, homophobia and any other form of bigotry and hate and then listening to the sigh instead of allowing room for justice and adequate action," Coles added.
"Growing up in Hanover schools is being my history only during Black History Month," Coles said. "I experienced this first-hand, not only the hate from my peers, but also the disbelief in my future from those I called teachers."
The group is not only demanding the school name changes, but also the banning of Confederate-based or themed displays or the Confederate flag on school property.