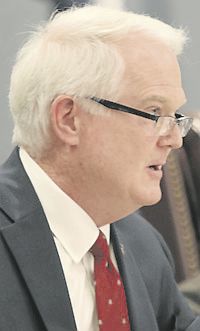 HANOVER -- Hundreds of gun rights activists packed the Hanover County Courthouse last Wednesday in support of a measure adopted by the Hanover County Board of Supervisors endorsing and protecting Second Amendment rights and declaring the county's intent to oppose any changes to gun laws by a Democratically-controlled General Assembly.
The resolution, which passed by 5-1 vote, stopped short of declaring the county a Second Amendment sanctuary, but clearly expressed the board's view involving proposed gun law changes in the General Assembly in the new year.
Hanover is one of several local jurisdictions that have passed similar resolutions. The efforts are a response to the newly Democratic-controlled Virginia House of Delegates and State Senate and announced plans to beef up background checks and limit magazine loads.
Outgoing Cold Harbor Supervisor Scott Wyatt introduced the resolution, stating the board would not support and oppose efforts to infringe on the rights of gun owners and would endorse no effort to change the current guarantees under the Constitution.
"Passing laws that would come after law-abiding citizens gun rights just isn't right. If legislators want to get tough, they need to get tough on crime, they need to get tough on the drug activity and related crimes right here in the Richmond area," Wyatt said before introducing the resolution.
Wyatt recognized Col. David R. Hines, sheriff, for keeping the county's crime rate the lowest in the region, and maintaining a safe environment for its citizens.
He emphasized the need to lessen the criminal element regionally, and noted gun restrictions would not achieve that goal.
"Taking one's second amendment rights, in my opinion, won't have much impact on violence," the soon-to-be 97th District delegate said. Last week's session was Wyatt's final meeting as a supervisor.
Wyatt read the resolution, which listed the large number of Hanover businesses involved in some form of the firearms industry, noting these businesses provide firearm safety as well as tax revenue for the citizens of Hanover County.
One of those affected business owners said impending changes to gun laws by the General Assembly could seriously impact his Ashland-based holster and training business, Blue Line LLC.
Owner Ken Delano said limiting magazine sizes and other proposed measures could affect his sales.
"I make holsters for civilians, federal officers … nationwide, based right here in Ashland. Half of the holsters we sell are for weapons that hold more than 10 rounds," Delano said, referring to potential restrictions to magazine capacities.
As an Ashland resident and 22-year police officer, Delano said he feels under-represented when it comes to gun rights, citing Ashland Supervisor Faye Prichard's dissenting vote on the resolution. He said he also recognizes a threat to his business if new restrictions are passed.
"Our business is going to suffer a huge loss when this thing passes," Delano said, referring to the magazine restrictions proposed by Gov. Ralph Northam. "It's going to be very much hampered if these restrictions pass," Delano said.
Wyatt's resolution clearly stated the county's opposition to those proposed restrictions. "I move to adopt a resolution to protect one's Second Amendment rights," Wyatt said.
Beaverdam Supervisor Aubrey "Bucky" Stanley asked why the term "sanctuary" did not appear in the lengthy resolution. "I got 159 emails on this issue and every one of them except one had sanctuary county in it," Stanley said. "I'm just wondering why we can't put sanctuary county in it, a place of refuge, protection and safe haven."
Wyatt explained the process of compiling a resolution among seven members was challenging.
"It's tough when you have seven individuals and you are trying to get the document created and across the finish line," Wyatt said.
Even with the term sanctuary lacking in the final document, Wyatt said the document offers strong guarantees.
"That particular word is not in it, but, after consulting with the county attorney, this does have teeth," Wyatt said.
Prichard said she could not support the resolution, citing a separation in duties of state and local government.
"In the past this board has refused to vote on things that were not under our purview because we don't want the state to vote or interfere in things that are in our purview," Prichard said.
"I highly support all peoples' businesses in the County of Hanover. I believe in your Second Amendment rights," she added.
Noting that Virginia is a Dillon Rule state, Prichard voiced her dissent. "For the reason we live in a Dillon Rule state and my respect for the role of state government and the role of local government, I cannot support this."
Wyatt said the latest state election where Democrats took control of both state houses has "consequences" and urged supporters to voice their opinions at the polls.
"I hope every individual in here votes. They're coming, folks," Wyatt said. "You better get engaged, join your civic groups, get in your local political units, and talk about it in church because this is going to a very different Virginia from what we are used to in years past," he concluded.