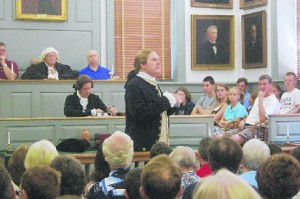 History reverberated throughout the walls of the historic Hanover Courthouse on Independence Day with a case that brought to prominence a Virginian who later would declare "Give me liberty or give me death."
According to The Parsons' Cause Foundation Inc., the December 1763 case established Patrick Henry's reputation as an orator.
"The Parsons' Cause," which opened for its 2009 run on June 20, spotlights "The Case of The Reverend James Maury et al vs. Thomas Johnson and Tarlton Brown," with Col. John Henry (Patrick Henry's father) as the presiding justice.
"Historians view the case as the 'opening salvo' of the American Revolution. In his arguments Henry maintained that government was a conditional compact between the king and his subjects. He asserted that by interfering with a law passed by the Virginia House of Burgesses the king was behaving as a tyrant and had sacrificed his right to the obedience of the people in this case."
Clergymen of the Church of England, the official state church, were paid in pounds of tobacco from 1682 to 1755. In 1758, the House of Burgesses "passed a new law permitting payment to them in money at a fixed rate of 2 pence per pound of tobacco, which, in effect, reduced their salaries."
The Rev. James Maury of Fredericksville Parish in Louisa County "brought suit in the name of his vestry against the collectors of the parish levies."
Col. Henry ruled in Maury's favor and set the jury trial for December 1763 "to determine the actual amount of damages owed to the Rev. Maury."
Information supplied by the Foundation said the minimum amount that could be awarded was one penny. Jurors, who are audience members, for the Fourth of July production came back with the same verdict as those who served in 1763: one penny for Rev. Maury. The audience as a whole also votes on the verdict, and agreed with the original determination.
The cast includes members of Virginia Patriots Inc.: Mike Wells as Patrick Henry, counsel for the defendants; Kevin Grantz, Peter Lyons, counsel for the plaintiff; Bill Young, William Pollard, clerk of Hanover County; Gerry Notare, Samuel Gist, and John Tucker, William McDowell, witnesses and tobacco dealers of Hanover Town; and Steve Hawkins, Hanover County Sheriff Tompkins. The Honorable John R. Alderman, retired Hanover County Circuit Court judge, portrayed Col. John Henry.
Foundation president John Tucker said the nonprofit receives "a small stipend from the county," adding citizen donations are welcome.