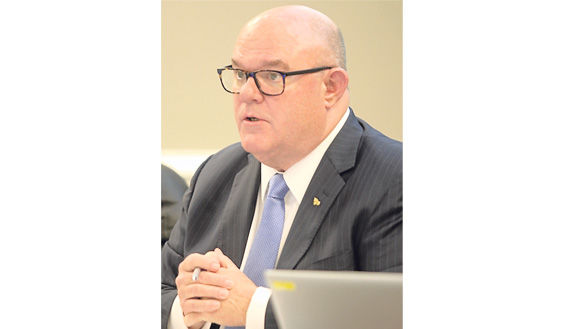 Local NAACP appealing recent dismissal of lawsuit
ASHLAND — Hanover County School Board members will meet on Tuesday, June 23, to discuss the names and mascots of Lee-Davis High School and Stonewall Jackson Middle School.
Board chair John Axselle announced the intentions of the board to schedule a closed session meeting that will take place before members gather for their regular July meeting to address an issue that has been highlighted by recent protests across the nation.
Axselle said at last Tuesday's regular meeting that details of the meeting will be announced when available.
"As a public body, we are entrusted with serving and educating students from diverse backgrounds. Without exception, we remain united in our commitment to provide every child with the highest quality education possible in a safe, healthy and nurturing environment," Axselle said.
"We believe that racism and hatred have no place in our schools, our community, or our society."
Superintendent Michael Gill expanded on those comments. "The division administration shares the board's belief that racism, hatred and any type of intimidation has absolutely no place in our school division," he said. "We share in the commitment to make that a reality; to continue to open lines of communication; and to build on our own understanding through dialogue, professional development and engaging in cultural competency and additional training for staff and students."
Board members returned from last week's closed session meeting with no announcements.
The board last addressed the issue in 2018 when a 5-2 vote in favor of retaining the names and mascots prevailed. Last August, the Hanover Chapter of the NAACP filed a federal lawsuit demanding the names be changed but that case was dismissed earlier this year.
At the time of the dismissal, Hanover NAACP president Robert Barnette said efforts to convince the local school board to take action would continue, and several recent protests have focused on the need for a change.
Those continuing efforts include an appeal to the recent dismissal filed last week by the local chapter of the NAACP.
In a press release, Barnette said "African American students at Lee-Davis High school and Stonewall Jackson Middle School confront everyday messages from the schools that they are less worthy than their white counterparts. These messages are harmful."
Barnette said recent protests have enforced the idea "that 'Black Lives Matter' are indeed worthy of dignity and respect."
"In the continued pursuit of justice and to ensure that all students regardless of race have access to an equal education in the Hanover County school system, the Hanover County Branch of the NAACP, the Washington Lawyers Committee, and Covington and Burling have initiated steps to appeal the District Court's dismissal of our lawsuit against the Hanover County School Board," Barnette said.
"We firmly believe that we are on the right side of the law and on the right side of history."
In other matters, school board members approved a plan to rectify a shortfall in the school's nutrition program caused by the COVID-19 crisis and resulting in the closing of schools on March 13.
Assistant superintendent of Finance Terry Stone said the program is facing a $1.2 million shortfall due to the decreased number of meals served during the closure, resulting in final figures less than anticipated.
Stone said that deficit will be justified by transferring fuel and electricity savings incurred during the shutdown, and $500,000 from the contingency fund.
Board members also approved a plan that allows all elementary schools in the county to have a uniform opening bell schedule.
The plan improves efficiency and allows more flexibility for drivers and eliminates eight bus driver positions that will not affect any current employees.
Bus driver positions are still open and applications are welcomed.