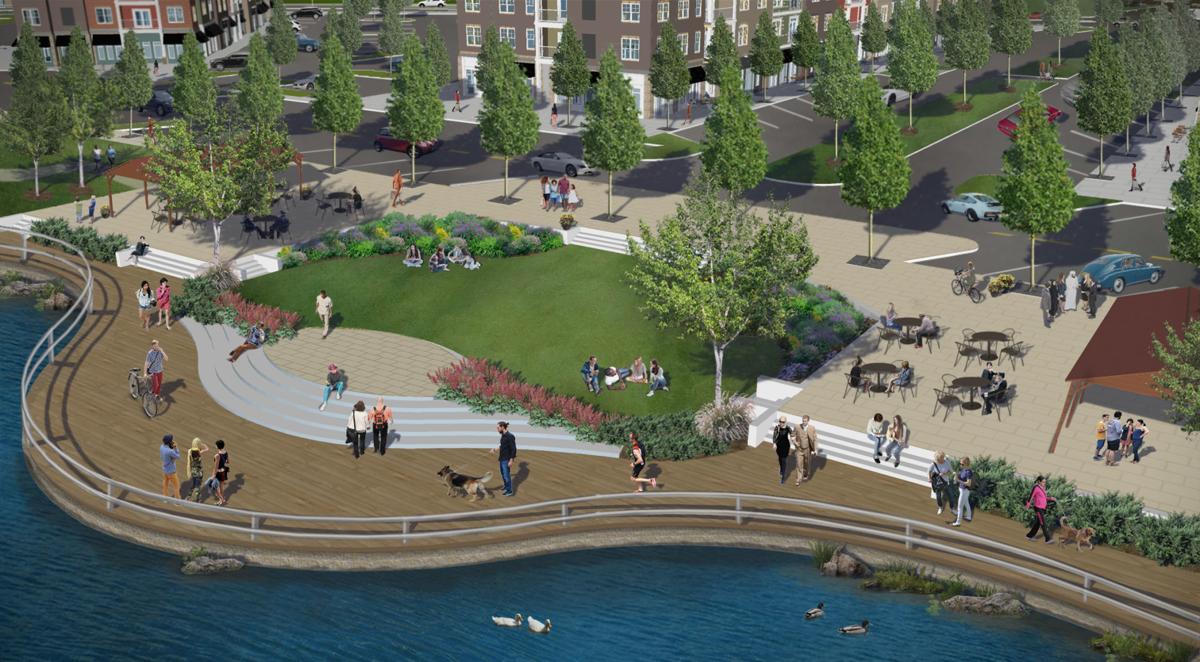 A Hampton Roads real estate company hopes to bring thousands of new homes to Hanover County with a massive mixed-use community that's expected to cost more than $750 million and take 15 to 20 years to complete.
Boyd Homes of Virginia Beach has proposed rezoning 323 acres near Hanover and Henrico's county line off U.S. Route 33 to develop a mix of up to 2,900 apartments, town houses and single-family homes along with at least 318,000 square feet of commercial space.
In addition to plans for the mixed-use community, Boyd Homes has agreed to work with Hanover's Economic Development Authority to prepare a site that could attract new investment in the area. The company has agreed to set aside about 30 acres of its proposal for five years, which the county can market to economic development prospects. If nothing comes to fruition, the extra land would be used for residential purposes.
"In today's market, the employers are following the employees," said Jeffrey Geiger, the Hirschler Fleischer lawyer tapped by Boyd Homes to shepherd its plans through the rezoning process, of luring commercial development.
Finalized plans to be submitted to the county for review are being tweaked. The land must be rezoned from agricultural and business uses to a mixed-use designation for the project to move forward as envisioned, which would require action by the county Planning Commission and final approval from the Board of Supervisors.
David Rudiger, president of Boyd Homes, said his company heard about the Hanover property about a year ago and saw it as a chance to try to bring something unique to the Richmond market.
"The Glen Allen area of the Richmond metro area has been very much in demand," said Rudiger, a University of Richmond graduate. "It's halfway between Short Pump, which has been very successful, and Virginia Center Commons."
The community Boyd Homes hopes to bring to Hanover is being called The Lake District at Glen Allen — a nod to the 16-acre body of water that sits at the heart of the project. Boyd Homes has the land under contract from Marchetti Properties, Geiger said.
Rudiger said Boyd Homes has worked with the county and its residents over the past year to come up with a plan that could appeal to everyone. Residents have voiced concerns at community meetings about how the proposal would affect traffic congestion along U.S. 33, which becomes a two-lane road as it crosses into Hanover and already sees backups at peak times.
"You've got to put the infrastructure in before you do an expansion like this," said Dan Osborne, who has lived near the proposed site since 2000. "I'm not against development. I'm more for development with some thought behind it."
Osborne, who said he attended the community meetings hosted by Boyd Homes, said Hanover has continually raised his property taxes over 18 years without upgrading aging schools in western Hanover, or fixing what he called slow fire department service.
He said that if U.S. 33 was expanded to a four-lane road, he would speak up in favor of the new development.
Rudiger said Boyd Homes is working with the county on improving U.S. 33. Boyd Homes will build a sewer line to serve the community beyond the one it plans to build. He said the project could generate nearly $10 million a year in county revenue when it's completed.
"We are working with the county to come up with a traffic plan," Rudiger said. "This would be the largest project that we have taken on."
Boyd Homes was started in Virginia Beach about 35 years ago and got into the Richmond market roughly 20 years ago, Rudiger said. Other projects Boyd Homes has done locally include Element at Stonebridge, an apartment complex in Chesterfield County. Boyd Homes' primary lender is TowneBank, but the company hasn't finalized its financing for The Lake District at Glen Allen, Rudiger said.
Residential plans for the development call for up to 129 single-family homes; a mix of 707 town homes and stacked town homes; 238 or 476 walk-up apartments depending on whether the economic development project works out; and 1,212 or 1,592 apartments served by elevators. Also in the works would be a town center-style area with retail on the ground floor and apartments above with green space nearby. Sidewalks and trails would connect the community to the Chickahominy River.
No commercial tenants have been lined up yet, but there are two anchor spaces that could be used by a grocer or an entertainment venture.
Grayson Murphy, who owns the Murphy's Auto Center collision repair shop off U.S. 33, expressed concerns about traffic and the impact on schools. Then there are the deer, foxes, rabbits and squirrels, he said. Murphy worries about the deer that will run onto the roads.
"The sad part about it is they're going to destroy all the land back there," said Murphy, who attended the community meetings. "It kind of helps our business, but I hate to see all that come about."
Rudiger said the plans would likely be deferred at the Planning Commission meeting on Thursday and be considered at a July meeting.
Boyd Homes first submitted its plans in December and has resubmitted them to the county at least twice.