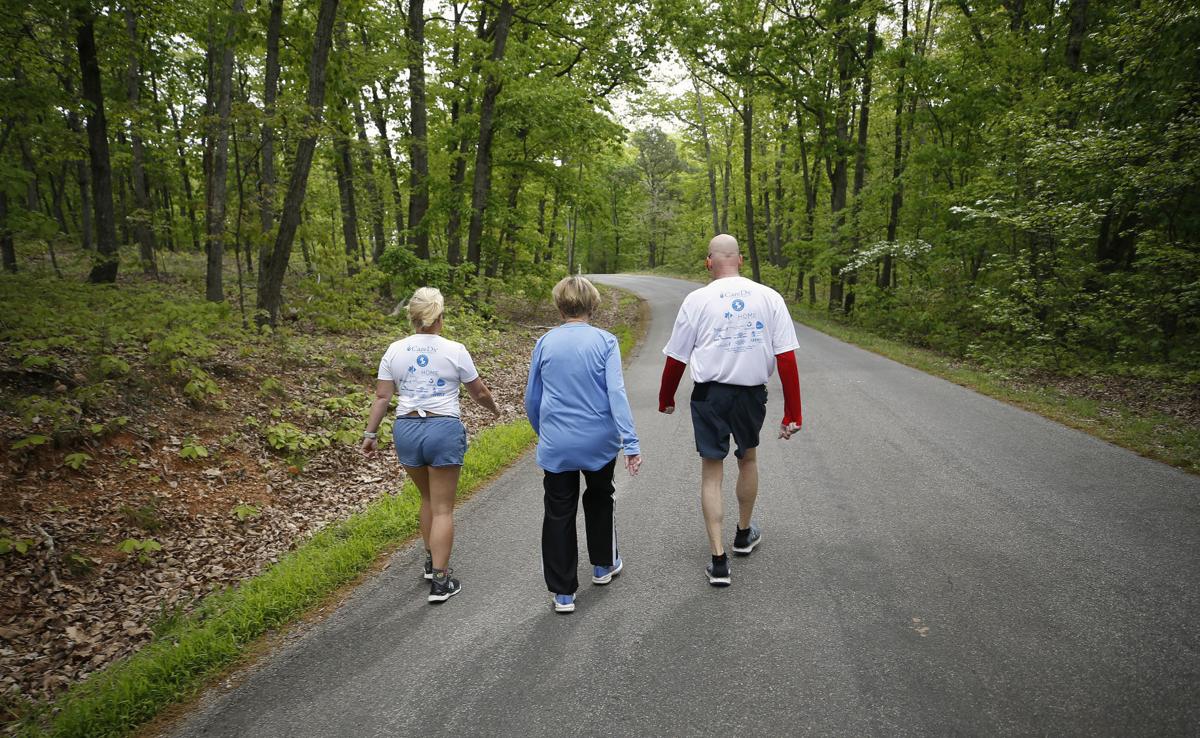 COVID-19 had ravaged R.J. Redstrom's lungs, scarring his tissue and straining his ability to breathe. He lay on an ICU bed at Henrico Doctors' Hospital last summer, an air mask over his mouth and a tube up his nose. For a month, he had been quarantined in a sterile, lonely room. He had just weeks to live.
His health, once excellent, had spiraled. The 58-year-old from Powhatan County had been an avid triathlete, running, biking and swimming in more than 150 races.
An outside pulmonologist was called as a last resort, and he concluded there was only one way Redstrom would survive: a double lung transplant.
But giving COVID patients new lungs was a controversial idea. Only one had been performed in the country at the time, and risks abounded. COVID could kill him before the new lungs arrived. And if the disease was still lurking inside his body, it would destroy his new lungs just as it had the old ones.
Realizing he faced near-certain death without the procedure, doctors decided the risk of doing nothing outweighed any potential complications.
"He was on death's door," said Dr. Hannah Mannem, a lung transplant specialist at University of Virginia Health. "He wouldn't have made it out of the hospital without a lung transplant."
A team from UVA arrived at Henrico Doctors' and sedated him for transportation to Charlottesville. Staffers connected him to a ventilator, which would keep him alive only so long. If the rest of his body shut down, he would be taken off the transplant list. They moved as fast as they could.
The weather had turned, and moving him via helicopter was no longer an option. An ambulance would have to do. The clock was ticking.
An Army veteran, runner and weightlifter, Redstrom wanted to do something big as he approached age 44, the same age as his father when he died of a heart attack.
Redstrom considered biking and swimming but decided he'd get bored unless he combined them. He signed up for his first triathlon, purchased a guide book and started training. He was hooked.
His most arduous race is the half Ironman, which consists of 13 miles of running, 56 miles of biking and 1.25 miles of swimming, taking him seven hours to finish. In Jamestown in 2019, competing in a shorter race, he logged one of his best finishes, crossing the line third in his age group.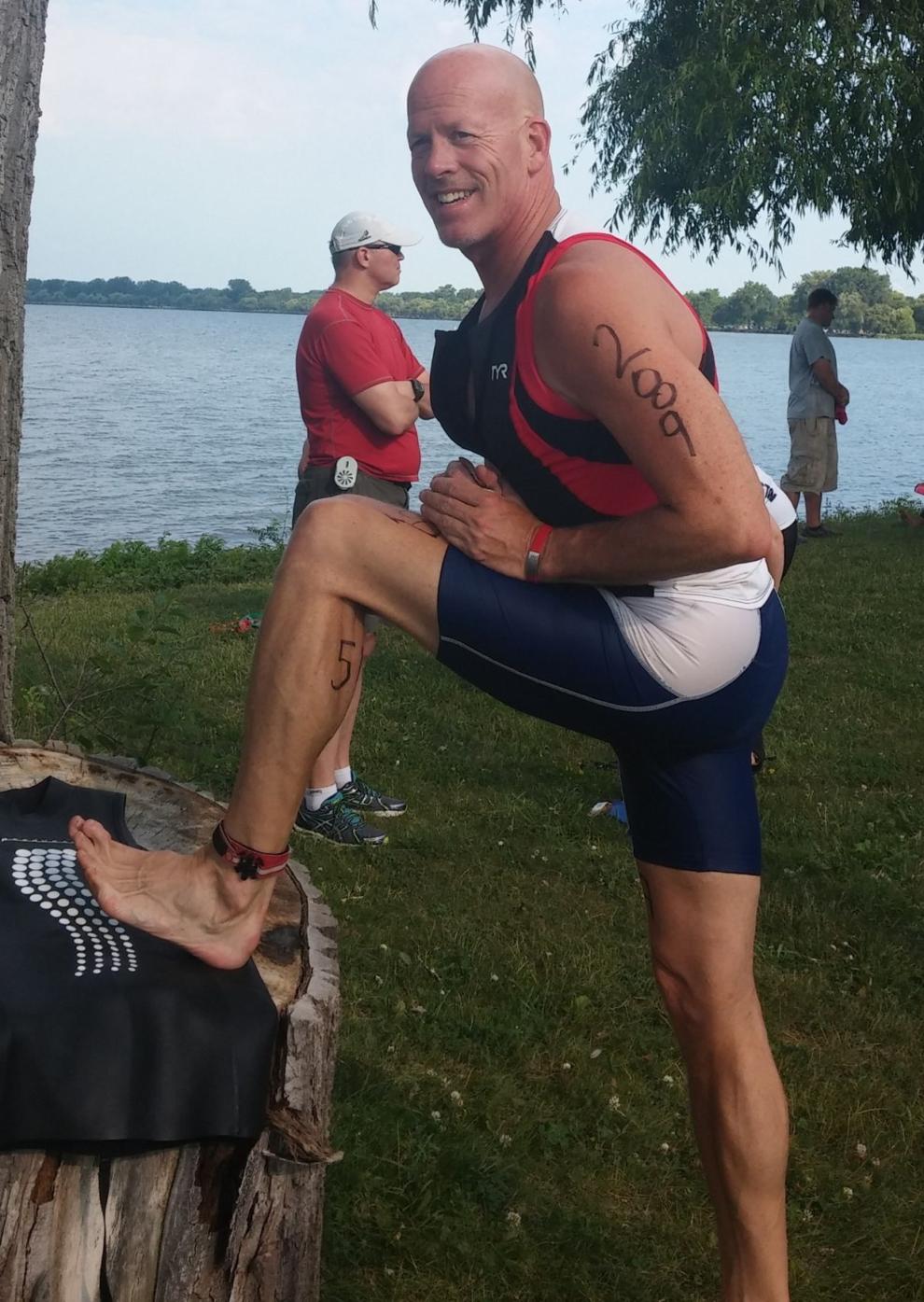 Near the end of August, he went to Virginia Beach with his girlfriend, Jo Romance, and her daughter. They slept at Romance's condo, ate at home and stayed in their bubble. But in the days to come, all three tested positive.
Redstrom drove to work on Monday at Richmond's Chippenham Hospital, where he is the vice president of human resources. At the end of the day, he coughed once but thought nothing of it. He drove home and went to sleep.
The next morning, he woke feeling tired and sick, his muscles aching. He took a COVID test at the hospital and returned home to quarantine. A week later, Romance and her daughter had recovered, but Redstrom couldn't breathe. Romance called 911, and members of the Powhatan Rescue Squad appeared at the door.
They took him to Henrico Doctors' Forest campus because Redstrom didn't want his co-workers treating him. If something bad happened, he didn't want his case weighing on their minds.
Visitors weren't allowed, so Redstrom texted updates to his mother, Martha Redstrom-Plourd. She called his caregivers regularly, learning their names and the times their shifts started and ended. She discovered that her son wasn't always eating and that his breathing was deteriorating.
"It was obvious he was declining," she said.
Doctors treated him with the conventional methods — remdesivir, corticosteroids and an antibody therapy. Nothing worked.
In late September, a doctor told Redstrom he might die. If he stopped breathing, hospital staff could place a tube down his throat connected to a ventilator. But the ventilator likely wouldn't save his life.
Or, the doctor said, Redstrom could sign a form instructing health care workers not to resuscitate him, known as a DNR. Redstrom thought about it for a day and decided if he was going to die anyway, he shouldn't prolong the inevitable. Grabbing his cellphone, he sent a text to his mom to let her know.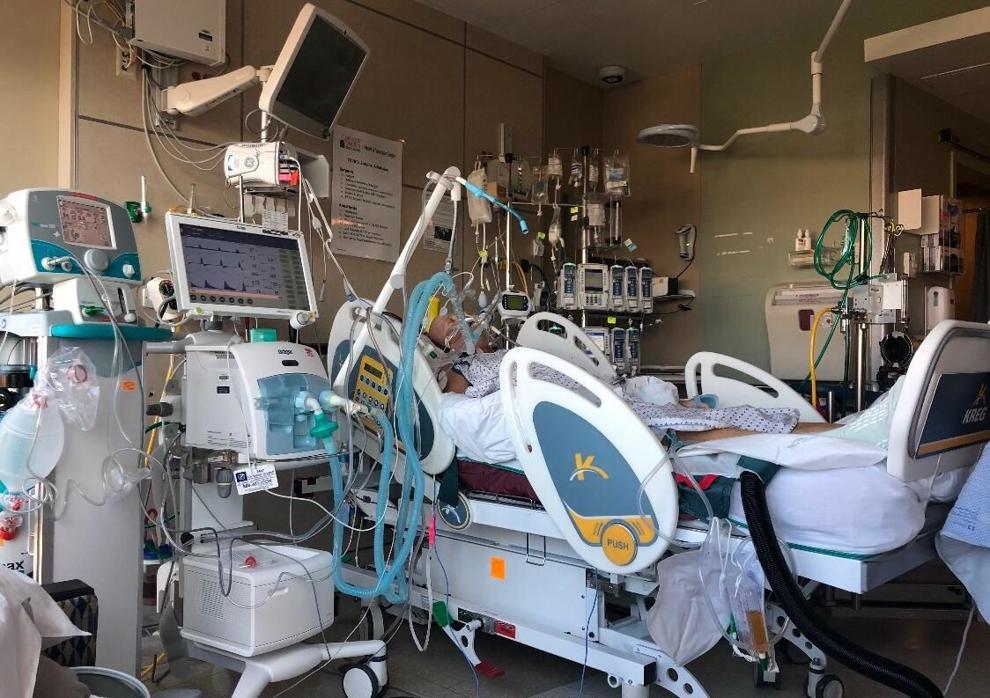 He had tested negative for COVID-19, so the hospital finally allowed his mother to visit. She sat on the other side of a sliding glass door, speaking to her son on the phone, reading him newspaper comics and telling stories about her childhood.
Refusing to sit by and watch her son slip away, she reached out for help anywhere she could find it. She called her son's boss, who contacted administrators at Chippenham. They asked their director of clinical care, Dr. Raj Malhotra, to visit Redstrom over the weekend. Maybe he would see something no one else had seen.
Malhotra had been treating COVID for six months. He had always known lung transplants were a viable treatment, but only for the right patient. Too often, patients arrived at the hospital too sick for a transplant. Organ recipients must be otherwise healthy people, because their immune systems are weakened in order to receive the organ, leaving them susceptible to other diseases.
There was a 27-year-old patient who had been a good candidate until his kidneys failed, removing him from the list and causing him to die a short while later.
Redstrom, on the other hand, "ended up being the perfect patient," Malhotra said. The wreckage of COVID was limited to his lungs. His kidneys functioned, his brain was unharmed and his urinary tract was free of infection.
Still, the decision to suggest a transplant weighed on the doctor. Lung transplant recipients don't live long lives. Half die within seven years.
"You're like signing someone's death warrant, basically," Malhotra said.
After ordering a CT scan and studying the images, the doctor determined Redstrom's lungs were beyond repair, and he would not survive without a transplant. Seven years was better than nothing.
The doctor called UVA's lung transplant unit and tried to persuade them to take Redstrom. This will put you on the map, he told them. UVA had never attempted transplanting lungs to a COVID patient, and they were unsure how to respond. After a day of considering, a doctor from UVA called back.
We'll take him, she said.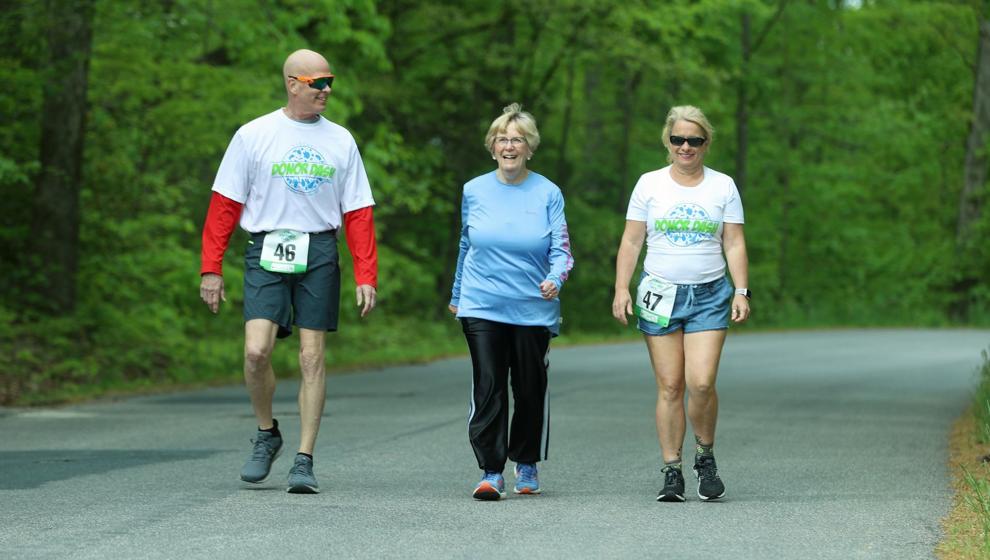 Redstrom had been in the hospital for a month when he got a FaceTime call from a physician he'd never met. It was Dr. Hannah Mannem, a member of UVA's lung transplant team, and she was offering him a chance to live. But she had one question.
Before Mannem offers a patient new lungs, she warns them about the long rehab and the handfuls of pills they will swallow every day for the rest of their lives. Are they willing to live that kind of life? Transplanted organs are given only to people who promise to take care of them, and there aren't enough. Every day, 17 people on the transplant list die having never received their organ, Mannem said.
There was a mask over Redstrom's face, and he didn't have the energy to say much. Fighting off tears, he answered: "I want to live."
A few hours later on Sept. 30, a team from UVA arrived to take him to Charlottesville. They sedated him, put him on a ventilator and hooked a tube into his neck to oxygenate his blood. After a month of no progress, everything had changed in a matter of hours.
"It's hard to describe, because it wasn't real," his mother said. "It was real, but it wasn't."
At UVA, Redstrom-Plourd could visit all day. She placed next to his bed an 11-by-17 framed photo of him riding his bicycle in a triathlon, his eyes focused, his face grimacing as his legs pushed the pedals. That photo, his surgeon said, helped the medical team see who their patient was before COVID had destroyed his lungs, sapped his body of 50 pounds and reduced him to a frail figure.
When his kidneys began to fail and his blood pressure dropped, hospital staff sedated him again. He didn't meet the criteria hospitals usually require of lung transplant recipients. He couldn't walk, move or urinate.
"He was one of the worst transplant candidates I've ever done," said Dr. Mark Roeser, his surgeon.
At best, Redstrom had weeks to live, Mannem said. But that meant he was climbing the transplant list. Recipients are chosen by an algorithm controlled by the United Network for Organ Sharing.
His mother would sit in his room, talking to her unconscious son and praying. It was difficult to pray for a donor, because it meant praying for someone to die, but she eventually found the right words. In the middle of the night, her phone rang. A pair of lungs was available. Would she accept?
On the night of Oct. 13, Redstrom's 12-hour surgery began. Inside his chest, Roeser found blood everywhere and severe scarring on the lungs. Redstrom's blood clotted so quickly, the hospital flooded him with blood-thinning medication. His surgery was more difficult than others, Roeser said.
Redstrom opened his eyes two days later and saw his mother sitting next to him. "Hi, mom," he said, smiling, before falling back asleep.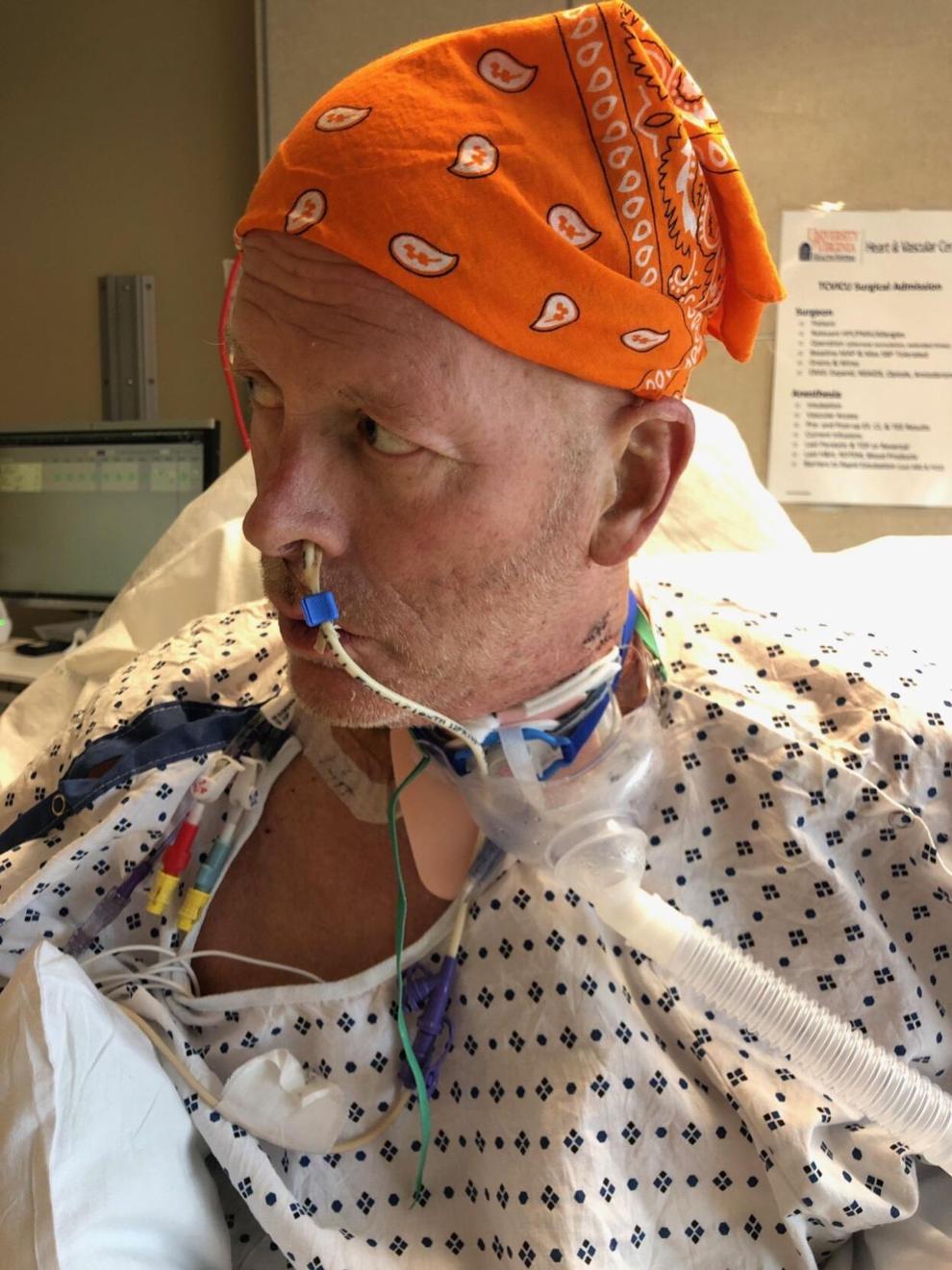 Redstrom spent the next month at UVA, relearning how to swallow and how to walk up a flight of stairs. His withered muscles and oxygen-depleted brain started regaining their strength.
Like many long-term hospital patients, he experienced hallucinations, confusion and strange dreams. Convinced his caregivers were trying to kill him, he got his hands on a phone and dialed 911. In a recurring dream, he lay on a bed, dying, a group of masked people standing over him. He would reach out his arms, pushing, but the masked people told him to relax.
He returned to his house in Powhatan in mid-November, and eventually he could walk on his own and go to the bathroom by himself. He resumed work remotely and, in April, returned to his office at Chippenham Hospital for the first time in eight months.
The cost of his transplant exceeded $2 million, he said. A small portion of that falls to him, but he describes the financial responsibility as manageable, thanks to his health insurance.
UVA has performed four lung transplants for COVID patients, and more than 130 have been conducted nationwide. All survived the surgery, Roeser said. Even though COVID cases are declining, Mannem expects UVA to perform more pandemic-related lung transplants, as some COVID patients may not survive in the long term due to the damage done to their lungs.
Redstrom attributes his survival to a series of miracles, from Dr. Malhotra recommending a transplant, to his donor dying and providing the lungs. God was behind it all, he believes.
"Everything was aligned for me to make it," Redstrom said.
He doesn't know his donor's name, age or gender. In the fall, he will be allowed to contact the donor's family, should they want to reciprocate. The donor, he said, is his story's "anonymous hero."
There's something about Redstrom's personality that wasn't there before, his mother said. His sense of gratitude is evident. Redstrom said the ordeal has made him kinder and more accepting. Sometimes, it still feels surreal to him. Only recently would he allow himself to look at pictures of him from the hospital, momentarily pausing his walk forward to consider the past.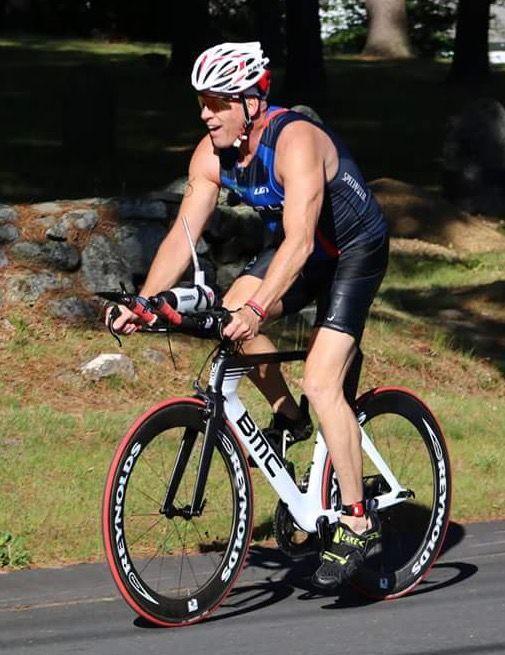 In April, Redstrom pinned a bib to his shorts, tied his running shoes and walked 4 miles on the roads around Powhatan High School for the UVA Donor Dash, an event that supports the UVA Transplant Center. He took it slow, strolling with his mother, niece and Romance.
He got back in the pool at ACAC. At first, he could swim only a few feet. Then he achieved an entire lap. Now, he can finish nearly 50 laps in an outing.
Recovery has been slower than he'd prefer. There was pain in his left big toe, the result of poor circulation from more than two months in bed. One doctor recommended amputating it, which would have made running difficult. Another doctor recommended treating it with ointment, and the toe is healing now.
He has big plans for his next triathlon, with a goal of completing one before the year ends. Because of the risk of infection, he can't swim in ponds or rivers, so he's eyeing saltwater races in either the Outer Banks or the Chesapeake Bay. Triathlons, he said, are all about how much discomfort you can tolerate.
PHOTOS: Lung recipient honors donor in Virtual Donor Dash
RJ Redstrom, who contracted COVID last year and needed a double lung transplant, participates in the Virtual Donor Dash in Powhatan, Va., with his mother Martha Redstrom-Plourd, his girlfriend Jo Romance and his niece Bailey Mitchell Saturday, April 24, 2021.