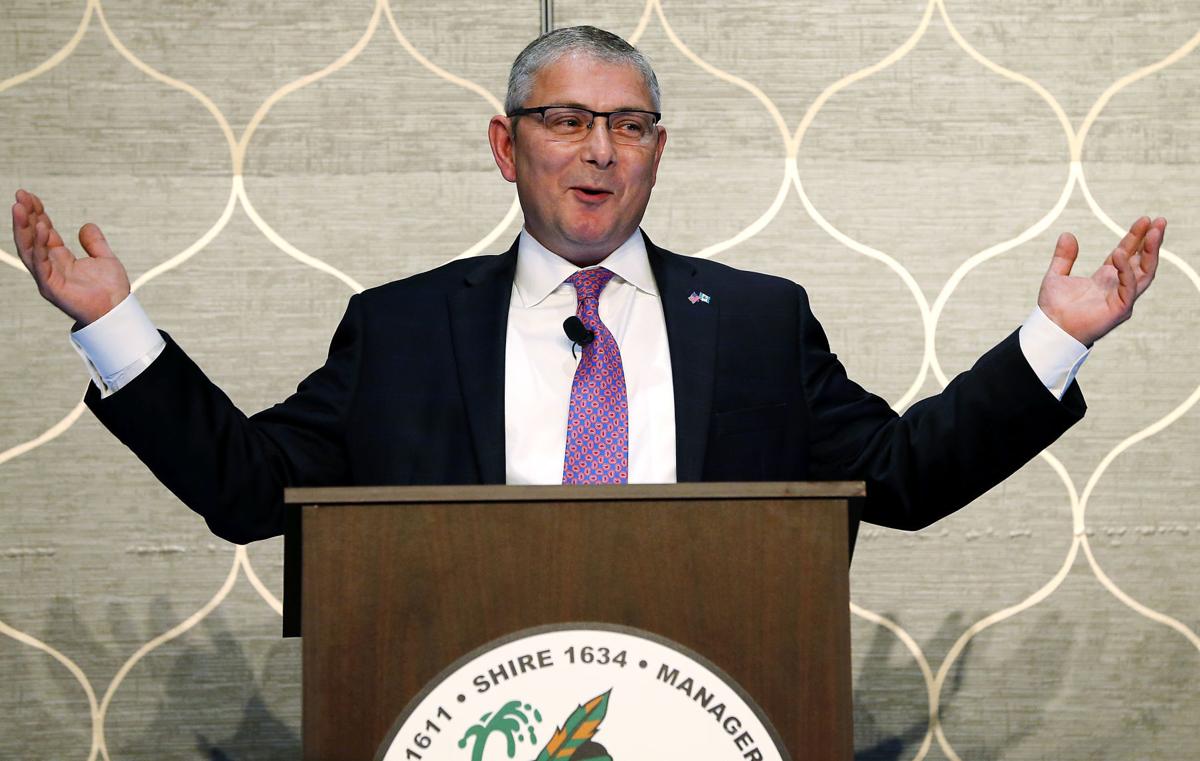 Henrico County Manager John Vithoulkas unveiled a $983.9 million general fund budget Tuesday night that doesn't include any federal stimulus money.
The proposed budget, being presented to the Board of Supervisors, is $84.8 million, or 9.4%, above last year's spending plan. When the pandemic hit last March, county officials ultimately cut $100 million from the budget, including scrapping a planned 3% raise for all employees.
While the county has received more than $81 million in federal stimulus funding to assist with the pandemic, the proposed budget does not assume future funding. Any additional funding received would be considered for one-time expenses where eligible, not to balance the budget.
"There's not $1 of federal stimulus money anywhere in the FY22 proposed budget," said Brandon Hinton, deputy county manager for administration, in an interview.
Last month, Vithoulkas announced all 10,000 county employees will receive a minimum salary increase of 4.4% rising to nearly 18% this year. The paycheck bump is part of a $57.6 million spending plan to make Henrico "the pay leader in the Richmond area," according to county officials. The county committed $25 million of the overall wage increase plan in December.
"The FY2021-22 proposed budget recognizes the efforts of each employee over the past year — often putting themselves in harm's way, finding ways to effectively work remotely, and even improving processes and results along the way. Our employees have exemplified selfless service," Vithoulkas wrote in his March 9 budget letter.
The county hasn't had a minimum 4% salary increase in about a decade, Vithoulkas previously said.
"A year ago, this compensation package was not possible," Vithoulkas wrote in his letter. "Staring into an uncertain future with local businesses having to close, people having to isolate within their homes, and travel completely shut down, the resulting fiscal impacts were thought to be ominous."
The spending plan also seeks to kick-start a two-year endeavor to increase minimum salaries for full-time hourly employees, including custodians and aides in human services, to $15 an hour by June 2022, with an increase to $12.50 or $13 in the first year. Currently, the county's minimum wage is set at the federal standard of $7.25; however, the lowest paid full-time general government employee earns $10.52 an hour.
Speaking specifically to custodial staff, Hinton said their work is critical during COVID-19, allowing for offices to reopen at small capacities and court to resume.
In increasing minimum wage, "I think the county will beat the country to that point," Supervisors Chairman Dan Schmitt said in an interview.
The proposed budget is a budget for both the people and projects for Henrico, Schmitt said.
"This is a fair budget for the residents, a fair budget for people who work in the county, and a fair budget for people who have businesses in this county," he said.
The county's real estate tax rate has remained unchanged at 87 cents per $100 of assessed value for the past 43 years. While the tax rate remains the same, the average Henrico home rose 4.7% in value, to $290,600 from $276,800, meaning the property owner would pay about $120 more on an annual real estate tax bill.
However, some monthly bills are increasing for residents.
Henrico's water and sewer service customers will see an increased rate by about $3 a month, starting July 1. The additional revenue is needed to maintain infrastructure demands while providing water and sewer service.
For the first time since 2008, the county solid waste program is increasing by $3 a month for the refuse collection fee. The new $18 monthly fee will address inflation since the former increase, which was over a decade ago.
In a $224 million capital budget, $54 million is allocated for renovating and expanding the county's two career educational centers. It fully funds the construction of a transitional recovery center for drug and alcohol addiction treatment and services.
Next week, county officials will hold four days of marathon work sessions to comb through the proposed budget line by line.