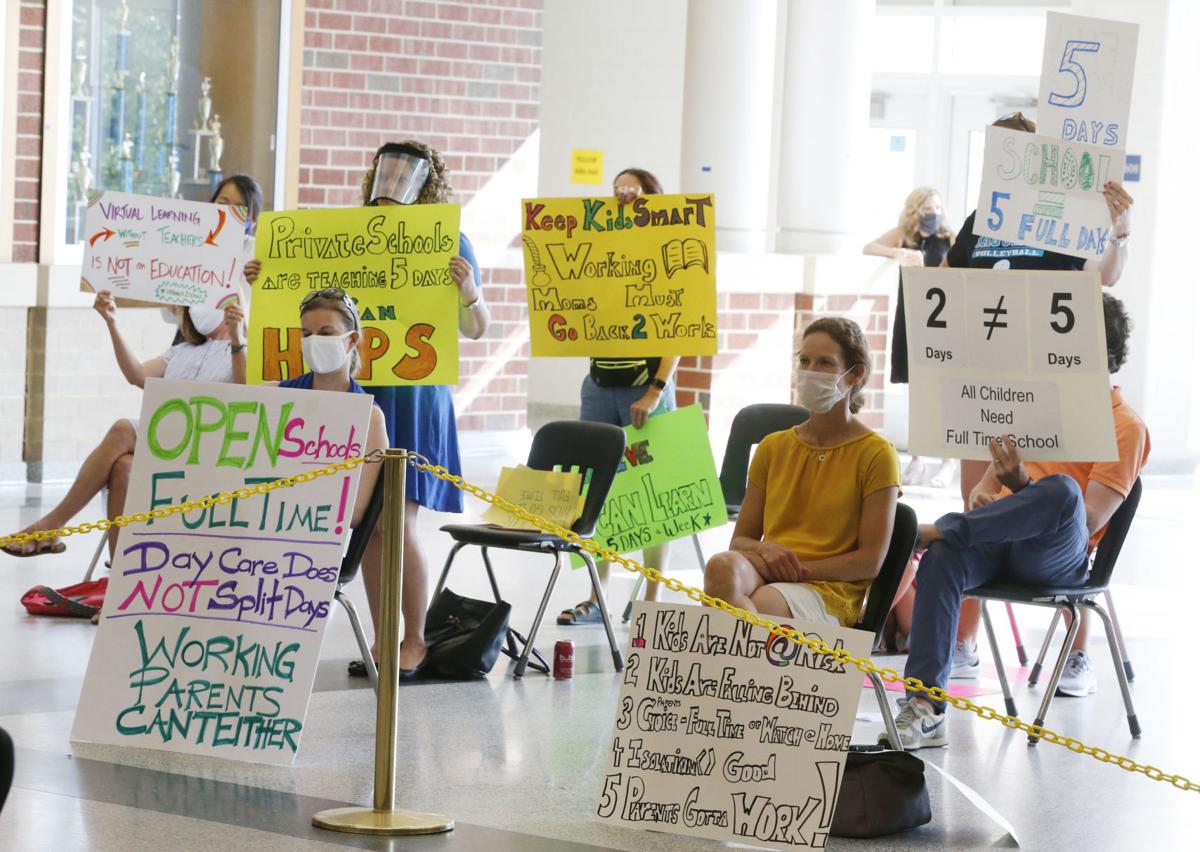 The Henrico County School Board on Thursday voted to send some of the county's youngest learners back to the classroom two days a week, starting Feb. 22.
In an afternoon of compromises and after considering three proposals, the board voted 4-1 to send back prekindergarten through second grade Feb. 22, third through fifth grades and sixth and ninth grades March 1, and all remaining middle and high school students March 8.
The two-day start is to allow for Henrico teachers and staff to receive their second dose of the coronavirus vaccine. Come March 8, all students are eligible to attend school four days a week. All schools will be closed each Wednesday to allow for deep cleaning.
Henrico families and students will have the choice to attend school in person or remain in a virtual learning environment.
School Board member Kristi Kinsella, who represents the Brookland District, voted against the return. She adamantly sought a later return day for middle and high school students.
"I'm sorry, where was the compromise?" Kinsella said during Thursday's School Board meeting.
She added: "Let me just emphasize our mitigation is strong, but secondary students transmit [COVID-19] like adults. I have tried to compromise on this. ... I have to stand firm against my colleagues on this one."
This isn't the School Board's first go-around of looking to resume in-person learning. In October, the board voted 4-1 to begin a staggered return Nov. 30. However, two weeks before the return, Superintendent Amy Cashwell delayed it until early January due to an increase in COVID-19 cases.
The early January return was pushed to Jan. 25, then delayed indefinitely after an announcement that Henrico school nurses would be temporarily pulled to help administer the coronavirus vaccine.
The nearly 6,000 school system employees who are receiving a vaccine are on schedule to get their first shot by Friday, said Beth Teigen, Henrico schools' chief of staff.
Employees will receive their second dose 28 days after their initial one, falling between Feb. 17 and March 5.
The first of the three proposals on Thursday came from Vice Chairwoman Marcie Shea, who represents the Tuckahoe District. She proposed sending all elementary schoolers back Feb. 15, sixth- and ninth-graders Feb. 22, and the remaining middle and high school students March 1.
Shea then modified her proposal, splitting the elementary return between Feb. 15 and Feb. 22, then having only sixth- and ninth-graders return March 1 and all remaining students return March 8.
"I think the most important point is that our schools are safe to return students and staff to the building," she said Thursday. "Additionally, we had a unanimous agreement with all members of the health committee that it is safe for students and staff to return before the second dose."
Shea also said the health committee's pause to a February return was not safety-related but rather due to the logistics of the second dose's impact on staff in the buildings.
Kinsella's plan called for sending back prekindergarten through second grade Feb. 22, third through fifth grades March 1, sixth and ninth grades March 8, and all remaining middle and high school students March 15.
"We've come so far, we're crossing the finish line. We can build trust, build some bridges, be successful and still have led the way in Henrico County with the way we have handled the pandemic," Kinsella said.
Also in favor of a later return was Varina District board member Alicia Atkins. She said that while in-person learning will benefit some students, challenges will remain.
"The truth is, we had students struggling before this pandemic — and they were in our buildings," Atkins said with a pause. "We had challenges while our students were in the buildings, and putting our students in the buildings doesn't resolve some of those challenges."
Fairfield District board member Roscoe Cooper initially proposed the first return date to be no earlier than March 8, while keeping his continued support to the fully virtual learning option.
While acknowledging that there are students who are failing, depressed and isolated in virtual learning, he said some Henrico teachers and staff are experiencing the same fears and anxieties over an impending return to school.
"I've seen the devastating personal impact this virus has had on our families, our communities, our schools and understand the mental health implications that are real, that exist," Cooper said.
Cooper's 75-year-old father was recently hospitalized with COVID-19 and has since been discharged.
Chairwoman Micky Ogburn, who represents the Three Chopt District, proposed the plan that passed. Ogburn's plan took elements from Kinsella's and Shea's, including the later February start date.
"I can't agree to delaying anymore. We were virtual all spring. It's been almost a year that our students have been out of school," Ogburn said.
She added: "The mitigation is safe and the vaccine is administered. I don't know what we are waiting for."
Also Thursday, Teigen, the chief of staff, announced that any in-person students who travel during the April spring break will be asked to revert to virtual learning for seven days if they take a COVID-19 test upon their return or 10 days if they do not take a test.