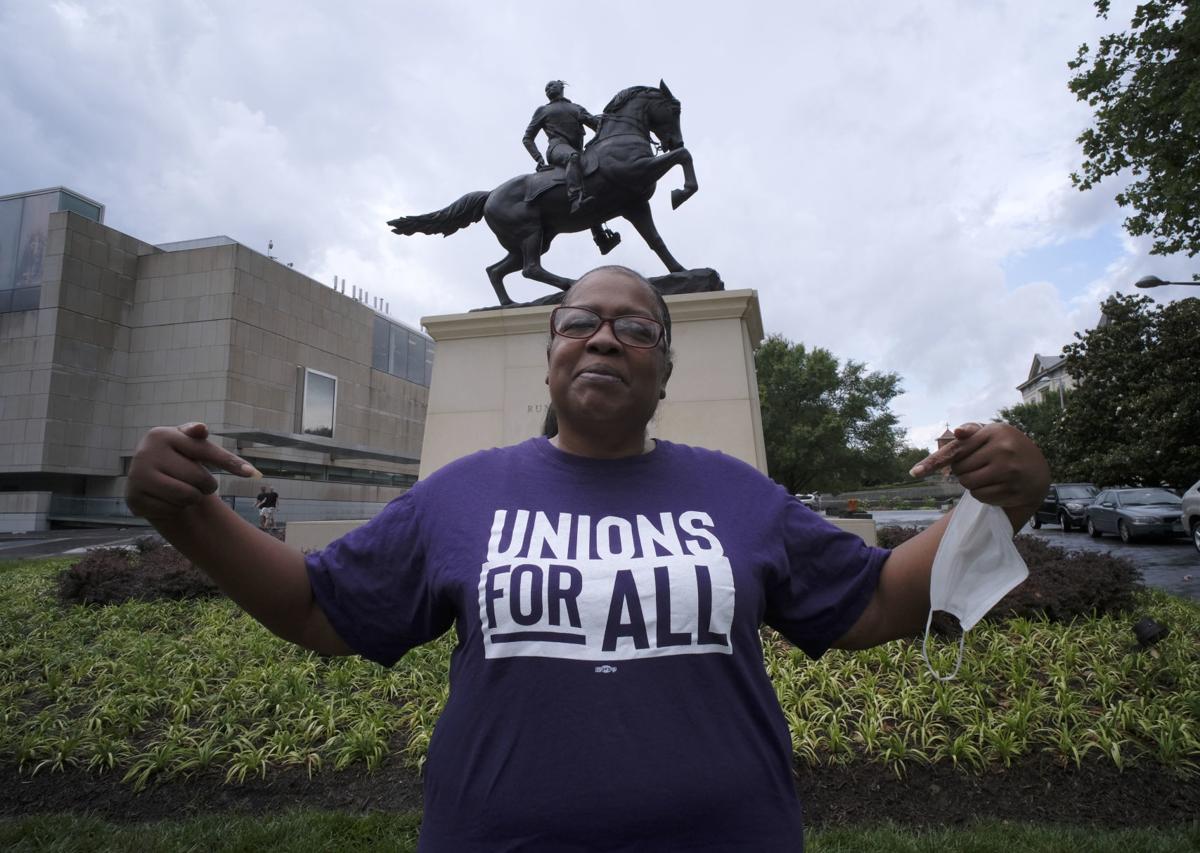 Lauralyn Clark prays every day that her daughter won't be the next Breonna Taylor. She dreams of shielding her from the violence and racism that's punctured Black communities, and of a world that reminds her that dark Black skin is beautiful.
But Clark, 57, remembers the day that was first ruined, when her daughter, then 9 years old, came home from school and posed a question Clark hoped she'd never ask.
"Momma, what's a n-----?"
She was in second grade. She didn't know what it meant — only that it was something people at her school in Caroline County had called her.
Clark remembers collapsing on her bathroom floor shortly after and sobbing. How would she explain this to someone so innocent?
Now, barely 20 years later on Juneteenth, Clark again weighs worst-case scenarios when she looks to her grandson, who's 2 years old and wears shoes that fit in the palm of her hand.
She doesn't want to tell him what his older years as a young Black man might bring — not yet.
"My prayer is that [he'll] get to high school and he'll read the history book and this will be a footnote. It'll say 'George Floyd's death brought about change,'" she said, thinking of other potential headlines.
"Systemic racism has come to a cease."
"Martin Luther King's 'I Have a Dream' has come true."
We're not there yet, she said, but Juneteenth reminds her of the life her ancestors and enslaved great-grandmother fought for, and how the country has the potential to repair its nefarious past. The holiday commemorates how the Emancipation Proclamation freed enslaved African Americans from Confederate states in 1863 but didn't reach Texas, where more than 250,000 Black people, including children, remained enslaved, until June 19, 1865 — nearly 2½ years later.
But while Juneteenth fires up celebration of Black joy with church services, cookouts and parades, the legacies of slavery and the systemic racism established 400 years ago linger.
Clark comes from a line of workers in the home care field, an industry she said remains a disguised form of present-day oppression. Nine in 10 people in the field are women and 62% are Black and brown people, according to the Paraprofessional Healthcare Institute. These jobs evolved from the enslavement of African American women that forced many to breastfeed and care for enslavers' children.
Centuries later, the role of Black caregivers has evolved into a line of work that paid Clark about $8.50 an hour — about $340 per week — and offered no health insurance, overtime pay or paid sick leave. She frequently worked through sickness and 20-hour days, caring for other people while her daughter didn't have health coverage. She couldn't afford it, Clark said, and it's a fact that rests heavy on her soul.
Then came the eviction in 2019, when her patient was hospitalized and the paychecks stopped. Being paid less than $9 an hour didn't afford her the privilege of establishing an emergency fund or savings to pull her through. She couldn't pay the rent, and like many low-wage earners, she didn't qualify for unemployment benefits.
Her hip surgery in February, just weeks before the coronavirus was declared a pandemic, meant an isolated recovery. Months later, her legs don't work how they used to, she sometimes loses feeling in her right hand, and her knees are in need of surgery. She said that's how her body, aching after more than 20 years of lifting, washing and dressing people with disabilities, tells her it's time to rest.
But Clark's life has been marked with loss, a mourning of lives she wished could've held on a bit longer, including her mother, husband and one patient she helped for years.
She knows she can't stop now, but Clark isn't sure how much more grieving she can take. For over 10 years, she's pushed for worker protections in the state's General Assembly — Virginia ranks as the worst state in the country for workers' rights, according to Oxfam America — and driven low-wage workers to register to vote.
"This is going to be the most important election of our lifetime," Clark, who lives in Richmond, said of November's presidential ballot. "It's vitally important to me right now, because if we don't change the system, it's [going to stay] so broken."
So Clark is spending her Juneteenth doing what she does best: caring for others — she prepared for her daughter's birthday celebration and set up the festivities — and registering people to vote. Anything to move the needle forward, she said.
Home care is funded through state programs such as Medicaid and Medicare, and its role in health care has historically been overlooked, Clark said. The 2020 General Assembly session scored home care workers a few wins — a 5% raise, the right to overtime pay and a study on the impact of low wages — but the pandemic stunted the state budget, leaving the monumental pathway to the state's minimum wage increase dangling.
Mandated paid sick leave nearly passed the Senate this last session before being shut down. Currently only 12 states and Washington, D.C., have paid sick day policies.
Home care workers also haven't had access to personal protective equipment or hazard pay, said David Broder, the president of SEIU 512 Virginia, a labor union protecting home care providers. In addition to fighting against the lack of worker protections in Virginia, said Broder, people like Clark are on the front lines of two crises: racism and a pandemic.
"Those two things go hand in hand," he said. "The current challenges [home care workers] face are rooted in the past of slavery, in the past of Jim Crow and those things aren't of the past. They're very much with us … even though they're doing what's recognized as incredibly important work."
After decades of work, Clark has days where depression debilitates her, leaving her to wonder what decision she could've made differently.
"I have nothing to show for the last 20 years of my life. I have no retirement. I can't retire. I have no savings," she said. "If it wasn't for the kindness of my union family or friends during this unemployment time, during this pandemic …"
Clark's voice trailed off.
"Who's going to take care of us?" she asked. "I don't understand how a system that pays us to care for other people doesn't see the value in what we do enough to care about us."
But she keeps pushing to see the day she can proudly tell her grandson about the history of their family, how her great-grandmother was enslaved and fought for Black liberation; how in 2020 crowds swelling to the thousands took to the streets to fight for kids who look like him.
Maybe by then, she said, he'll know what it feels like to truly be free.
(804) 649-6103
Twitter: @sabrinaamorenoo