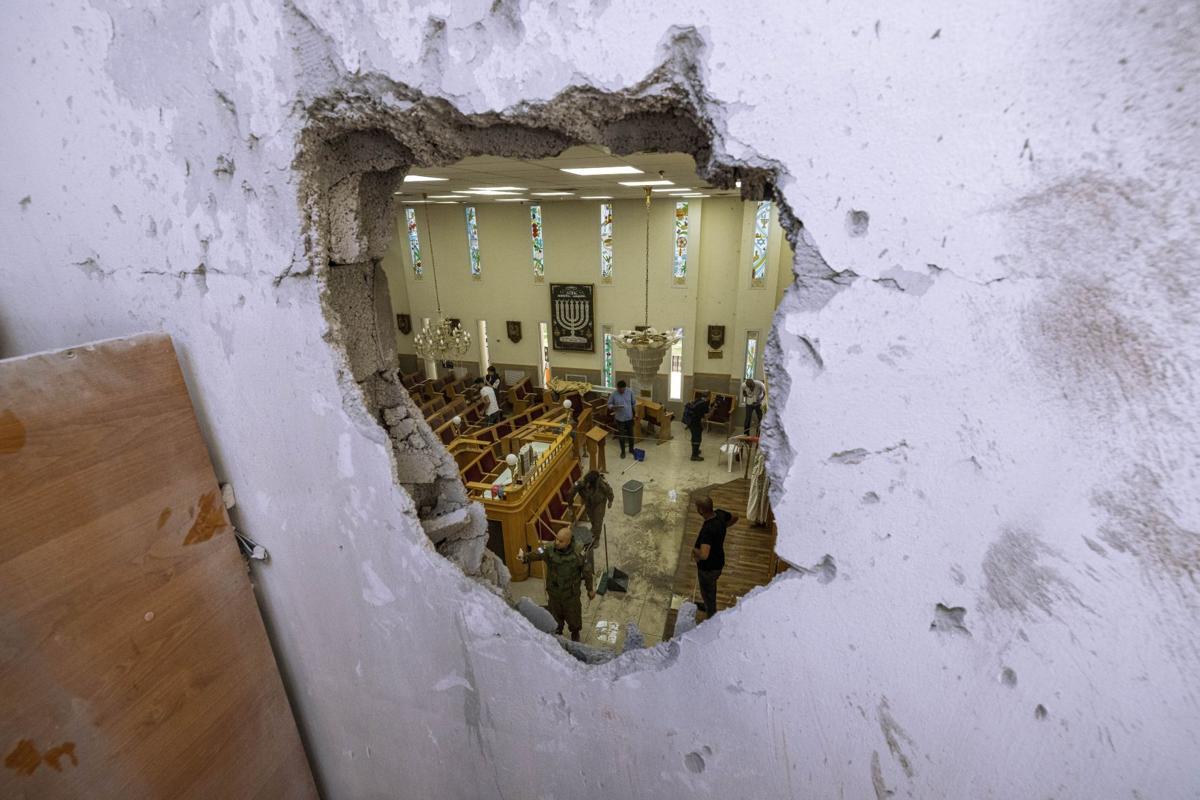 The message on the protest signs and face masks, "WE CAN'T BREATHE SINCE 1948," succinctly expresses the shared history of oppression between African Americans and Palestinians.
"I can't breathe" were the dying words of Eric Garner and George Floyd — one man killed in a New York City cop's chokehold; the other murdered beneath the knee of a Minneapolis police officer.
The year 1948 is when Israel officially was declared an independent state, launching the Arab-Israeli War and the exodus from Israel of more than 700,000 Palestinian Arabs, who forcibly were displaced and fled from their homes. What ensued is described by Human Rights Watch, which recently declared in a 213-page report issued last month that Israel has crossed the threshold into crimes of apartheid.
"Israel has maintained military rule over some portion of the Palestinian population for all but six months of its 73-year history. It did so over the vast majority of Palestinians inside Israel from 1948 and until 1966. From 1967 until the present, it has militarily ruled over Palestinians in the OPT [Occupied Palestinian Territory], excluding East Jerusalem. By contrast, it has since its founding governed all Jewish Israelis, including settlers in the OPT since the beginning of the occupation in 1967, under its more rights-respecting civil law."
That Palestinians would find inspiration in the Black Lives Matter struggle for social justice — and vice versa — comes as no surprise to Michael Fischbach, a professor of history at Randolph-Macon College (R-MC) and author of the 2018 book, "Black Power and Palestine: Transnational Countries of Color."
The roots of this solidarity extend to the 1960s, when Malcolm X and members of the Student Nonviolent Coordinating Committee (SNCC) saw Palestinians as "fellow people of color, like themselves, involved in a global struggle against racialized imperialism and colonialism," Fischbach said.
"Even for activists of color and their allies today, even those with no knowledge of this, it's a very instinctive sense of solidary, it's a gut level of recognition," Fischbach said — particularly in the context of our nation's unwavering support of Israel with arms and capital.
The rapper Jasiri X, inspired by a trip to the West Bank, released "Checkpoint" in 2014. ("If Martin Luther King had a dream at the checkpoint/He wake with loud screams from the scenes at the checkpoint.") What he saw there looked a lot like the "stop-and-frisk" tactics of the New York City Police Department.
"In Hebron it was very reminiscent of being a young black man in the inner city," Fischbach quotes the rapper saying in his book. "Here you're a person of color so I'm just going to assume you are a criminal, stop you, frisk you, and assume you are doing criminal activity. It was really the same treatment I saw with Palestinians and African refugees."
That solidarity has been reciprocated.
Palestinians have painted a mural of George Floyd on the Israeli Separation Wall in Bethlehem in the occupied West Bank. (Yes, the same nation that demanded that the Soviet Union remove the Berlin Wall allows Israel to wall off Palestinians.) And in August 2014, during protests following the killing of 18-year-old Michael Brown by a Ferguson, Mo., police officer, Palestinians tweeted tips to Black activists on how to deal with tear gas.
The catalyst for the recent escalation of violence was the move to evict a half-dozen Palestinian families from the East Jerusalem neighborhood of Sheikh Jarrah, to be replaced by Jewish families — part of what critics describe as an attempt at ethnic cleansing in predominantly Arab East Jerusalem.
Of course, evictions in the U.S. — including in Richmond, which has been a national leader in eviction rates — emerged as a major issue of Black Lives Matter during the pandemic. Urban neighborhoods are gentrifying, with older, poor and Black residents being displaced. And police, in some quarters of the Black community, are viewed less as protective servants than as an occupying force.
But in the midst of this nation's ongoing reckoning on race, as President Joe Biden navigates slender Democratic majorities both in the House and in the Senate, the R-MC professor is uncertain that business as usual on Israel is tenable. Biden cannot afford the defection of progressive Democrats, who are rallying in defense of the Palestinian right to survival.
Biden and his secretary of state, Antony Blinken, have issued pronouncements about Israel's right to defend itself but nothing similar regarding the outgunned Palestinians, even as the Palestinian death toll approached 200, with more than 1,200 injured, compared to 10 Israeli deaths. As U.S. Rep. Ayanna Pressley, D-Mass., said: "Palestinians are being told the same thing as Black folks in America — there is no acceptable form of resistance."
Our nation's history of colonization at the expense of the Indigenous and the enslaved has not hard-wired it for empathy for the displaced or the oppressed. We were sitting on the sidelines, as the Holocaust unfolded, until the Japanese bombed Pearl Harbor. Despite the counterslogan, all lives never have mattered here.
But the younger, multiracial throngs of protesters who assembled last year around this time, in the wake of Floyd's Memorial Day murder, have no appetite for our nation's support of oppression and the disproportionate use of force abroad that too often characterizes interactions between the police and unarmed Black people here.
The spectacle of missiles taking down massive buildings in densely populated Gaza City, burying children in the rubble, is untenable in our constitutional republic, whose survival might hinge on its battle against white supremacy.
America's cries on behalf of human rights sound increasingly tinny, given our enabling and defense of what's happening in places like Gaza. Our ability to navigate a path to social justice here is doubtful if we don't walk the walk abroad.
As long as Palestinians can't breathe, neither can we.