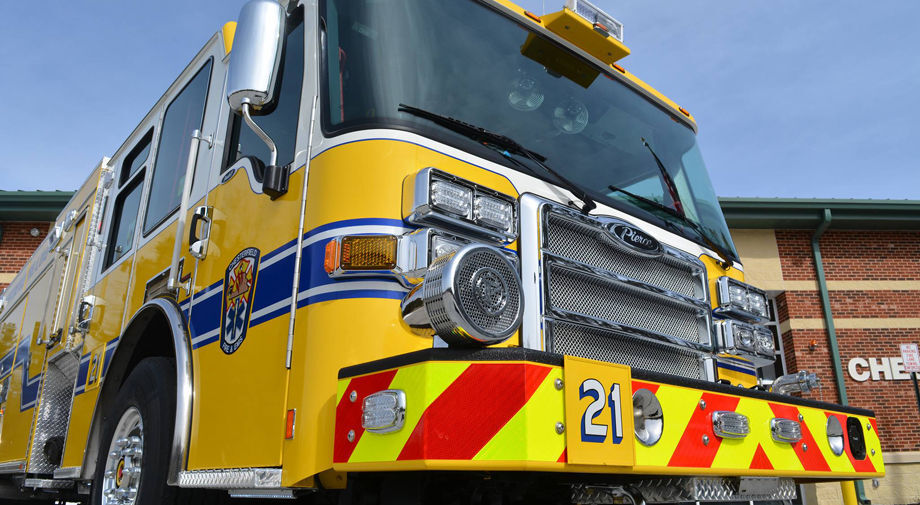 Last May, Sharon Suprun's blood oxygen level dropped to 79%. After 40 minutes of trying and failing to reach 90% — which is still considered low — her husband called 911.
Weeks of hospitalizations followed across three local hospitals, including time in the ICU. Suprun, 70, finally returned to her Chester home after battling pneumonia and an ulcer. She has been bedridden since.
On Wednesday, she received the single Johnson & Johnson dose from two Chesterfield County Fire & EMS employees at home, where she continues to recover.
Members of the Chesterfield Fire & EMS Mobile Integrated Healthcare (MIH) program are providing at-home vaccines for qualified residents who are bedbound from long-term illnesses or chronic health conditions that make it physically impossible for them to attend a county vaccination clinic.
About two weeks ago, program members began going into eligible homes after receiving a pattern of phone calls from sons and daughters whose parents stay in bed or at home because of a chronic illness or cancer. Chesterfield answered 24 home calls in the first two weeks and is expanding to make nearly 60 planned visits beginning this week.
"These are the folks who can't get out of the house. ... We thought to put two folks in a car and drive to the patient's home and vaccinate them in the comfort of their own home," said Dr. Allen Yee, medical director for Chesterfield Fire & EMS.
So far, the residents who have been vaccinated are over the age of 65. Upon arrival, program members have the recipient sign a consent form and after the vaccination is complete, the member sits with the resident for about 15 to 30 minutes, depending on their pre-history of allergic reactions. While waiting, the member looks to get to know the resident a little better, to see if other resources would be beneficial.
Chesterfield is the only locality in the Richmond area currently operating a program to vaccinate residents at home. The MIH team is working with the Chesterfield Health District and several private home health care providers to find residents who qualify for an at-home vaccine.
New Kent County has provided mobile vaccines, according to Caitlin Hodge, a spokeswoman for the Chickahominy Health District.
Charlesie Long, an 88-year-old Bon Air resident, received the Johnson & Johnson single-dose vaccination on Wednesday. Long, who lives with dementia and no longer understands how to get in and out of a vehicle, stays inside.
She lives in a large household with daughter Karen Gill's family. With family members leaving the home every day, Gill said it was important for her mother to be vaccinated.
"You just never know," Gill said.
Gill, who is extremely thankful for having her mother vaccinated, said that in the future, the program should look to also vaccinating a resident's caregiver. It can be difficult for a caregiver to leave the home as well.
MIH, which launched in 2014, consists of one lieutenant EMS paramedic, three firefighter-paramedics and a peer adviser. Its creation was to address the needs of residents who frequently dial 911 and those living with unmet medical needs — a medical condition that does not have a proper method of diagnosis, treatment or prevention — and connecting them with existing community and medical resources.
The program will continue its work of the past eight years but currently is focused on vaccinating those in need.
"These are vulnerable populations that we want to ensure that we're vaccinating," said Chesterfield Fire & EMS Lt. David Bigelow. "The main effort here is to get as many people vaccinated as we can that meet the criteria."
Mark Tenia, a spokesman for the Richmond Ambulance Authority, said it is up to the Richmond and Henrico health districts to use the ambulance staff members in the same capacity as Chesterfield.
"If called upon, RAA would be willing and ready to assist in any way possible toward the state's vaccination efforts," Tenia said.
Across the country, clinic or vaccination teams are traveling to residents who are homebound or who live in nursing homes and remote or tribal areas, said Rob Lawrence, a spokesman for the American Ambulance Association and the former chief operating officer of the Richmond Ambulance Authority.
"This has become significantly easier with the arrival of the Johnson & Johnson vaccine that is single-dose and has less stringent temperature and storage restrictions than Pfizer and Moderna; in other words, it can travel into more places," Lawrence said.
To determine eligibility for an at-home vaccine, Chesterfield residents may sign up at bedboundvax@chesterfield.gov by providing their name, phone number and address. Residents who are unable to email may call (804) 387-0366.