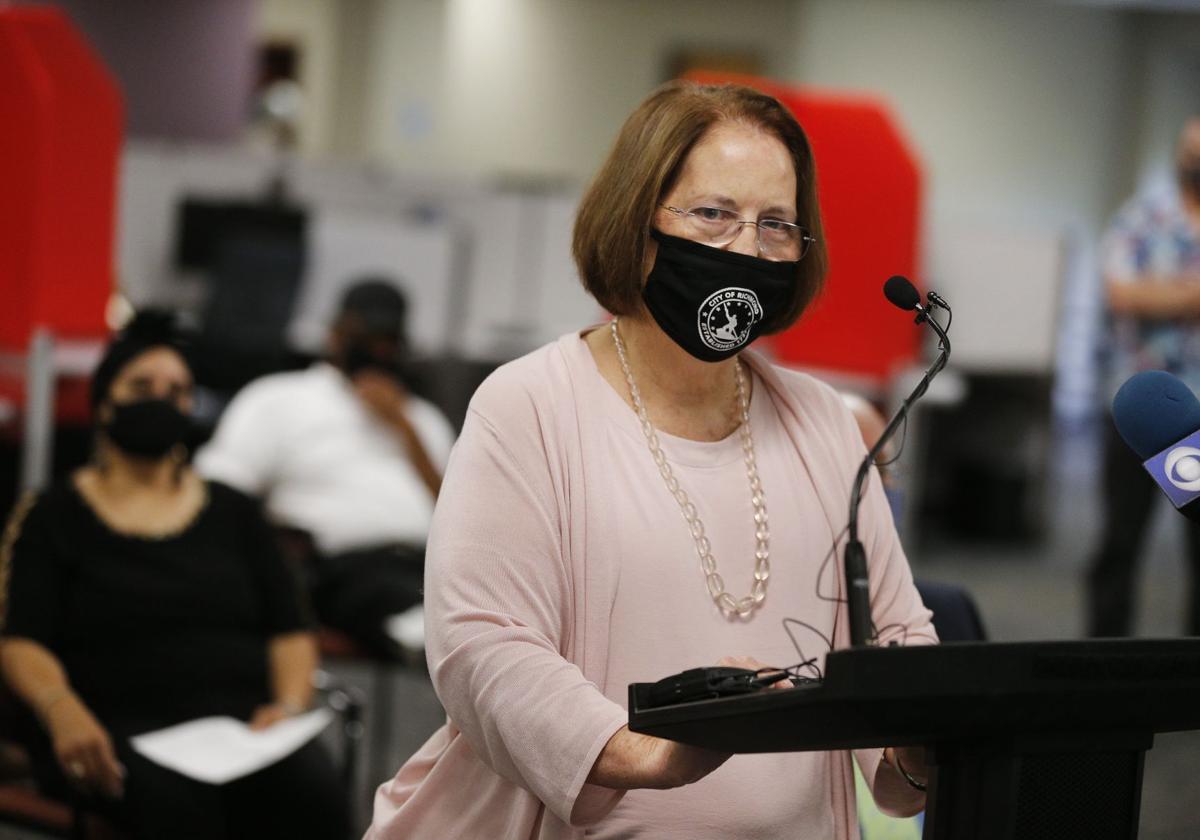 A notice from the Richmond Electoral Board prompted the city's top election official to send a plea to hundreds of people Thursday night, alerting them that she is in danger of losing her job.
Jim Nachman, the board's chairman, said in an interview Friday that he expects it will vote to remove General Registrar J. Kirk Showalter from office Monday.
"It's regrettable, but I think it's something that needs to be done," he said.
In a phone interview Friday, Showalter said Nachman sent notice of the board's intention to seek her removal last Saturday. She said they did not provide an explanation.
"There have been some ugly rumors about the operations in my office and suggestions of things mishandled during this past election," she said in the email to hundreds of election officials and volunteers Thursday. "I can only say that the allegations are either fabrications or distortions. I know that I — and all the wonderful people that helped make it happen — did a good job under trying circumstances.
"I hope that the board will also come to that conclusion and allow me to continue to serve the citizens of our city as I have done for the past 25 years."
The Democratic Party of Virginia sent a letter to the local electoral board in November calling for her resignation or removal, alleging that Showalter failed to comply with the state's open records laws and new election rules intended to help voters who mailed absentee ballots correct errors before the election.
The state party sued Showalter just days before the election over her office's response to a Freedom of Information Act request but later dropped the suit. Showalter said there was a communication error in her office, but party officials said she still failed on several counts.
"Problems continue to exist there large and small. We strongly stand by our letter," said Susan Swecker, chair of the state Democratic Party. "With another big election year coming up, it's important we have a top notch team in place to rebuild trust with the voters."
Showalter, a former state budget analyst, has worked as the city's registrar since 1995. The board reappointed her to another four-year term in 2019, placing her in charge of maintaining the city's list of registered voters and administering elections.
A few Richmond City Council candidates also raised concerns about Showalter immediately after the Nov. 3 election, saying she was unresponsive or dismissive of their questions about the initial vote count in two district races.
Candidates in the city's 2nd District council race said there was confusion for several days about who won the election, as a local and state website had left different vote counts throughout the week.
Tavarris Spinks, who lost the 2nd District Council race to Katherine Jordan, remained frustrated with how he said Showalter and election officials handled their concerns.
"Ms. Showalter continues to demonstrate that she is neither qualified nor willing to rise to the standard necessary to do her job effectively and her continued negligence has done significant damage to the public's trust in our democratic process," he said in an emailed statement. "I urge the Electoral Board to act in the best interests of the Richmond electorate and remove her from office."
Showalter said changes to state law regarding early voting, local budget cuts and the COVID-19 pandemic made things difficult, but nonetheless felt confident about her office's handling of the election, noting that officials eventually corrected erroneous vote totals before the election results were certified.
But pressure on Showalter continued to mount through November following a COVID-19 outbreak at the city's new election office on West Laburnum Avenue, which prompted Democratic party officials to raise concerns about whether the office was following health safety guidelines.
Nachman, a Democrat, previously said the electoral board was likely to seek her removal. He declined to specify the reasons they intend to present to Showalter on Monday.
"It's not just a partisan thing. If we do remove her, it'll be for cause," he said. "I think me commenting on anything specific would not be lawful. We want to make sure we're doing this in a lawful manner."
Starlet Stevens, one of the three members of the electoral board, declined to comment Friday. Joyce K. Smith, the board's vice chair, did not respond to an email.
Showalter said she's heard of additional complaints of racial discrimination and disregard of employee health and safety, which she denied.
A spokesperson for the city health department and the city fire department confirmed Friday that there was another outbreak at the election office earlier this month with three employees testing positive for the coronavirus.
Still, Showalter said she's complied with safety regulations and guidelines, and that people seeking her removal are piling on unwarranted complaints to undermine her position.
"Rather than bringing the issue to table and attempting to resolve all of this, people are hiding behind anonymity to take pot shots and attempt to build a case against me," she said. "I won't speculate on the reasons as to why."
Amy Wentz, who lost to Councilwoman Reva Trammell in the 8th District by about 900 votes, said she remains skeptical of the results.
Wentz initially raised issues with vote totals from several precincts and complained that Showalter treated her rudely in a meeting at the city's election office after the election.
She considered challenging the results, but declined out of fear that it would amplify doubts supporters of President Donald Trump were raising about the integrity of last year's election.
"I absolutely believe she should be removed," Wentz said of Showalter. "She still hasn't taken accountability or given explanation for how these things happened."
Showalter said she is considering a suit for wrongful termination if she's removed.