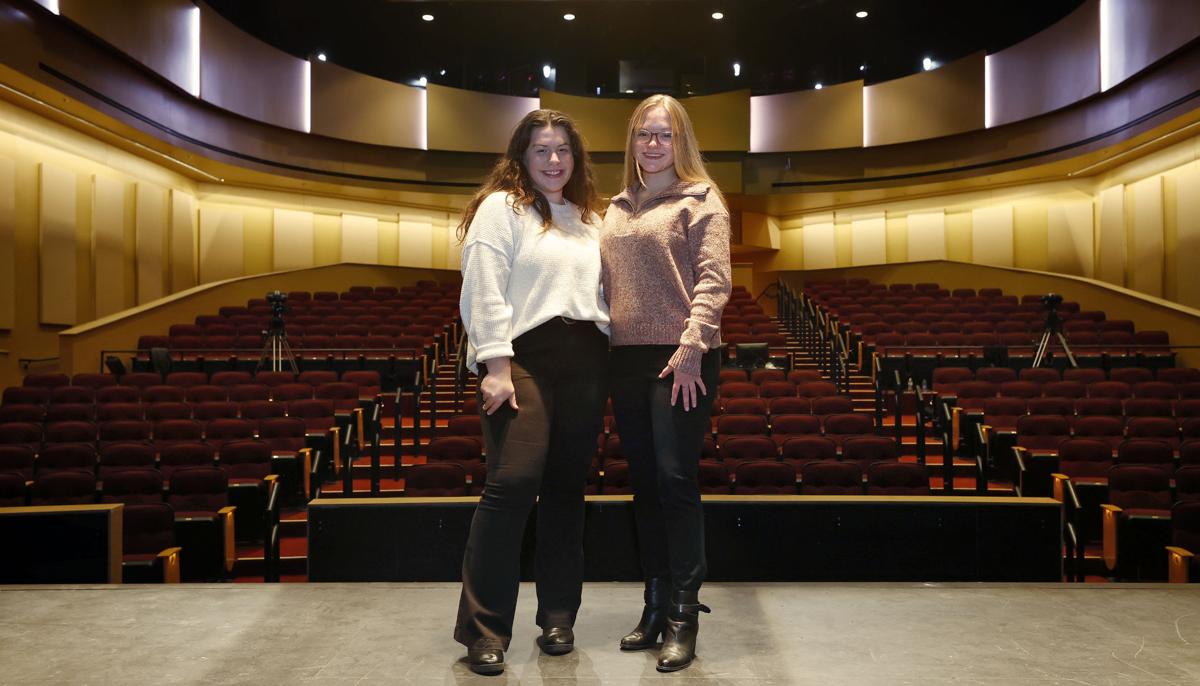 When COVID-19 abruptly shut down Chesterfield County schools last March, students were not only left in academic limbo but also missing extracurriculars such as sports, clubs and theater.
Josie Brooks, then a junior at James River High, was in the midst of directing the spring musical "Footloose" as schools closed. Her fellow junior classmates, Meagan Hamilton and Anjali Sharma, were designing the lights for "Footloose" and cast as Irene, respectively. At Midlothian High, junior Eden Johnson was busy choreographing "Into the Woods."
"But that took a turn," Hamilton said.
"Footloose" had been fully choreographed and blocked (meaning the positioning of actors in scenes), but the show never made it to opening curtain. Instead, each cast member filmed themselves talking about their favorite part or singing, which was then compiled into a video.
When "Into the Woods" officially got canceled, Johnson recalled FaceTiming her castmates and crying. The performance was adapted virtually, with small performances from the show and favorite moments shared; Johnson filmed herself performing the final dance number.
When everything shut down in March, many thought it would only last two weeks. Some things, including Broadway in New York City, are still closed. The lights on Broadway were first scheduled to turn back on in April. Now, all shows are canceled through May 30, 2021.
Now seniors at James River, Brooks, 17, and Hamilton, 18, are looking to keep the passion of theater alive among their classmates despite the current conditions. Enrolled at the school's Leadership and International Relations Specialty Center, the two created the Spotlight Theatre Society for their capstone project.
"People who do theater in high school, it is a big part of their life," Brooks said. "So in a time where theater goes dark, we reunite."
Hamilton has always enjoyed the production side of theater, with a passion for stage managing. During her sophomore year, she was the stage manager for "The Wizard of Oz" spring musical.
Hamilton's various theater leadership roles have boosted her confidence over the years. A peer told her that she was "bossy" and "rude," but she knew she was doing her job and learned that the boss is not always liked.
"Confidence is so hard to come by," Hamilton said. "I feel every teenage girl has struggled with confidence at some point."
Brooks enjoys performing as well as stage production. Backstage, she enjoys running the microphones for shows. She mics up the performers, runs the microphone board, is in charge of muting and unmuting the performers while they are on stage, and controls volume.
"It's been one of my favorite jobs," Brooks said. "I think that's what I became when I fell in love with the entire thing. I was in love before with it [theater], but once I joined microphones, that was it."
Spotlight, open to students from all Chesterfield County high schools, had its first meeting in November that about 14 students from three high schools attended, including Johnson and Sharma. The group members chatted about their favorite shows they performed in and had a non-theater discussion about shoes, specifically Vans versus Converse.
Even though Chesterfield school buildings are largely closed to students through at least Jan. 29, some high schools are having virtual performances. James River is performing "Elves: Disaster in the Control Room," and Midlothian High is performing "A Wonderful Life."
Brooks and Hamilton want the society members to support each other's virtual performances to keep high school theater alive.
In the first meeting, Brooks noticed how everyone bonded over missing backstage traditions before performances and the excitement of performing.
With virtual performances, there are no Secret Castmates, a spin on the Secret Santa gift exchange; no banquets; no preshow warm-ups; and no cast parties — and you can't even hug a fellow classmate after a performance.
Some goals of Spotlight include forming a support system for Chesterfield theater students, creating new friendships and hopefully having guest speakers — either alumni or Virginia Commonwealth University art or theater professors to talk about their experiences with theater and how it has shaped them into the people they are today.
Allison Oyler, who teaches theater at James River, recalled that since the moment she met Brooks and Hamilton during their freshman year, the two were "standouts."
Seeing the pair as strong leaders from the beginning, Oyler said one of the best things about Spotlight is that it's student-run. While theater teachers across the district have talked about how their schools don't get together enough, this need was seen by the students.
"We cannot do what we really love to do [right now] and so to find these ways to be able to connect is really important right now," Oyler said.
Johnson, 17, fell in love with theater after seeing "Wicked" when she was 5 years old and happened to be getting ice cream from Gelati Celesti one day when she met Hamilton, who works at the ice cream shop. After striking up a conversation, Johnson learned about Spotlight and immediately wanted to join.
"I feel in Chesterfield we all have such great theater programs, but we're also disconnected. I never really felt like, 'Hey, this is the Chesterfield County Theater program,' rather, 'This is James River's and this is Midlo's [Midlothian] and this is Thomas Dale's [High].' We never really got a chance to interact, and so this has been a really cool way to finally meet people from other schools who love theater just as much as I do," Johnson said.
"I feel like in quarantine, we've lost — everyone, not just theater people — that sense of excitement of looking forward to something," but that loss is being filled with the society, Johnson added.
Sharma, whose favorite part of theater is dance, has felt isolated being a theater kid during COVID-19.
"Even doing virtual shows as great as that is and as many classes you can take online, the fact of the matter is you're still in your home self-taping or staring at a screen; you're not getting that real interaction with other theater performers and actors," said Sharma, 18.
After the first Spotlight meeting, some of Sharma's feelings of isolation washed away; it allowed her to socialize with other students who share her passion.
Socializing with peers ignites Hamilton's energy.
"I do think the meetings are going to be the number one way that we see each other face to face [for an unknown period of time], and that's how I get my energy seeing other people motivated and excited," Hamilton said.
Broadway may still be closed and high school spring musicals may remain up in the air, but the Spotlight Theatre Society will continue to meet online, sharing laughs, stories and supporting virtual shows.