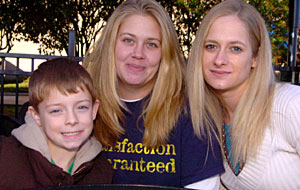 Lindsey White and Lynda Thurston want to know what happened to their mom Linda E. Lunsford on the morning of Dec. 26, 1996. They were in their teens when their mom's car was found abandoned at the Village Marketplace Shopping Center in Midlothian. To honor their mother, the family invites the public to a candlelight vigil at dusk in front of Family Hair Care, located at 13226 Midlothian Turnpike, where Linda Lunsford's mother, Sue Evans, currently works.
White remembers her mom being a fun-loving mom although she worked a lot. At the time of her disappearance, the 38-year old was working three separate jobs. She was on amicable terms with her ex-husband Lynwood Lunsford and was a dedicated mom to her five children: Leslie Hall, 26, Lindsey White, 27, Lynda Thurston, 29, Ben Lunsford, 31, and Jimmy Lunsford, 32. "The thing that wants me to do better with [my son] Jacob is she had five kids and had her own special relationship with each one of us," Thurston said.
White, now a mother of three small children, recalls the last Christmas with her mom. She was a sophomore in high school and had asked her mom for a jacket that resembled an aluminum-foil style that was fashionable that year. "It was a really ugly jacket and I had to have it. And she was like, 'You don't want that ugly thing.' And I was like 'I really want it.'"
She woke up Christmas morning to find the jacket under the Christmas tree. Her mom had come through with the Christmas wish.
Thurston remembers her mom going to work after celebrating Christmas. Lindsey, Lynda and Leslie, went to spend time with their grandmother at her Amelia County home. "When she didn't come home at least by lunchtime, we were concerned," Thurston said.
White agreed. "She was always on a clockwork schedule," she said.
The family found Lunsford's car later that evening. "We kind of knew. We didn't have to have any one tell us something was wrong," Thurston said. "Something wasn't right."
They went to Chesterfield County Police Department that evening to file a missing persons report. Lunsford's sister, Kathy Rose, remembers the start of the investigation. "She was dedicated to her kids – 100 percent. If she wasn't going to be there, she called," Rose said. "They [police] got involved and the media got involved," she said.
However, after three months, and numerous leads, the case had reached its limit. Former Police Chief Col. Carl Baker had written a letter to television show, "Unsolved Mysteries" 14-months after Lunsford's disappearance. The department's investigation had traced Lunsford's movements after she had left work at 9 a.m. on Dec. 26. "She met briefly with a close female friend in the Wal-Mart parking lot and also met with an ex-boyfriend during this same period," the letter stated.
The letter continues noting that Lunsford left Wal-Mart parking lot in her own vehicle. In a police interview with the ex-boyfriend, the pair went to the McDonald's at Village Marketplace Shopping Center, where Lunsford's vehicle was found. However, the case continued unsolved. Then, last February, the search started up again when an individual came forward with new information. Although the new information surfaced, the investigation has stalled again. "We've been waiting for more news," Rose said.
"Up in thin air, you don't know," Thurston said. "The candlelight vigil is a hard thing for me," Thurston said.
"There's got to be somebody out there that knows something. Yes, we are making it through this, but it hurts not to know," she continued. "One day you'll find it in your heart to share the information or come forward with everything. And they say that every little thing helps. There are lots of little pieces and that little information could be that one piece."
Anyone with information is asked to call the Chesterfield County Police Crime Solvers at (804) 748-0660.