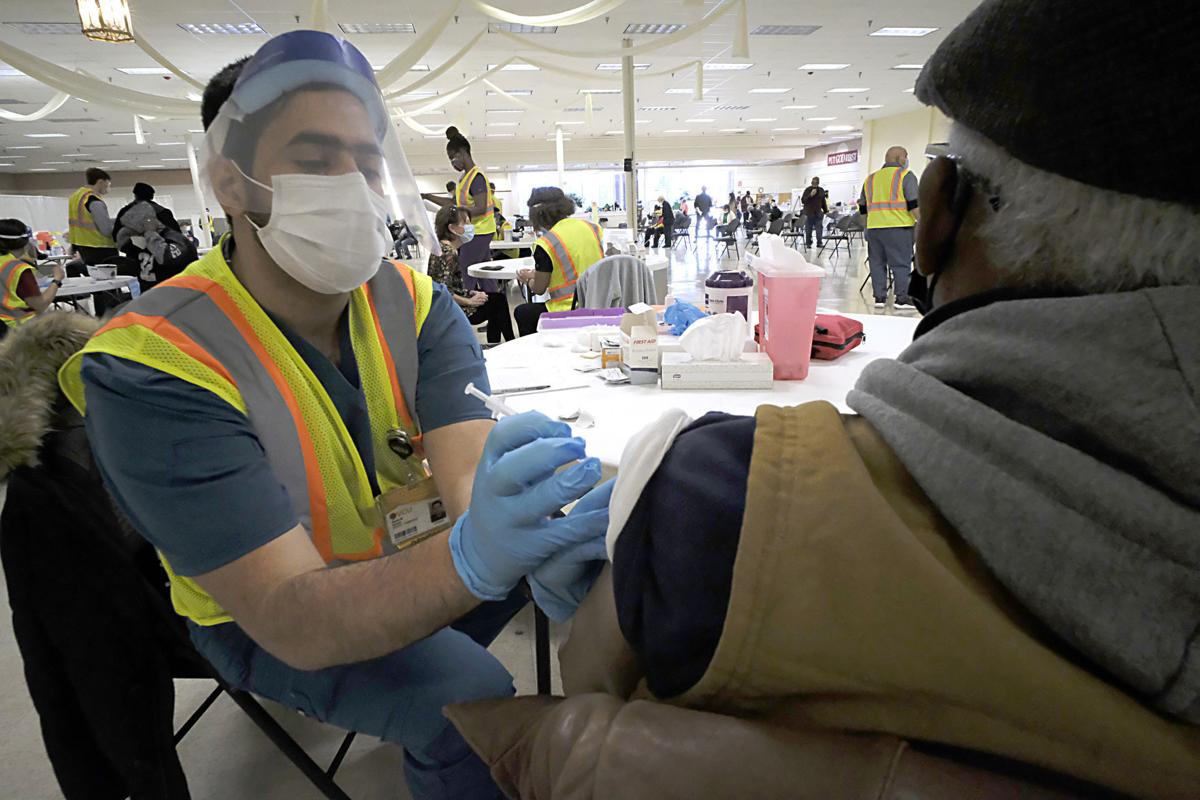 Wealthier and predominantly white census tracts in Richmond and Henrico County have 2 to 5 times the vaccination rates of low-income areas with mostly Black and Latino residents, according to data compiled by the city and county's health districts.
The least vaccinated parts of each locality, where the percentage of people who have received at least one dose ranges between 17% and 42%, overlap with neighborhoods where the coronavirus has rippled through the population for 18 months.
Nearly all of them are in South Richmond, the city's public housing units and Henrico's eastern end — places where poverty has soared as high as 80%, up to 95% of residents are Black and the average median income is about $30,000, or less than half the state average. None has a median income greater than $50,000.
Half of the 21 areas with the highest vaccination rates and lowest case counts make at least twice that, according to U.S. Census Bureau estimates.
Seven of the top 10 earners also had white populations at or exceeding 90%. Three of those census tracts show zero Black residents and, along River Road, where residents make on average a quarter-million dollars, 96% are white.
Windsor Farms — which had banned Black residents from living there in the 1930s — is the only other highly vaccinated area with a median income of $250,000.
In interviews with the Richmond Times-Dispatch, sociologists specializing in inequality and poverty noted the heavily interconnected role education and income have in accessing resources and health care.
Throughout the pandemic, this has meant a head start for some in accessing testing and COVID information and, later, a vaccine.
Those head starts have not historically happened for Black, Latino and immigrant populations. The least vaccinated areas initially didn't have a nearby mass vaccination clinic. The first was in South Richmond three months after vaccinations began.
As the state approaches the ninth month of the vaccine rollout and weathers another surge that culminated in almost 3,500 new infections on Friday — the highest increase in over six months — Black Virginians are the least vaccinated group and thus one of the most unprotected against the delta variant threat.
Public health experts warned this could happen back in January, when the state had no publicly available vaccine outreach plan for Latinos while Black residents in localities like Richmond and Hampton were being hospitalized at 3 to 4 times the rate of white patients.
Local officials, who have used census tract data to identify where a marshaling of resources is needed, have grown partnerships with Black and Latino churches, community health centers and already-trusted organizations to create a network of mobile clinics and widen access to potentially lifesaving vaccines.
Richmond and Henrico are setting up community hubs in the coming weeks to ramp up the one-on-one conversations that Cotina Brake, outreach leader at the local health districts, said have become critical to changing the minds of those who remain skeptical.
"Just listening to what a person has to say starts to build trust right there as that conversation grows because someone who is not trying to talk, I promise you they will not talk," Brake said. "But just sharing the information that we have ... sharing our personal experiences, I think a combination makes it more real for people right in front of you."
The vaccination gap between Black and white Virginians has narrowed since April following aggressive outreach, and Latinos have pulled ahead as the third-most vaccinated statewide.
But efforts to combat a legacy of disparities have also conflicted with lack of changes in state or federal policies that health officials repeatedly said could have limited the rampant spread.
Paid sick leave, workplace protections and stable access to food and housing are among them.
"Some of these things we've had the ability to help mitigate through COVID funding," said Dr. Melissa Viray, deputy director of Richmond and Henrico's health districts, in a recent briefing. "These aren't unique to COVID. These are things that have impacted our society for generations ... but if we don't overcome these obstacles of people not being able to stay home when they're sick or people who are not vaccinated, we can't get off this ride."
Twice during the pandemic, the Virginia Senate struck down legislation offering sick pay to essential workers in lower-wage jobs without a work-from-home option. The state became the first in the U.S. to require COVID safety measures in workplaces — including distribution of masks — but that change occurred four months after Virginia's first case and after Latinos were already 45% of infections and more than a third of hospitalizations.
The same language and technology barriers that shut out some Latinos and immigrants from the online registration system required to make a vaccine appointment also stunted their ability to navigate the state's rent relief program — even as Latinos continued to account for more than a third of households with children that lost employment income from June to July, according to the Virginia Kids Count Data Center.
More than a quarter of Black Virginians reported the same compared to 11% of whites.
And on Thursday, the Supreme Court blocked President Joe Biden's 60-day extension to the eviction moratorium, which applied to renters in areas where virus transmission is high or substantial.
That's currently the entire state, according to the Virginia Department of Health's tracker.
The aftermath of the latest surge has already been disproportionately deadly. In Richmond, Black residents were 66% of the COVID hospitalizations this past month and more than 60% of the city's 280 deaths. Whites were 14% of infections and 31% of those who died.
And Richmond and Henrico's Black and Latino populations are much younger — another factor that contributed to their lagging behind in a rollout that initially prioritized those 75 and up.
Only 5% of Latinos throughout the city and county are over the age of 65, while the wealthiest census tracts in Richmond and Henrico had up to a third fall into the 65-and-up category.
The average person in Gilpin, where 80% of residents are living in poverty and less than 42% are vaccinated, lives for 63 years, according to a report from Virginia Commonwealth University's Center on Society and Health. In the Museum District and near Windsor Farms, the life expectancy jumps to 77.
And in the parts of Richmond and Henrico where COVID rates are more than double that of River Road, and the majority of people are Black or Latino, there are kids under the age of 12 who aren't eligible to be vaccinated as the school year is underway.
While children are not the most likely to develop severe illness, the risk is heightened for Black, Latino and Indigenous kids. A report from the Centers for Disease Control and Prevention last September found they were more than 75% of those who have died.
(804) 649-6103
Twitter: @sabrinaamorenoo