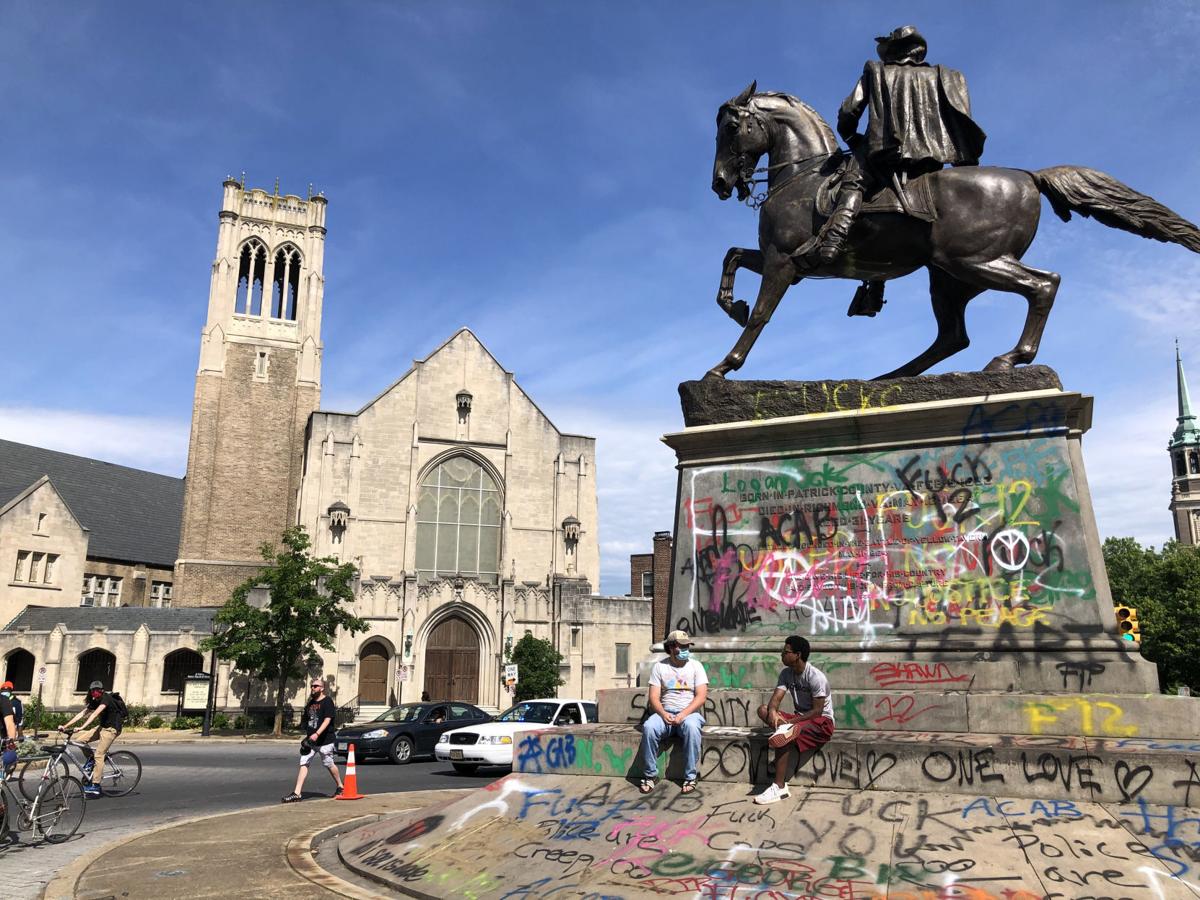 The day after six members of the Richmond City Council pledged to take down the Confederate statues towering above Monument Avenue, the remaining three council members voiced their support, as well.
Among them was Councilwoman Kimberly Gray, a candidate for mayor who represents much of Monument Avenue. In the past, Gray has opposed local control of the statues and advocated for adding new ones to the famous street, not taking existing ones down. She outlined the conditions of her about-face in a statement Friday morning.
"I will support removal of these statues as long as a thoughtful and deliberative process is instituted to evaluate the expenses of removal and no funds are spent that would take resources away from critical public education and infrastructure needs," Gray stated.
Gray's two closest allies on the council — Kristen Larson, 4th District, and Reva Trammell, 8th District — followed suit shortly after.
Eight days of unrest that have changed Richmond had spurred yet another surprise: a united front of city leaders on a long-divisive issue that many have been loath to act on — until now.
The consensus all but guarantees the four locally controlled Confederate statues on Monument Avenue will come down, along with that depicting Gen. Robert E. Lee; Gov. Ralph Northam on Thursday ordered the state-owned Lee statue removed "as soon as possible."
Black Lives Matters demonstrations have gripped the city over the past week, following the death of George Floyd, 46, while in Minneapolis police custody on Memorial Day.
As residents marched against racism and police brutality, they also set their sights on Richmond's Confederate monuments, the most prominent in the country in what is the former capital of the Confederacy.
Protesters spray painted the pedestals of each of the statues, which were added to Monument Avenue between 1890 and 1929. Declaring the monuments symbols of white supremacy, protesters have called on city leaders to take them down.
The pressure prompted Mayor Levar Stoney to take a more aggressive approach on the statues than his administration had previously charted.
In 2018, a panel said the city should remove the Jefferson Davis statue and add context to those honoring Gens. J.E.B. Stuart and Thomas "Stonewall" Jackson and Confederate naval commander Matthew Fontaine Maury.
Stoney shelved its recommendations this week when he joined Councilman Michael Jones to announce an ordinance authorizing removal of all the statues.
The demonstrations produced more dramatic shifts.
Trammell, the 8th District councilwoman who represents a majority African American district, voted against three separate requests for control of the statues. In a text message, she explained what changed her stance.
"While many citizens support putting the Confederate statues in a museum, some oppose it," Trammell stated. "After giving this much thought, I will vote to take them down. I feel it is the right thing to do."
"I never thought I would live to see the kind of damage and destruction that has been inflicted on Richmond, and we need to end this now."
Looters, vandals and arsonists damaged businesses and vehicles last weekend, prompting much of downtown to board up this week. Most of the property damage occurred on the first two nights of demonstrations. The vast majority of protesters have refrained from such tactics, and, instead, have gathered peacefully.
Larson, the 4th District representative, also opposed past requests for control. She said Thursday that she was still fielding input on the matter. Before noon Friday, she issued a statement backing removal.
"Through this action, I believe we can find ways to bring Richmond together and heal from the trauma and history of racial inequality and divide," Larson stated. "I look forward to working with my colleagues to find a way to finance this removal in a way that it will least impacts [sic] city services to our residents."
To remove the statues, the council must follow a process outlined in a state law that takes effect July 1. It requires localities to hold a public hearing and publish notice of their intent in a newspaper. It also permits them to conduct a nonbinding referendum regarding the monuments.
If the City Council votes for removal, it must have a 30-day waiting period in which it offers to relocate the monuments to any museum, historical society or military battlefield, among others.
The council meets electronically Monday. It is not scheduled to take action on the monuments at that meeting.
(804) 649-6734
Twitter: @__MarkRobinson