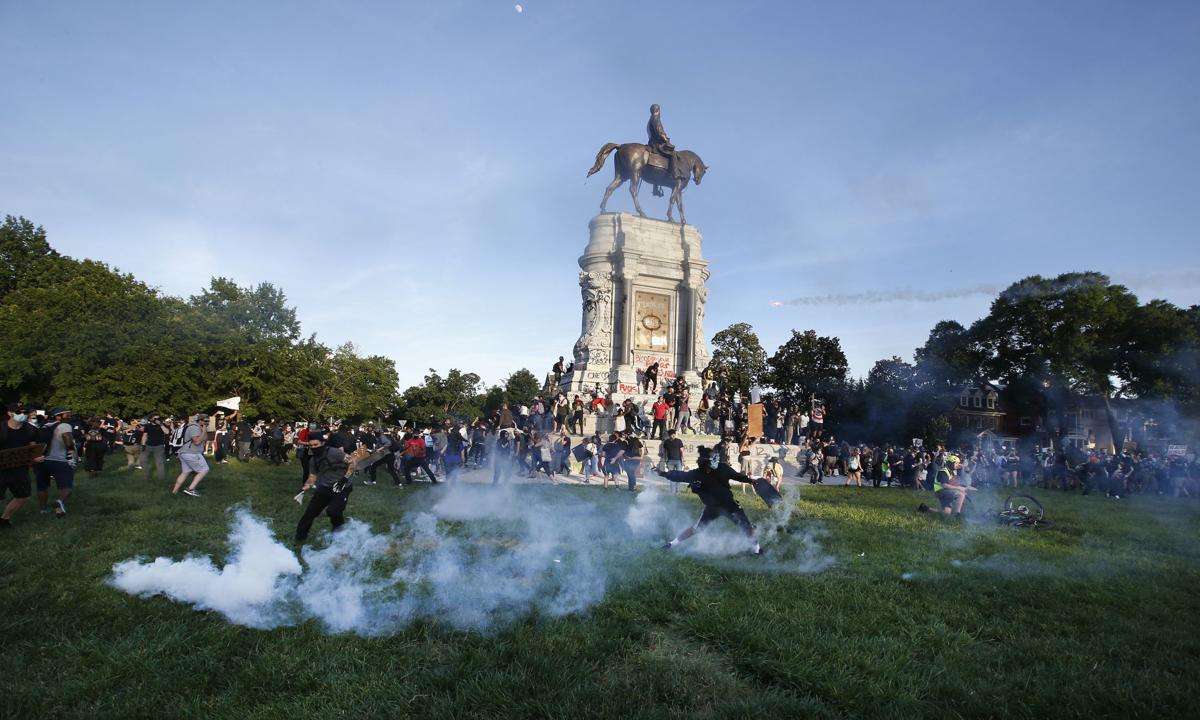 A Richmond judge is considering an emergency request to stop city and state police from using chemical irritants, explosives and similar devices to disperse peaceful protesters, after hearing arguments Monday from attorneys on both sides.
Lawyers for the ACLU of Virginia on Monday told Circuit Judge Beverly W. Snukals that city and state police used an overly broad interpretation of state law to employ tear gas and other forceful means to disperse a peaceful teach-in demonstration outside City Hall on the night of June 22-23.
The ACLU filed a complaint last Friday on behalf of youth organizers who are part of the Virginia Student Power Network.
They contend that under the law, a protest can only be an unlawful assembly if there are "acts of unlawful force or violence," which they argue were not present that night at City Hall. As a result, they say, the police violated the protesters' constitutional rights to speech, assembly and protest.
Andrew Chang, a co-counsel for the ACLU, told Snukals that Richmond Mayor Levar Stoney had apologized to protesters for violating their rights after an earlier incident in which tear gas was used.
Lawyers with the Virginia Attorney General's Office and the city disagreed with the ACLU on Monday.
Richard Hill, senior assistant city attorney, told the judge that the emergency temporary injunction the plaintiffs are seeking is "an extraordinary remedy ... against hypothetical, speculative future actions."
If approved, the request would micromanage police and tie their hands while attempting to perform their jobs and protect public safety, Hill argued.
Hill, along with Blaire O'Brien and Erin McNeill of the Virginia Attorney General's Office, contend that blocking a roadway — which is what happened that night at City Hall — clearly constituted the use of force under the state unlawful assembly law.
O'Brien told Snukals that the protesters are not facing a "Hobson's choice" and can still peacefully assemble, speak and protest. She said there have been "any number" of peaceful protests in the city recently in which the police did not interfere.
"We live in dynamic times," said O'Brien. She asked Snukals not to preclude law enforcement officials from taking legal actions when necessary.
In declaring the teach-in at City Hall an unlawful assembly last week, Richmond police said on Twitter that it was due to "conditions of activity such as sit-ins, sit-downs, blocking traffic, blocking entrances or exits of buildings that impact public safety or infrastructure."
In court papers the ACLU argues that the "conditions of activity" cited by the police are not even close to being the "acts of unlawful force or violence" required for an unlawful assembly.
Similar requests have been approved by courts in cities such as Denver, Seattle, Oakland and Charlotte, said the ACLU.
The injunction is being sought, the ACLU said, to protect the protesters' rights to peaceably assemble and protest without being subjected to the risk of serious injury or having their rights denied.
The ACLU is asking Snukals to bar the use of "chemical munitions, irritants, explosives, stun weapons, and physical-impact weapons against peaceful protesters."
They also want it ordered that such force only be used if there is clear and present danger of imminent violent conduct by three or more people; the violence cannot be controlled by removing individual perpetrators; alternative control measures have been exhausted; and it has been determined that the use of chemical agents and other means is the only way to protect lives.
The ACLU also argues that there must be clear, loud and continuous orders issued prior to the use of irritants; exits must be available for the protesters; and dispersal orders must be reasonably limited in time and geographic area.
Police and protesters reported injuries from last week's use of tear gas and other projectiles. Police say they have been hit with rocks, bricks and other objects.
The sit-in outside City Hall a week ago was attended by 150 people who intended to stay overnight and teach those in attendance about police violence and community advocacy.
At around 12:42 a.m., police declared an unlawful assembly and fired tear gas, flash bangs and other projectiles and arrested a dozen people. The use of tear gas led to calls from two City Council members and a group of doctors for police to stop using it.
At the end of Monday's brief hearing, Snukals said she would reach a decision "promptly."