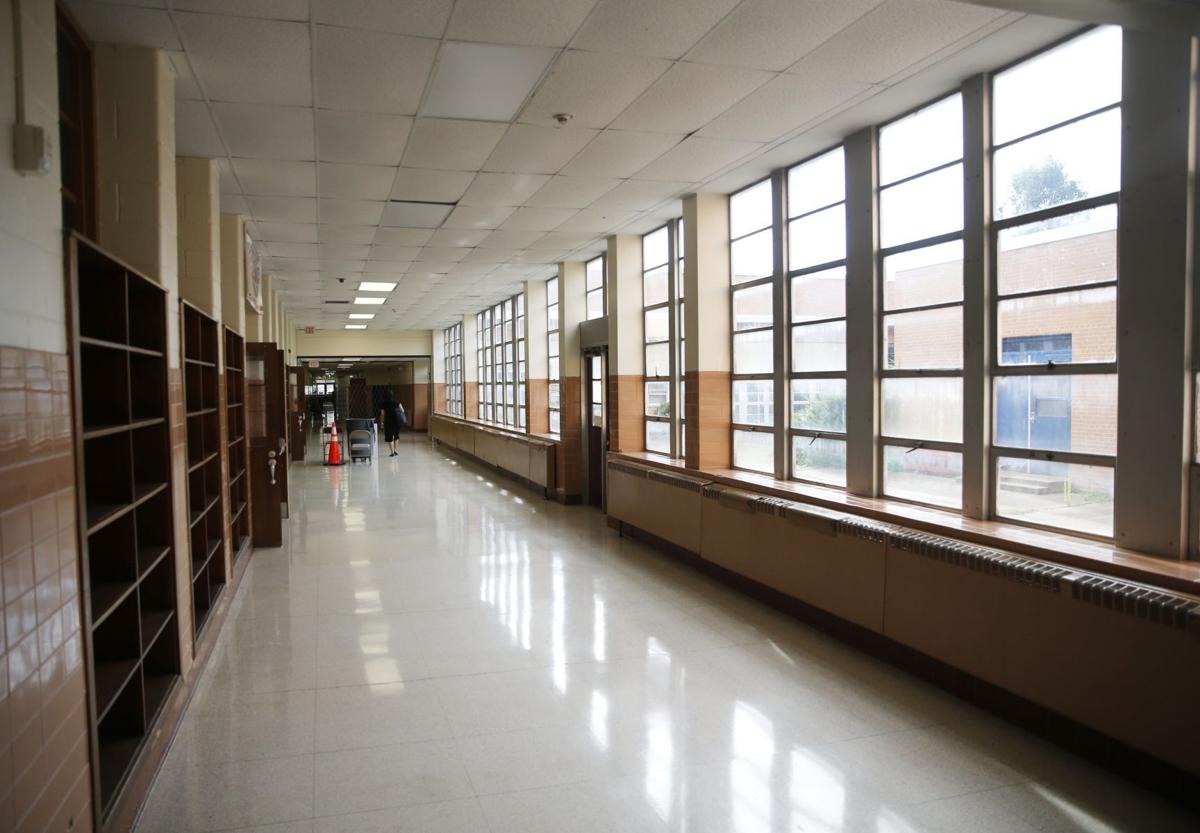 As Richmond Public Schools officials prepared to cut the ribbon on a new River City Middle School on Wednesday, the system marked a milestone in the effort to rebuild the aging high school building the middle school feeds into.
Superintendent Jason Kamras' administration hit a School Board-mandated deadline Tuesday to issue a request for proposals to overhaul George Wythe High School, a South Side institution at the heart of public debate between a divided board and the administration of Mayor Levar Stoney, which issued its own request for proposals earlier this summer.
Both requests include a welcome center serving English language learners, but the city's seeks to accommodate 2,000 students; the school system's, 1,600.
"We ... have concerns about the capacity of George Wythe High School," Stoney said during a joint meeting of school and city officials on Monday, a day before the procurement document went online. "With the census already in, and prior reports stating that a larger school is needed in that part of South Side, we don't want to open up a school that is over capacity on day one."
Tension over how to replace the school and how long that should take has mounted in the nearly six months since a split School Board opted to retake control of building schools from the city. Wednesday's celebration, which was postponed due to bad weather, aimed to celebrate one of three new building projects supported by a meals tax increase Stoney championed to address the school system's aging building portfolio.
With much more left to do to modernize the system's schools, 3rd District School Board member Kenya Gibson, who proposed the resolution tasking RPS with building schools, said she was thrilled the district is moving forward to replace Wythe.
The board is slated to award a contract for the school's design by November. A spokesperson for the mayor said the city still plans to review its own bids, which Stoney has maintained would help expedite construction of a new school. The city can't legally build new schools without the School Board's approval.
Kamras warned against planning a new building to accommodate 1,600 students, saying the new school would be over capacity on the day it opens since Wythe's population could grow to 1,500 in just the next few years.
The opening date was based on a request for designs issued in 2022 and awarded six months later. It's unclear if the timeline for Wythe has shifted from the projected 2027 completion date Kamras warned School Board members they could expect if they spurned the city's help.
Gibson said the request was sound as issued.
"In terms of size, everything points to 1,600 students as being the right number. This is a high-needs population that just isn't suited for a giant school where kids can be lost in the shuffle — there's no question about that," Gibson said.
She also pointed to the Career and Technical Education Center slated to be built, which some board members expect will accommodate many high schoolers for the day. "As a district, we have to be smart with the funds we have so we can quickly move on to Woodville Elementary and all of the other schools that desperately need renovation. Richmond is tired of waiting."
Kamras did not immediately respond to questions about the request for proposals.
River City Middle School, Henry L. Marsh III Elementary — formerly George Mason — and Cardinal Elementary School — formerly E.S.H. Greene — all were funded by a meals tax increase approved by City Council in 2018 that allowed the city to borrow $150 million for school infrastructure.
Kamras repeatedly said this summer that it was impossible to create an RFP to replace the building, erected in the 1960s, citing a lack of experience on his staff, which drew more demands from community members that the School Board work with the city.
There have been threats of lawsuits and recall elections against the five board members who voted for Gibson's resolution. At a community meeting in July, members of the public pleaded with the board to build Wythe alongside Stoney, citing unexplained illnesses, rat droppings, and defective equipment inside of the 61-year-old building.
Despite the strife, School Board Vice Chairman Jonathan Young said he's ready to get started on Wythe.
"I am ecstatic that Richmond Public Schools is on schedule to open a world class new George Wythe High School," he said in a statement.