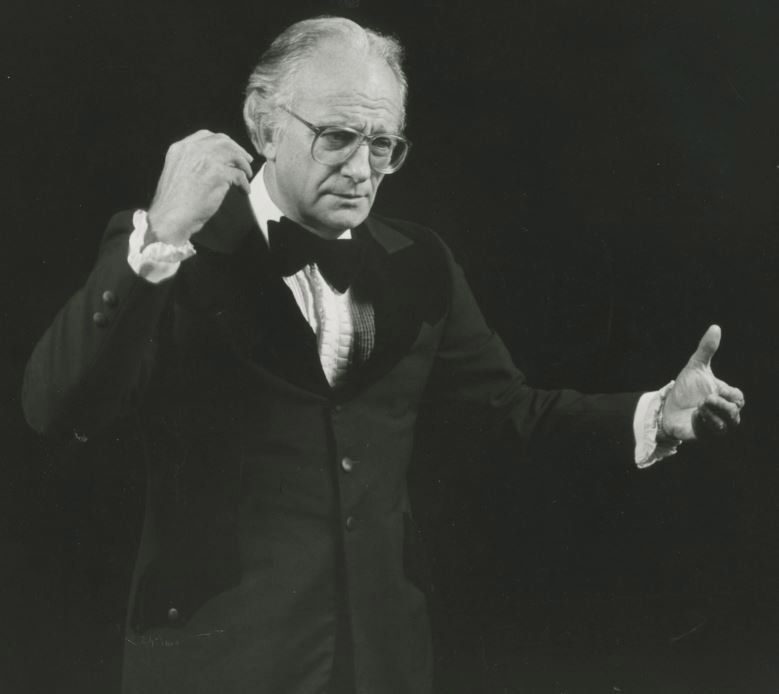 From the time he joined the Richmond Professional Institute faculty in 1949, there were signs that L. Wayne Batty would become a force in what became the Virginia Commonwealth University Music Department and in the region's music community.
In 1950, he founded the school's opera program, Opera Sings — now VCU Opera — whose praises he ever extolled. The school staged its first opera in 1952.
The Metropolitan Opera "would have touring companies back in the day that came to Richmond," recalled Michelle Harman Gulick, who was a former student and colleague of his in the music department. "Wayne pretty much brought opera to Richmond on a regular basis."
Mr. Batty, who directed and staged more than 1,000 opera and musical theater productions in Virginia, died at 94 Sunday in a Richmond rehabilitation center where he had been doing therapy after a slight fall the previous week.
He directed musicals at the Virginia Museum Theatre for three years, and at Swift Creek Mill Playhouse for 17 years.
He and his wife directed the music at endless performances at Richmond's Dogwood Dell, and they were directors for 23 years of the Christmas classic "Amahl and the Night Visitors" at what now is the Altria Theater.
"They were very much a conducting team," said one of sons, Coby Batty of Richmond. "They would tag-team it — one would do it one night, and the other would do it the next."
Mr. Batty also directed city of Richmond and Richmond Opera Company productions for many years, starting in 1965. For 18 years, he coordinated the singers and conducted the Richmond Christmas Pageant Chorus at its annual performances.
He affected thousands of students while he served as chairman of the VCU Music Department from 1959 to 1970 and for the 12 years he was area coordinator of the school's voice department.
When he retired in 2007 at 85 — joking that he was taking "early retirement" — he was the longest-serving faculty member at VCU, with 58 years of teaching voice and conducting choral groups. He also held the distinction of being Virginia's longest-serving employee, according to state records. He returned to VCU after he retired to coach a few students and teach for several years in a private studio.
At a ceremony at the state Capitol in 1988, Mr. Batty was named a Virginia cultural laureate. VCU honored him with its Presidential Medallion in 1999.
"He was funny, opinionated and could be very sarcastic," Gulick recalled, "but he was absolutely dedicated to music. He lived and breathed it. It was the other member of his family."
Born in Bondville, Ill., Leo Wayne Batty and his two brothers grew up in a very musical and athletic family that moved from town to town with the assignments of his father, a Methodist minister. They formed their own parlor band for entertainment.
"They played what my dad called 'hillbilly music,' and they actually went and sang on radio shows," Coby Batty said.
Wayne Batty made his first performance in public when he was 5 .
"He had a great response and realized that this was something he would do the rest of his life," his son said, and went on to perform semiprofessionally. He also played the clarinet and cello, as well as a little piano.
He earned a bachelor's degree in music education from Illinois Wesleyan University, where he was an outstanding basketball guard and met his wife, who also was studying music. He earned a bachelor's degree in voice performance at the Kansas City Conservatory and a master's degree in voice from Chicago Musical College. They both planned to teach and came to Richmond, where Mr. Batty felt there was room to grow professionally, his son said.
During World War II, he served in the Army Air Corps Stage Band and was the vocalist under the direction of fellow corpsman Henry Mancini.
He and his wife, who were longtime members of the NAACP and former members of the Richmond Human Relations Council, had a special interest in improving race relations in Richmond. Beginning in the 1950s, Mr. Batty helped integrate all of his school's choral groups, as well as the Richmond Christmas Pageant Chorus and city opera productions.
In 1959, Mr. Batty, who started his performing career as a dramatic tenor and also acted, contracted a virus in his vocal folds, leaving him unable to sing anything that required much vocal stamina, though the power of his voice remained. Unable to sing much past an art song and unable to demonstrate to students more than snatches of musical lines, he taught thousands of voice students by talking them through their music.
He mentored generations of students, many of whom have succeeded in the fields of opera, theater, symphony and church music worldwide and continued to stay in touch — notably Richmond-born tenor Thomas Moser, a regular guest in the great opera houses of Europe and the United States who returned to Richmond in 1987 and gave a concert in honor of the Battys.
"He had great expectations for his students, " Gulick said. "He expected them to live up to that. He was a great teacher. He expected your best. Students respected him for that. He had wonderful ears and knew what you needed.
"He was a big proponent of 20th-century music. He would make you study the classics but made sure you studied something by contemporary composers. He felt you needed to be prepared for that as well."
As a teacher, "he was not overly complimentary, but you knew that if he told you you had done something, you had done something," Gulick said. "He would tell you the truth. He would be kind as well."
He also was a teacher who would put his hand on your shoulder or pat you on the back when you needed encouragement, former students noted.
Antonia Fisher-Duke Vassar came to VCU to study voice with Mr. Batty at the recommendation of her voice teacher, Lisa Edwards Burr, another of Mr. Batty's students.
"He was really intimidating and gruff," Vassar remembered. "Then I realized that he was a total softie inside.
"He was incredibly exacting and ... could push you, push you, push you, and then he'd say, 'Let's go get a cup of coffee.' He had the gift to tell how much to push you and when you needed to talk."
Vassar was part of an a capella group called the Madrigalists that Mr. Batty started and directed for decades. Led by students, it was a laboratory in learning trust as well as music.
"He wanted you to sing with your own voice and not sound like each other. ... The blend was what made the group sound so good," Vassar said.
Mr. Batty appeared onstage during performances only to announce the next song, and surprised his singers by what he would ad lib and for how long.
One thing he taught that she never forgot was: to have a musical gift and not use it is a sin.
"He wanted everyone to be the best musician they could be," she said.
Colleagues said that, to the end, he always was pushing the envelope himself to be better. Former students recalled Battyisms: his straight face while stating that the initial "L" in his name stood for "Luscious;" the distinctive way he drew his shoulders and arms high before signaling the first note; his call of "HUP!" to start a piece and "hup, hup, hup" to move it along faster; his "great legs" leaping the steps two at a time to his office atop the Franklin Street music building; and his very mobile, expressive face.
Students also noticed how his eyes would "just light up" when he spoke about his wife. Marriage, to him, was about "the person you choose to be with every single day," Vassar said. It wasn't a choice you made once, he said, but every day. "Making that choice ... was like choosing to sing every day. Their relationship was such a model for us."
Active in the community, Mr. Batty had served on the boards of the Richmond Symphony, the National Association of Teachers of Singing and the Richmond Opera Association, and he was a founder of the Arts Guild.
"He taught so long, and he and Jane were able to live in their house for so long," Vassar said. "We thought he was going to live forever. He seemed timeless."
In addition to his son, survivors include his wife of 73 years, Mary Jane Ellis Batty; another son, Kent Batty of Tucson, Ariz.; a daughter Lise Batty of Richmond; and nine grandchildren and 10 great-grandchildren. Plans for a celebration of his life were still incomplete.