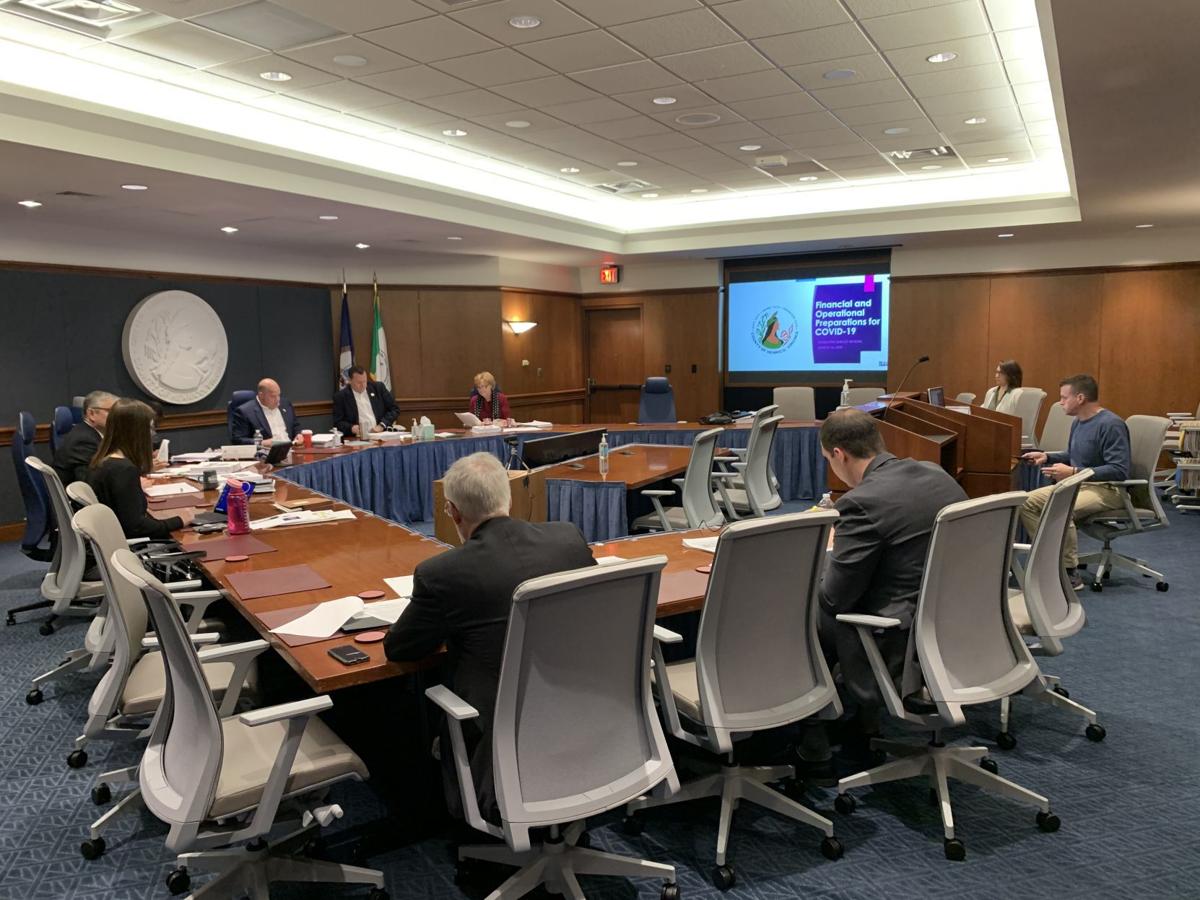 As area residents struggled on Monday to find their footing in a world of shuttered businesses and government offices, the work of administering essential local services trudged onward.
There were lesson plans to design, feeding sites to organize and decisions to be made about how best to manage the rapidly evolving COVID-19 crisis, and its fallout.
Should water be shut off for past-due utility bills? Would people awaiting trial be stuck in jail with court dates postponed? With offices closed but work remaining, who would show up?
In Henrico, some local officials and teachers were on the job. So, too, was the county's Board of Supervisors, which is moving ahead with a weeklong review of the spending plan for the budget year that begins July 1.
"Probably as we work through this week, we'll hear the numbers of the virus increase. Some [cases] will probably be closer to home," said Henrico Board of Supervisors Chairman Tommy Branin. "It's going to be on all of our minds. But the business of the county has to continue."
The county limited participation in the work session to the Board of Supervisors, several top officials, and department heads who rotated in and out of its boardroom. Most officials sat at the boardroom table with an empty chair between them.
President Donald Trump on Monday called for Americans to avoid social gatherings of more than 10 people.
County Manager John Vithoulkas said it's vital for local governments to continue operating through the crisis.
"There are services government has to provide. The county never really closes. We've got public safety folks out there. You've got to be able to call 911," he said. "What we are doing ... is asking all of our agency heads, 'How do we keep the county moving forward even if people aren't coming to our buildings?'"
Before beginning discussions about departmental budgets and revenue forecasts, Henrico Supervisors indefinitely suspended shutting off water and sewer service for people with past-due utility bills. The city of Richmond has levied a 60-day moratorium.
Henrico officials held off on enacting any other measures to help those who may fall behind on their bills in the coming months.
Supervisor Dan Schmitt said Henrico should be ready if it becomes impossible for some people to work or pay their bills in the next five to 10 months.
"I would just ask county staff to prepare for what they believe could be options moving forward," he said.
On Sunday, a regional partnership for the city of Richmond and the counties of Henrico, Hanover, Chesterfield and Goochland announced all offices would be closed Monday. The partnerships said the move would allow each government to plan and perform additional cleaning in response to the coronavirus outbreak.
Richmond announced Monday that it will remain closed all week.
Jim Nolan, a spokesman for Mayor Levar Stoney, said essential personnel for Public Works, Emergency Services and other departments will still report to work this week.
All of the City Council's meetings scheduled through March 22 have been canceled, but the council is expected to reconvene on March 23 for its normal meeting and a budget work session.
Chesterfield County was scheduled to hold community budget meetings through the next two weeks. The meetings will now be streamed on Facebook Live.
Reports of the novel coronavirus being spread by people who did not show symptoms prompted supervisors to stress the importance of sanitizing high-traffic areas in county buildings.
"We're pledging to our citizens that we're ... working our best to protect them and our employees," Branin said. "We're in uncharted territory here."
Henrico school teachers were also asked to come to work Monday after Gov. Ralph Northam on Friday directed all K-12 public schools to close for at least two weeks to contain the spread of the virus. Richmond Public Schools announced Monday it would be closed through April 13.
Teachers for Hanover, Chesterfield and Richmond were not required to come to work Monday. Shawn Smith, a spokesman for the Chesterfield school district, said classes were canceled Friday to give teachers time to begin planning.
Andy Jenks, a spokesman for the Henrico district, said the additional work day in the office was needed for teachers to finalize the logistics of teaching students remotely.
"After today, schools are closed, though our people will be 'tuned in' via phone, email and other methods," he said. "Certain staff will be working in order to provide necessary resources to the public — meals, for example — as well as cleaning our buses and facilities."
School districts around the region are setting up meal distribution sites for students this week, with packages of food and other household materials available in select locations. Grassroots efforts also are bubbling up as nonprofits and community members work to fill gaps in services caused by the shutdown.
Offices for the counties of Henrico, Goochland, Chesterfield and Hanover are expected to reopen tomorrow, in some cases with restricted access or limited operations.