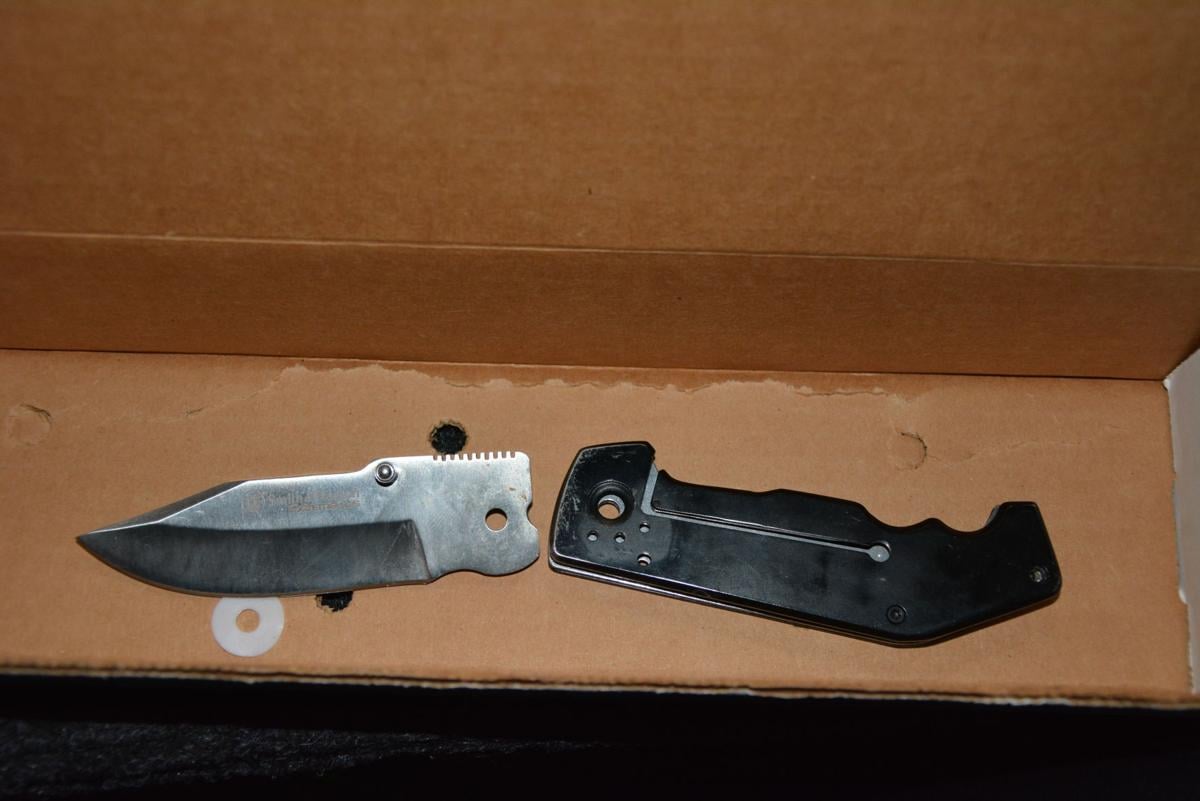 A trusty pocket knife and a lot of luck saved Luis Murray, a Chesterfield County police officer, from serious injury, and possibly worse, when a man shot him last year during a traffic stop.
The knife, which Murray kept in his left front pocket, absorbed the impact of a bullet that struck him on the evening of May 27, 2020. The round pierced his pants leg and underwear, but didn't penetrate his body.
"He was only saved from suffering a gunshot wound by a pocket knife that was in his pocket," Chesterfield Deputy Commonwealth's Attorney Melissa Hoy told Chesterfield Circuit Judge Edward A. Robbins Jr. on Thursday.
More than a year later, Murray watched as his assailant, 11-time convicted felon Lynell Alexander Jr., 34, accepted the terms of a plea agreement and entered guilty pleas to two counts of attempted capital murder of a police officer and one count of felony use of a firearm.
The second attempted murder count was for also firing at Chesterfield officer John Fones, whose bullet-resistant vest was found to be damaged with a small hole after the gunfire.
If the case had gone to trial, "Officer Fones would describe for the court that the bullets were just kind of whizzing by his head," Hoy told the judge. "But he was not certain that he was struck."
In accordance with the plea agreement, Robbins sentenced Alexander to 83 years in prison with 62 years suspended, leaving him 21 to serve. The judge commended the officers for their service, saying he "could not imagine the risk" they faced that day and every day.
In exchange for Alexander's pleas, three additional firearms charges and a malicious wounding count were withdrawn against him as part of the agreement between Hoy and defense attorney John Rockecharlie.
The shots fired at the officers came in one of three separate shooting incidents that Alexander was charged with committing on the same day within a couple of hours.
Murray and Fones, riding in the same car, were fired upon after attempting to stop a man fitting Alexander's description who was believed to have shot and wounded a Chesterfield man a short time earlier in the 5400 block of Remuda Drive.
And about two hours before that, authorities said, Alexander shot up his girlfriend's apartment in the 4000 block of Midlothian Turnpike in Richmond.
In a summary of evidence, Hoy said county officers responded to the Remuda Drive location and learned that Jamar Harriston had been shot in the leg and taken to a local hospital before officers arrived.
Harriston and his girlfriend were walking home from a nearby 7-Eleven when a man dressed in black produced a gun and opened fire on them from about 10 feet away.
After police broadcast a description of the gunman, Murray and Fones, who were patrolling the area, spotted a vehicle pulling into a church parking lot. They observed a man dressed in black jump into the passenger side of the car.
The officers got behind the vehicle as it pulled into the Tree Top condominium complex on Castlewood Road. Almost immediately, the passenger door flew open as the car came to a stop, "and a Black male in all black clothing got out and started firing several rounds at them," Hoy said.
The gunman fled but the driver, a friend of Alexander's, stayed behind. The driver later told police that Alexander called him for a ride and he simply was trying to help out a friend. He didn't know Alexander had a gun or was being sought in the earlier shooting.
"He was in fact very upset because a bullet actually struck the side of his car" and he knew he could have been shot by police "based on the defendant's actions," Hoy told the court.
Police initiated a manhunt and eventually apprehended Alexander the next day, after he jumped out of a third-story window of his girlfriend's apartment and ran to an adjacent residence.
Investigators recovered about eight .380-caliber cartridge casings from the three shooting scenes tied to Alexander, and a state forensic scientist determined they had all been fired from the same gun. The pistol, however, was never recovered.
The charges against Alexander for firing shots inside his girlfriend's apartment and wounding Harriston were withdrawn because the victims refused to cooperate or couldn't be located to testify.
Three days before the traffic stop that led to Murray being shot, Alexander had been released from jail on charges of violating his probation on convictions of robbing a 76-year-old woman in a highly publicized 2009 attack that left her bloodied and with broken bones.
Then 23, Alexander served more than seven years in prison for robbing the woman in the parking lot of The Market at Tobacco Row as she was putting groceries into her minivan, and then leading police on a high-speed chase.
A Richmond judge sentenced Alexander to 25 years for the robbery and eluding police with all but seven years suspended. He was released from Sussex I State Prison on supervised probation on Nov. 28, 2018.