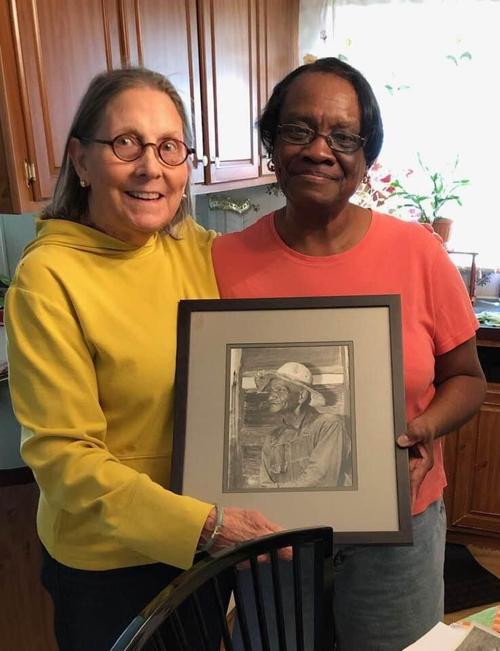 Rosa Oliver Bland was cooking in the kitchen when her son alerted her that an unfamiliar car had pulled into their driveway.
"I just thought it was somebody who got lost and was looking for another address," recalled Bland, who lives in Crewe, an hour's drive southwest of Richmond.
Next thing she knew, a stranger was coming into her house.
"We acted like we'd known each other for years," Bland said of her first encounter with Christie Knox.
"You know how when you first meet somebody that you know right off the bat you're going to like them," said Bland, laughing at the memory. "Christie was one of those."
Two years after their unlikely meeting, Bland and Knox are like family.
"We talk quite often," Bland said. "We call each other sisters."
The reason for Knox's out-of-the-blue visit in May 2019? A photograph of Bland's great-grandfather, Alex Oliver, which had been prominently — and affectionately — displayed on a wall in Knox's Henrico County home for years.
"A number of times a day, I passed Uncle Alex's portrait," said Knox, "and it always put a big smile on my face."
Until one day, Knox decided the photo of Oliver needed to be with his real family — she always referred to him as "uncle" out of respect and endearment, though he was of no blood relation to her, and as far as she knows she met him only once. Problem was, she didn't know who his real family was.
But first: How did Knox, a white resident of suburban Richmond, come to have a framed 1940, black-and-white portrait of a Black tobacco farmer from Nottoway County she considers family?
Knox's father, Gerald Raymond "Jerry" Mathews, was an extension agent and tobacco specialist who traveled around Virginia helping tobacco farmers.
For a time, he was an extension agent for Nottoway, where Knox spent the first few years of her childhood. She fondly remembers her father taking her along on his rounds.
"I remember going around in the car with my father to different farms, sitting up on tractors, looking at chickens, looking at tobacco," she said.
As a young child, she met many friendly farmers on those trips. Alex Oliver might have been one of them; she doesn't recall. But she does recall hearing her father speak of Oliver specifically in later years.
"My father always talked about how nice he was and what a pleasure it was to help him out," said Knox, who turns 78 in August.
When Knox's father died in 1965, she went through his papers and came upon a photo of a Black farmer in overalls and a tattered straw hat. The back of the photo, apparently made by a professional photographer for a publication, identified the farmer as Oliver and the year as 1940.
The picture touched her deeply — Oliver's gentle smile and expressive face "radiates so much love and character," she said — and it also connected her to her father, with whom she was very close and who taught her, among other attributes, "to respect and love all of mankind unconditionally."
Knox framed the photograph and enjoyed it for many years, until about two years ago when it became clear to her there might be an even more suitable home for the picture.
She has reached the stage in life, she explained, where it has become important to make sure things are where they belong. Or, as she put it, "Everything has its home."
She and a friend from Blacksburg — where her family moved after her early years in Blackstone — were noting how many classmates they have lost.
"We realized we're here today, but we never know how much longer we have," Knox said. "For me, family is very, very important, and getting things to people who would appreciate them is really important to me."
She told me about reuniting meaningful family artifacts with cousins, and the photograph of Oliver falls in the same category.
"I felt so much love every time I looked at him that I decided he needed to find his family and perhaps bring them as much joy as he had given me all these years," said Knox, who along with her husband, Larry, operates Tolkien's Kennel.
It took about three weeks. Knox searched genealogy and census records to identify Oliver's descendants, which led her to a great-granddaughter, Rosa Oliver Bland.
Knox made some calls, including to a funeral home, and discovered Bland lives in Crewe. She learned Bland does not have a landline phone, and she couldn't find a mobile number for her, so she and Larry — carrying the photograph of Oliver — made an unannounced trip to Crewe.
After Bland came to the door from the kitchen, Knox peppered her with questions:
"Was Alex Oliver your great-grandfather?"
"Do you have any pictures of him?"
Bland's answers were "Yes," "Yes" and "No."
Knox quickly turned the last response affirmative.
"It was an emotional thing," Bland recalled. "My eyes did fill up a little bit."
Bland, 66, knew her great-grandfather's name but little else about the man who died years before she was born. She didn't even know what he looked like.
"It's exciting because seeing the picture of him ... my grandfather looked very much like him," said Bland, who grew up in Blackstone, not terribly far from the land her great-grandfather owned. "I showed the picture to my sister and my brother, and they were amazed, too."
Bland's father and grandfather are gone, so the photo of her great-grandfather is a connection she didn't know existed to that side of her family.
The picture hangs between the family room and kitchen in Bland's home, facing the front door.
"As you come through the door, he's the first thing you see," she said.
When people invariably ask who he is, Bland happily tells them the story.
"I still look at him and get a little teary-eyed," she said.