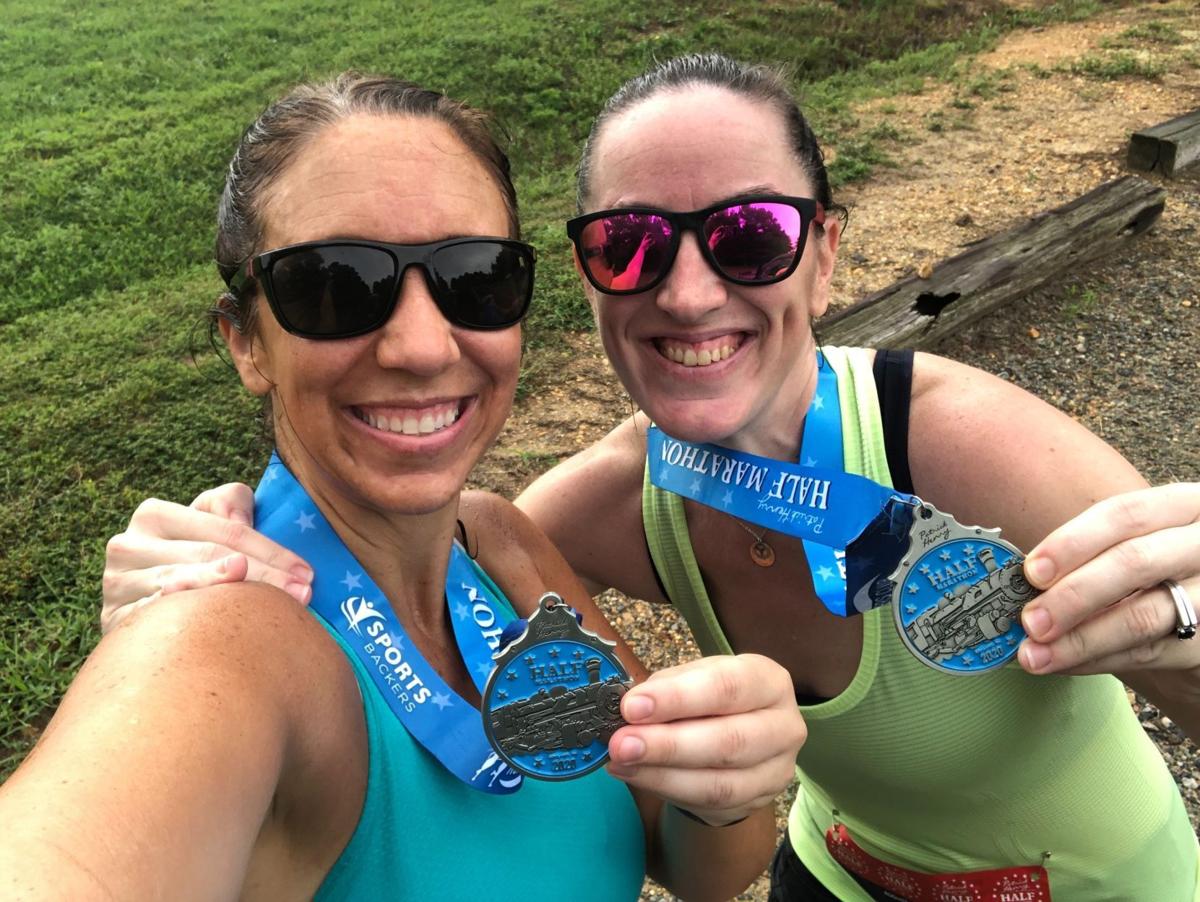 When she crossed the finish line of the Patrick Henry Half-Marathon in Ashland last month, Blaire Loman couldn't have felt better.
Her time was much slower than she was accustomed to running. Then again, she hadn't run those other races with pins in her knee and ankle and a metal rod implanted in her lower leg to help hold together the bone that had been shattered when she was hit by a car a little more than a year before during a training run.
"A lot of times when I run those longer distances, I tend to push myself hard through the pace, but this was just about crossing the finish line that day, didn't matter what it looked like," Loman said. "I was very proud of myself and how far I'd come."
For Loman, 42, who lives in Midlothian, the past year has been — if you'll pardon the pun — a long run, harrowing and humbling, that has led her back to where it started and where she wants to be: running.
Her friend Lindsay Tuhey, who was running with Loman at the August 2019 accident on Broad Street in downtown Richmond and again a few weeks ago in Ashland, said there was "never even an idea that she wasn't going to run again."
"She is a very determined person," Tuhey said. "She's very mentally strong. That has always been a huge advantage of hers with running, and I think it especially got her through this."
A year ago on that August Saturday morning, Loman and Tuhey were on a 16-mile run with the Richmond Sports Backers Marathon Training Team. The two of them were training to compete in the Chicago Marathon together that fall, a trip they had been looking forward to. They were about 13 miles into the run and looking forward to the next water stop, which was about a block away as they crossed Broad Street, near VCU's Siegel Center.
They had the green light to cross Broad at Harrison Street. Another runner was just ahead of them, Loman was in the middle and Tuhey a few feet behind. The first runner made it safely across, but Loman was struck by a vehicle traveling eastbound that ran a red light.
The impact spun Loman around, and she landed in a heap, though she never lost consciousness or composure.
"I was worried about more cars coming flying down Broad Street," she recalled. She had the presence of mind, despite her injuries, to scoot herself quickly across the pavement and onto the sidewalk. "Then people just surrounded me."
She had a compound fracture of her right leg, with both bones of her lower leg broken at multiple places, a terrible injury complicated by compartment syndrome, which occurs when excessive pressure builds up inside an enclosed muscle space and impedes the flow of blood and can lead to permanent damage if not treated. (Hers was.) She also broke a couple of ribs, a bone in her right arm and her nose. Blood was splattered all over her face.
Tuhey was right behind her and witnessed the whole thing. She scooped up Loman's sunglasses and Apple watch, which had flown off in the impact, and ran to her friend, who asked her to call her husband.
"She really stayed strong and was very calm," said Tuhey, who accompanied Loman in the ambulance to VCU Medical Center, where she would undergo surgeries over the coming weeks.
"I can't say enough good things about the doctors and nurses and care I got there," Loman said.
(The driver of the vehicle that struck Loman left the scene and was originally charged with hit-and-run, a charge that was later amended to misdemeanor DUI. She pleaded guilty in June and was sentenced to 12 months with six months suspended.)
Loman spent two weeks in the hospital, then another two weeks in in-patient rehab ("I was using a walker, but with one arm broken I couldn't do a whole lot for myself," she says.)
"I missed the kids' first day of school," she said of her children, daughter, Lily, now 13, and son, Luke, 11. "That was probably the worst part of it all. Missing all of that back-to-school stuff and that first day of school was rough.
"But I've got lots of time with them this year," she said. "We're making up for it."
Getting back on her feet was fueled by great support, Loman said, from family, friends "and people I didn't know" who provided meals and encouragement.
One of the first steps of her recovery was traveling to Chicago last October, on crutches, to root on Tuhey. She started jogging again later in the year, cut back when her leg didn't respond well, and eventually underwent surgery to remove some (but not all) of the hardware that had been implanted in her leg.
As the pandemic set in during the spring, she started walking a lot to build up her strength, supplemented by the physical therapy she continued. She began running again in June, mostly on trails around her Woodlake community, and has been building up ever since.
Running is something Loman picked up about 20 years ago. She started out thinking it would be good exercise, but it evolved into a pursuit that she truly enjoyed. A "stress-reliever," she said. She's run a half-dozen marathons, including the Boston Marathon twice.
She and Tuhey met when their sons were in the same kindergarten class. Tuhey's son, Colt, came home one day and told her the class had made a poster for Luke's mom because "she's running the Boston Marathon." Tuhey, who described herself as "more of a 10K kind of girl" at the time, was intrigued, met Luke's mom and they became friends and running partners.
With Loman as inspiration and motivation, Tuhey set her sights on longer distances, and she's run the Richmond Marathon twice, once with Loman. Chicago would have been their second marathon together.
They would like to run another marathon in the future, whether it be Richmond again or maybe even Chicago, if Loman can return to that form.
"She'll do it," Tuhey said. "I know she will."
Says Loman, "I'm getting there."