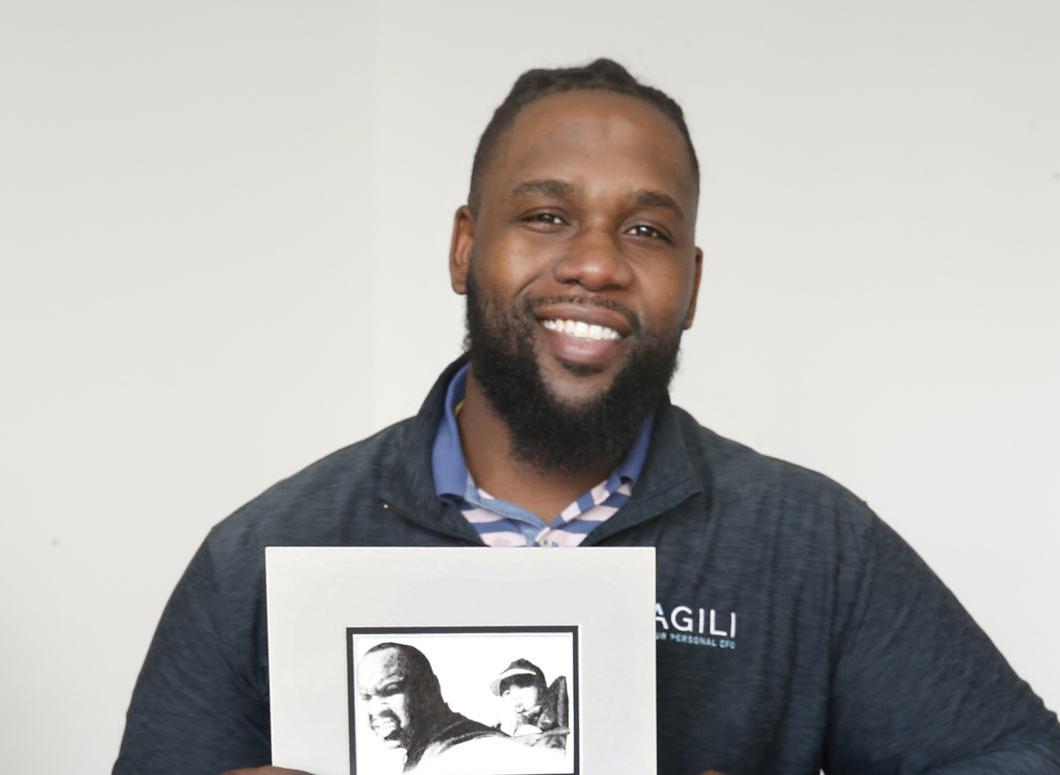 Growing up, Nigel Williams was always into some aspect of the arts.
Early on, it was music. He remembers playing saxophone in his middle school band.
But after Williams entered high school at Benedictine, visual art grabbed his attention. It was a passion that grew as he learned more.
The newfound interest came as Williams made a name for himself in another arena: football. It was a sport Williams had played since he was 6.
At Benedictine, Williams rose to become one of the premier defensive tackle recruits in the country. He went on to a successful career at Virginia Tech, and garnered NFL interest.
Now, back in Richmond and establishing a career as a portfolio/investment administrator at Agili, Williams is using his dual pursuits of art and athletics as avenues to give back.
Williams, 26, rejoined the Benedictine football program last year, as a defensive line coach. He also teamed up with one of his former Benedictine art teachers, Elizabeth Scolaro, to teach art to inmates at the Bon Air Juvenile Correctional Center.
The two have their sights set on establishing a new nonprofit to back art initiatives, too.
"His professionalism, definitely," Scolaro said when asked what makes Williams the right person for the work he's doing. "But he carries himself with integrity, and he is very kind and loving to people. And just authentic, you know? And you want that."
Williams began opening up to various mediums and facets of art as a student at Benedictine. He learned the theories behind art. Every few weeks, he was trying something different.
Scolaro taught Williams his sophomore through senior years, as he took a variety of classes — from pottery to AP studio art.
For Williams, art became a way to decompress throughout the day.
"I know by the time I got to my senior year, I was in the art room almost all day," he said. "I was trying to squeeze in a couple pieces during lunch break. I had a class in the morning, another class [in the] afternoon."
Meanwhile, Williams, who elevated to become the 15th-ranked football recruit in Virginia, committed to play at Virginia Tech before his senior season.
Once on campus in Blacksburg, there wasn't much time for art instruction around Williams' football schedule. But he did squeeze in some doodling on the side, continuing to use art as a way to unwind.
On the field, Williams redshirted his first year in 2012, but played 51 games, with 20 starts, over the next four years, while earning a degree in economic management. He was not selected in the 2017 NFL draft, but signed with the Buffalo Bills as an undrafted free agent that spring. He spent the preseason months with them, but was waived in early September.
All the while, Williams continued to stay in touch with Scolaro. The two connected again when Williams returned to Richmond from Buffalo.
It was around that time that the opportunity at Bon Air presented itself. One of Scolaro's friends, Virginia Maitland, reached out to her about helping with a Christmas pizza party at Bon Air.
Maitland's husband, Jerry, is a small group leader coordinating volunteer activity at Bon Air through Thrive Church in Richmond. Scolaro agreed to lend a hand.
As she walked in the first time, one of the boys who came out for the party was holding a pack of oil pastels. Scolaro remembered her own similar habit as a child, walking to the dinner table with her colored pencils.
She hit it off with the boy at Bon Air and began discussing color theory with him.
"And he was like, 'I don't know about those so we need to do more,' " Scolaro said.
So, in January 2018, she found out how to continue volunteering at Bon Air, and Williams joined her right away. Since early that year, the two have continued to spend time working on art with those at Bon Air, on Sundays once or twice a month.
Each visit, Williams and Scolaro share the teaching of an art lesson, along with a devotional and prayer. They have worked with the inmates on a variety of mediums, including colored pencils, watercolor paints, and pen and ink. They are planning sessions on chalk pastels and pour painting.
The lessons have been conducted in one particular pod within Bon Air, which has allowed Williams and Scolaro to work with a lot of the same boys each time. Six to eight of them, mostly ages 14 to 18, will typically attend each session.
Williams said seeing the kids support one another is perhaps the coolest part. Some poke their head in and may not be particularly confident in art to start. But they get the opportunity to sit down and try it, and the progression follows.
"These kids come from all types of backgrounds," Williams said. "So it's pretty cool seeing how they all kind of just communicate with art. And then I think the biggest thing is just the scripture part as well, just seeing how much these kids open up, not just to us, but to each other."
While Williams was beginning the work at Bon Air, he started at Agili, a financial planning and investment firm, in February 2018. Two more NFL opportunities presented themselves, too. He had a workout with the Tennessee Titans in spring 2018, and signed with the Arizona Cardinals for a stint later that offseason.
At Benedictine, the Cadets won a state title this fall. Williams said perhaps the biggest reward of coaching is seeing the players reap the benefits of their work, through winning and, for some, earning the chance to play in college.
For him, the payoff is "just seeing how the kids just work throughout the year and push each other and just become leaders of themselves in the locker room," he said.
And though Williams is not actively pursuing more playing opportunities of his own at the moment, he's continuing to stay in shape in case a call comes.
He and Scolaro, meanwhile, are exploring how they can continue to do good through art. They are currently piecing together the blueprint of the nonprofit they have planned, which will be called Synergies in Art and Faith. The idea sprouted from a trip to Kenya they took recently, for an art conference.
Synergies in Art and Faith may launch sometime during the second half of 2020, supporting further art programming.
The way Williams sees it, there's so much that can be done with the free time available to him away from work.
He's making sure to use it to give back and to serve as a positive influence — whether in an art class or on a football field.
"I feel like there's a lot of room where, especially with kids, that they just need somebody that can be a good role model to them," Williams said. "There's so many other things that they can look at, but just having somebody right there they can talk to and that's had the same experiences as them. I just enjoy it. Just connecting with them."
(804) 649-6442
Twitter: @wayneeppsjr