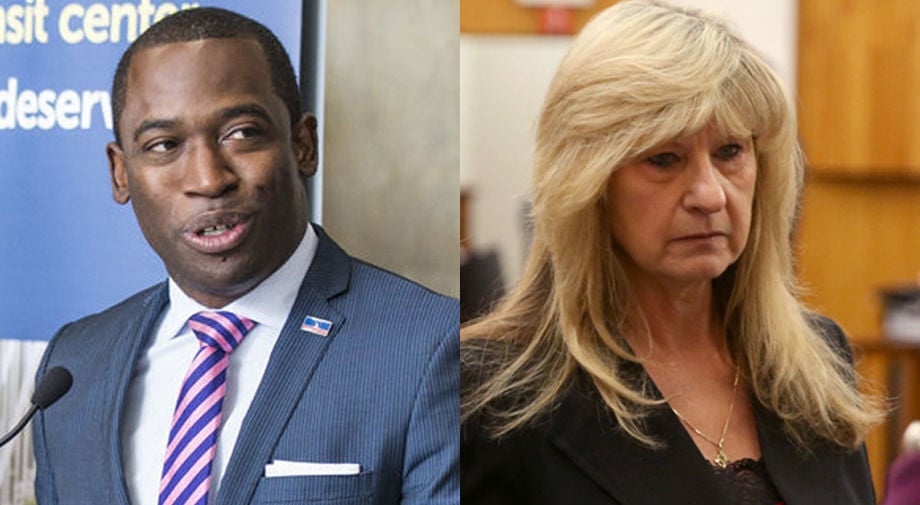 Richmond Mayor Levar Stoney and City Council members on Tuesday walked away from a meeting on low morale and staffing issues in the city's Police Department after their lawyer told them it had to be made public.
The council clerk's office issued a public notice about the virtual gathering with a link to participate on the advice of acting City Attorney Haskell Brown, nine minutes after it started. Talks ended almost immediately.
Stoney deflected questions about the incident at a news conference later Tuesday, saying the meeting was called by the City Council. Councilwoman Reva Trammell of the 8th District questioned whether officials were attempting to circumvent public scrutiny.
"I thought we were going to talk about the morale of the Police Department and pay," Trammell said in an interview Tuesday afternoon. "We're supposed to be transparent."
Stoney said he and other administration officials suggested delaying the discussion to the next public safety committee meeting for that very reason: so that they could adequately notify the public of the conversation.
"Remember, this wasn't my meeting," Stoney said.
As talks broke up amid the confusion Tuesday, attendees discussed a planned presentation from Police Chief Gerald Smith on department vacancies and other public safety topics.
Councilwoman Ellen Robertson of the 6th District called the meeting after reviewing a Police Department employee's resignation letter, which detailed concerns about department leadership and the city's human resources office, said Trammell, who provided Robertson with the letter.
In response to an interview request, Robertson texted that the purpose of the meeting was "to get factual information on RPD manpower and ways to provide solutions where needed."
After several officials exited the virtual meeting shortly after the notice was sent, Robertson and acting Chief Administrative Officer Lincoln Saunders discussed the planned conversation, which was livestreamed through Microsoft Teams. It was unclear whether the meeting had formally adjourned at that stage.
Both said they worried that Trammell was more interested in airing grievances in a public forum than listening to a report from the police chief. Robertson said she suspected that Trammell would not "stick to an agenda" after hearing her speak for a moment at the start of the meeting.
"Ms. Trammell knew what she did this morning. I respect ... the strategy behind it. But as you said, she came here with a message and was ready to deliver," Saunders said. "She was looking for an audience to hear it."
Trammell denied that she was seeking an audience.
"Why in the hell would I do a political stunt like that?" she asked in an interview. "The public needs to know the truth about why our police officers are leaving."
While advocating for a restructuring of the city's pay scale for police and firefighters earlier this year, members of the Richmond Coalition of Police said there has been high turnover in the past year, as more than 70 officers have left the force.
A spokesman for the Police Department did not respond to questions Tuesday.
Open government laws afford the public a right to participate in meetings attended by a majority of a council body. Both Trammell and Robertson sit on the council's Public Safety Standing Committee. Saunders said it is common for the mayor and administration officials to meet privately with one or two council members, which does not trigger a meeting notice required under state law.
Megan Rhyne, a government transparency expert with the Virginia Coalition for Open Government, said 'two-on-two meetings' are fairly common in most local governments. She said that the provision was written to allow elected officials to discuss government business and potential votes, but that it can be abused in some cases.
"The way it's developed over the years is as a substitute for a group meeting, where you can have smaller meetings that you can then piece together to form a whole meeting," she said. "While they're legal and not unusual, the public can become suspicious."
Speaking to Saunders after the meeting, Robertson asked for the chief to send council staff members the information he expected to present Tuesday.
The next Public Safety Standing Committee meeting is set for Sept. 28.