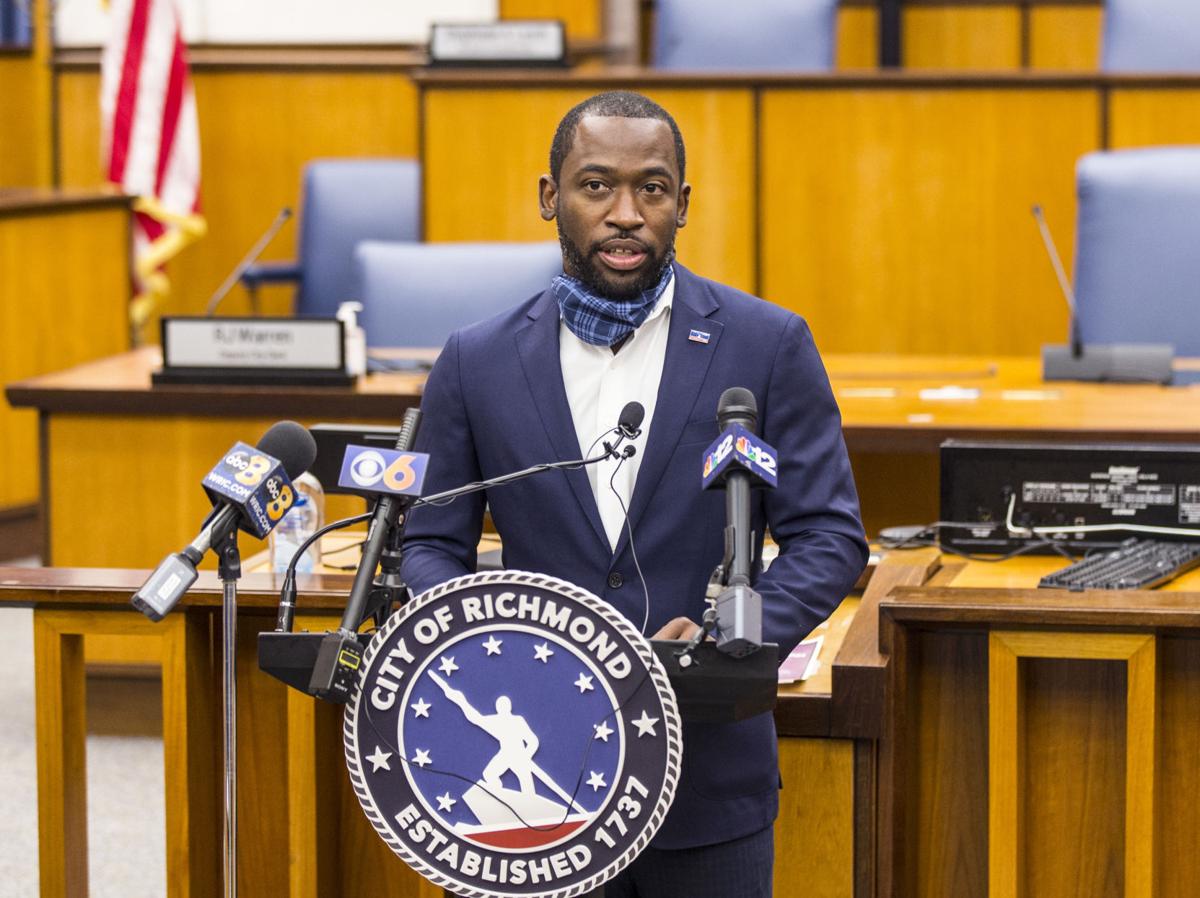 Mayor Levar Stoney wants Richmond Public Schools to open its buildings for emergency child care as classrooms remain closed to students and teachers to prevent the spread of a virus that has killed 42 people and infected at least 3,425 in the city.
Stoney in a letter to the city School Board on Monday said Richmond would use $3 million in federal pandemic relief funds to support the effort, a move he said would provide critical support for families.
"I understand that, on it's face, it seems strange to request the use of school buildings that you have made the difficult decision to close," Stoney stated. "School buildings, particularly new, state-of-the-art school buildings, are ideal locations for this sort of emergency childcare."
The move attempts to reconcile competing truths: Federal health data shows Black and brown people are most likely to contract and die from COVID-19 and to work frontline jobs that put them at risk; the school system, in attempting to safeguard teachers and a primarily Black and brown student body, has created a burden for parents less likely to be able to afford child care or to work remotely.
In Virginia, child care is expensive. The nonpartisan Economic Policy Institute found that families here typically pay more than $14,000 annually for infant care, or $1,172 per month. That's about 18 percent of median family income in the state, researchers found.
A spokesperson for Stoney couldn't yet say which organizations would be heading up the projects. Details are still being worked out.
Fourth District Board member Jonathan Young said he'd consider opening some space in specific buildings.
"It's incumbent on us to do this in a safe way to support them because a lot of our folks are stretched very thin," he said in an interview. "It's more important than ever that we do everything we're capable of. That would include allowing use of our facilities."
The move to virtual schooling also has officials scrambling to work around the cascading impacts of supports families lose when children aren't in classrooms, from counseling to the nutritious free meals on which thousands have relied. The school system has distributed over a million meals since the Governor shuttered Virginia schools in March.
One in seven RPS students doesn't have enough to eat and one in four children is experiencing some form of homelessness, according to a column Superintendent Jason Kamras and Dr. Danny Avula, director of the Richmond and Henrico Health Districts, jointly submitted to the Richmond Times-Dispatch.
"The Mayor's Office reached out to ensure that prioritization of equity would extend to the city's vision for emergency childcare for families whose caregivers must work outside the home," said Sam Schwartzkopf, a spokeswoman for Stoney.
Schwartzkopf said school buildings would allow for a large number of children to be served at one site while adhering to CDC guidelines, something School Board member Scott Barlow said is imperative.
"I want to see robust testing measures of anyone who is going into these buildings," Barlow said. "If it doesn't appear we have the testing capabilities, then I wouldn't be open to it. I do think that if a student or adult at one of these sites has COVID, then you have to shut down and do testing."
School Board members said a free or subsidized program is just one of the requirements they would need to see, along with being allowed to determine a maximum number of students allowed in the buildings.
"If we are truly assisting our families in need, the cost (for families) definitely plays a big part in this," said Dawn Page, 8th District, during a School Board meeting on Monday.
Kamras said he would not want RPS staff to be responsible for cleaning or staffing the schools as child care centers, and there should be no additional cost to RPS. He previously promised staff no one would be forced to work in-person.
"I think the allure of using schools is that they have classrooms and are set up for young people, which is a little bit different from another nonprofit or even a church that may run a Sunday school, but isn't as extensive as a school," Kamras said during Monday's meeting.
The mayor's office plans to survey families to gauge the need for emergency child care and assess what people would be comfortable with.
"Needs don't look the same for every family, the solution won't either," Schwartzkopf said.
In the letter, Stoney referenced a time where earlier this spring, city employees were able to utilize Carver Elementary as a child care center when RPS went fully virtual. According to Michelle Hudacsko, the chief of staff for RPS, only one or two children of GRTC employees used the facility.