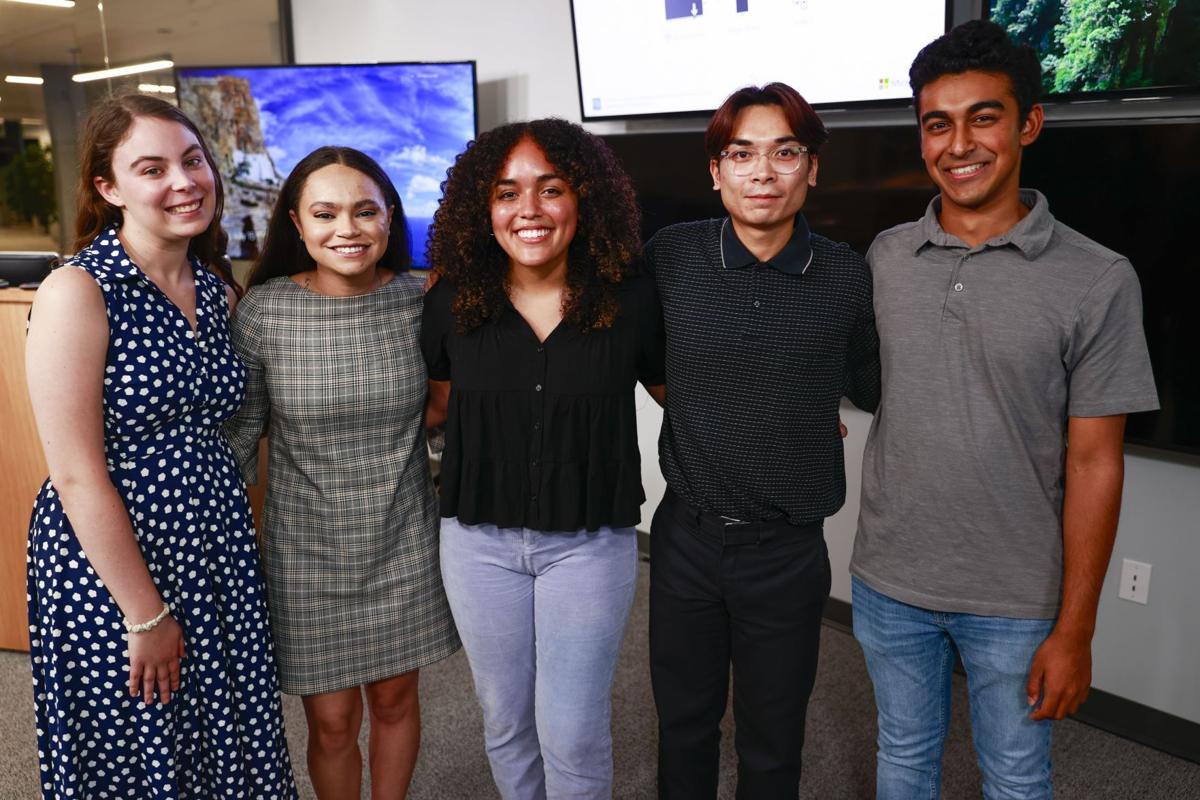 As the COVID-19 pandemic loosens its grip, the Richmond region is emerging with plenty of stories to tell. The Richmond Times-Dispatch's 2021 summer intern class is here to help document that reawakening.
Five of our six interns are in Richmond for their 10-week internships, covering everything from business to sports to general and breaking news, as well as writing stories about local and state government, schools, communities and people. Our copy editing intern is working virtually from Maryland, but through the power of technology, she has her hands in the production of our print and digital work five nights a week.
It's a great team. Please read more about them: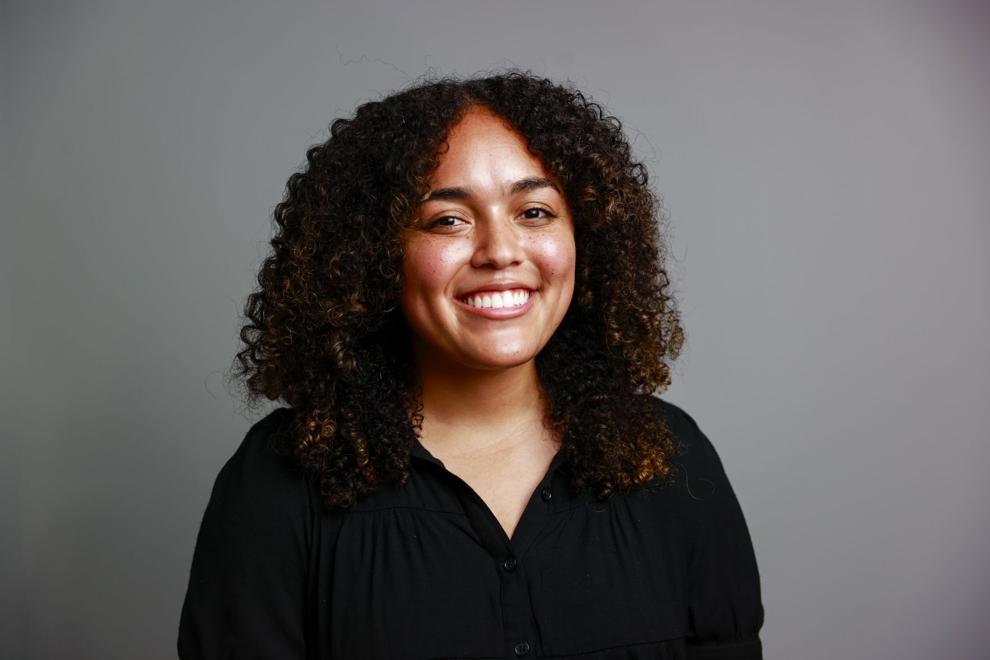 Colbi Edmonds, News Intern
Hometown: San Antonio, Texas
School, academic status: Boston University, rising junior, double majoring in journalism and political science with a minor in African American studies
Interesting fact about yourself: I can move my ears without touching them.
Most surprising aspects of your work at the RTD so far: I was surprised by this summer's impact on my personal understanding of my own identity. Richmond has a long history, and to have an opportunity to write as a Black woman at a paper that has been intertwined in the city's journey from the capital of the Confederacy to where it is now is something I'll always remember.
Favorite thing(s) about Richmond: I love all of Richmond's thrift stores, coffee shops and restaurants. Richmond has been an amazing place to spend my summer, and I am so grateful for the opportunity to report on the city and meet so many wonderful people during my time here.
Career aspiration: I'm going to be an enterprise reporter and eventually a columnist.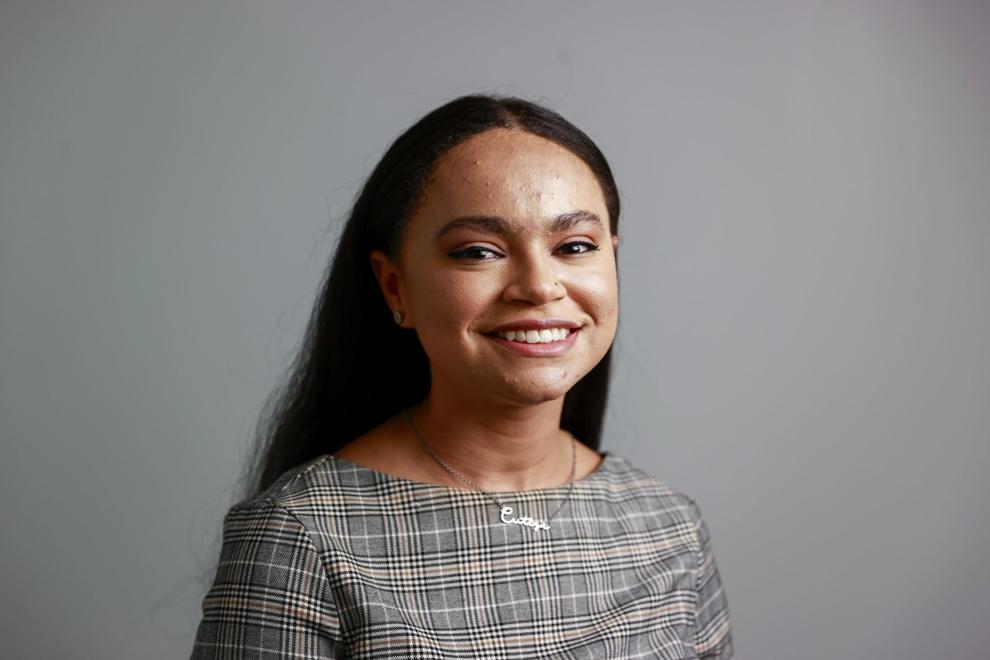 Roshan Fernandez, Sports Intern
Hometown: Cupertino, Calif.
School, academic status: Syracuse University, rising junior, majoring in newspaper and online journalism
Interesting fact about yourself: I'm a Pittsburgh Steelers fan, but I've never been to Pittsburgh (at least not yet). Let me explain: The first football game I ever saw was Steelers-Packers in the 2011 Super Bowl. I was 10 years old and had no idea how football worked, so I decided to root for the Steelers because I liked the colors black and yellow more than green and yellow. The following years, I started watching more NFL games and figured out how the game worked, and my allegiance toward the Steelers hasn't changed.
Most surprising aspects of your work at the RTD so far: I've been so happy that my editor and co-workers have given me the opportunity to write such a wide variety of stories. I've had the chance to cover golf, short track auto racing and horse racing for the very first time. I got to write about a red clay tennis court in the Richmond area, and the scenes at a British pub while England was playing during the European championships. Every day has been exciting and different, and I'm so grateful that I've been able to work on so many cool stories.
Favorite thing(s) about Richmond: I love the James River. It's really beautiful at sunset, and I like wading through the water, sitting on the rocks or walking across the pedestrian bridges. I still haven't had the chance to go kayaking, but that's on my to-do list before the end of the summer.
Career aspiration: I know I want to be a journalist, but I'm still figuring out the rest. I've really enjoyed the experience of working in a newsroom this summer, and I know it's something I want to do in the future.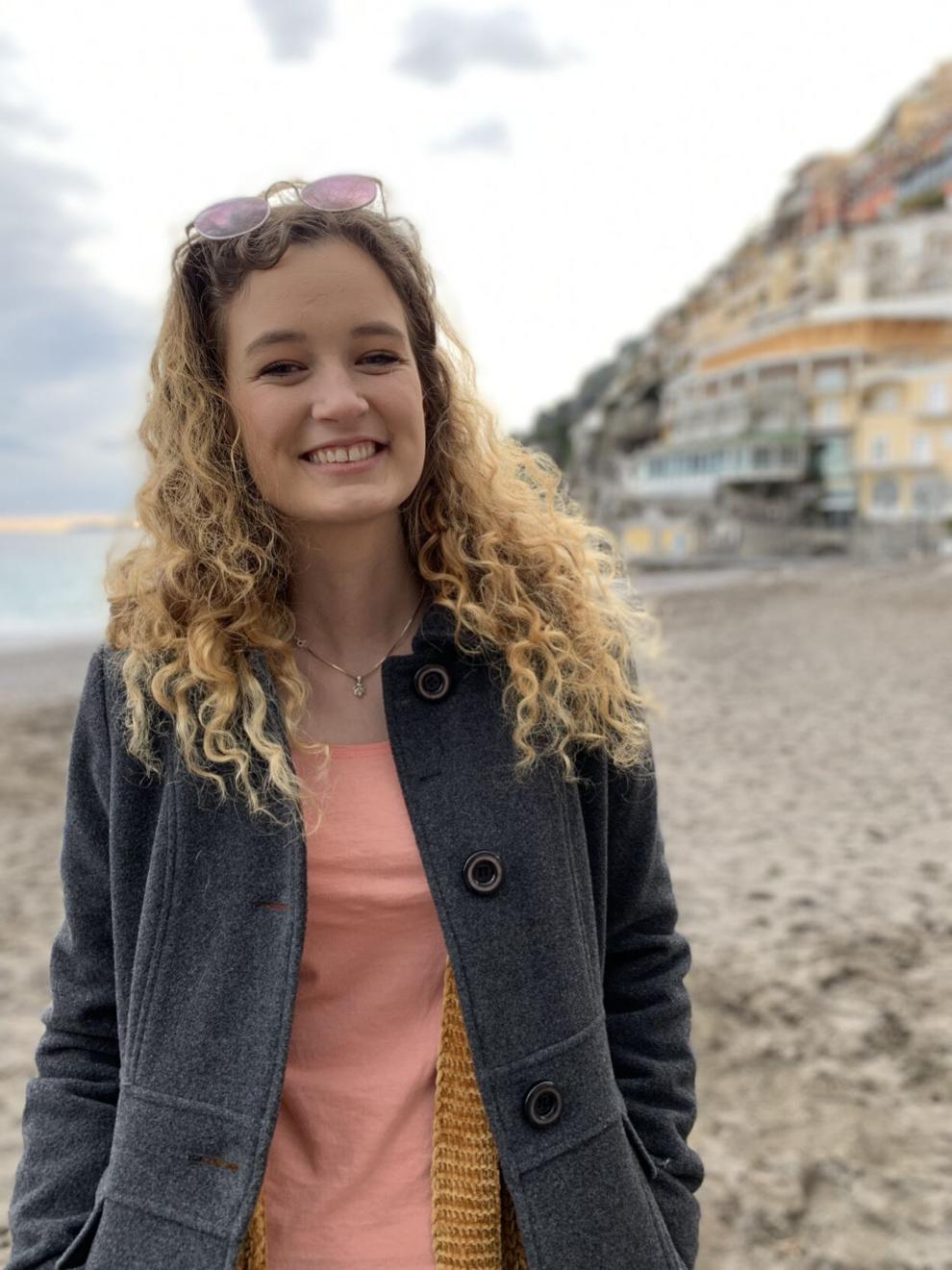 Caitlyn Freeman, News Intern
School, academic status: Towson University, rising junior, majoring in mass communications/journalism
Interesting fact about yourself: I used to be a competitive and sideline cheerleader. I cheered from ages 9 to 15 but had to quit after freshman year due to a career-ending knee injury. I used to be a flier at the top of pyramids, and still miss cheering from time to time.
Most surprising aspects of your work at the RTD so far: I'd say the most surprising thing to me so far has been the amount of stuff I've learned in such a short amount of time. I came into this internship expecting to learn, but my view of journalism and the work a journalist does has changed substantially since I arrived. Another surprising aspect is the autonomy we have as interns. We are encouraged to pursue deeper stories than one might expect of interns.
Favorite thing(s) about Richmond: While I've only been here since the beginning of June, I've quickly fallen in love with Richmond, especially the restaurant scene. Some of my favorites are Poor Boys of Richmond, the Village Cafe and Ay Caramba. I also love the Penne Vodka pasta from Stella's Grocery. However, as a self-proclaimed fast-food connoisseur, I have also thoroughly enjoyed discovering Cook Out and Bojangles. I've also rediscovered my deep affection for Cheerwine while in Richmond. It's somewhat available in Maryland, but very limited (at least where I live), so I plan to stock up before hitting I-95 to go home.
I also enjoy the ease of getting around. As someone with no directional skills whatsoever, I feel like I have a better sense of directions here than I do at home. Once I hit Broad Street, it's easy to find where I need to go.
Career aspiration: I want to go into print journalism and hopefully get a job as an education reporter. There's a lot of important stories to tell within the world of public education, and I hope to be able to tell them.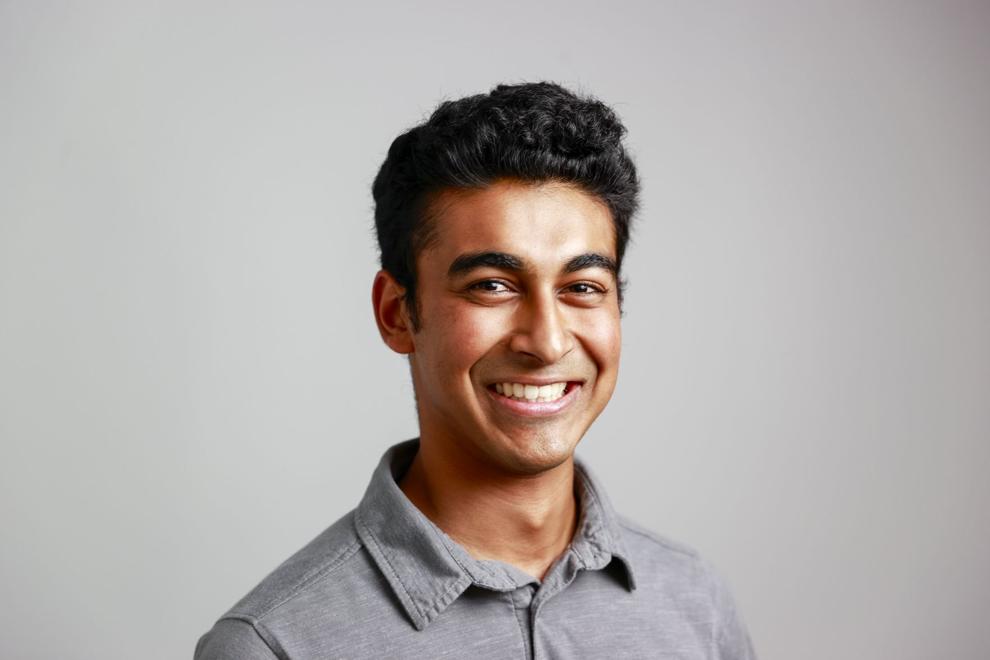 Anastazja Kolodziej, Copy Editing Intern
School, academic status: University of Maryland, graduated in May 2021 with bachelor's degrees in journalism and classics (Latin/Ancient Greek)
Interesting fact about yourself: I started studying Latin in sixth grade.
Most surprising aspects of your work at the RTD so far: The most surprising thing was discovering how much of a puzzle writing print headlines can be. I'd never written headlines specifically for print prior to this internship, and now I'm learning that it doesn't just involve identifying the most important information to include in the headline, but also how to phrase it to best fit the headline's space and font size.
Favorite thing(s) about Richmond: I'm interning remotely, so I unfortunately haven't had a chance to find a favorite thing about Richmond in person. But one thing I love about copy editing is that it lets me learn all about the city and surrounding areas even if I'm not there myself!
Career aspiration: I would love to continue on the copy editing path. And this internship has taught me that print editing is a fun and challenging adventure that I'd love to keep pursuing.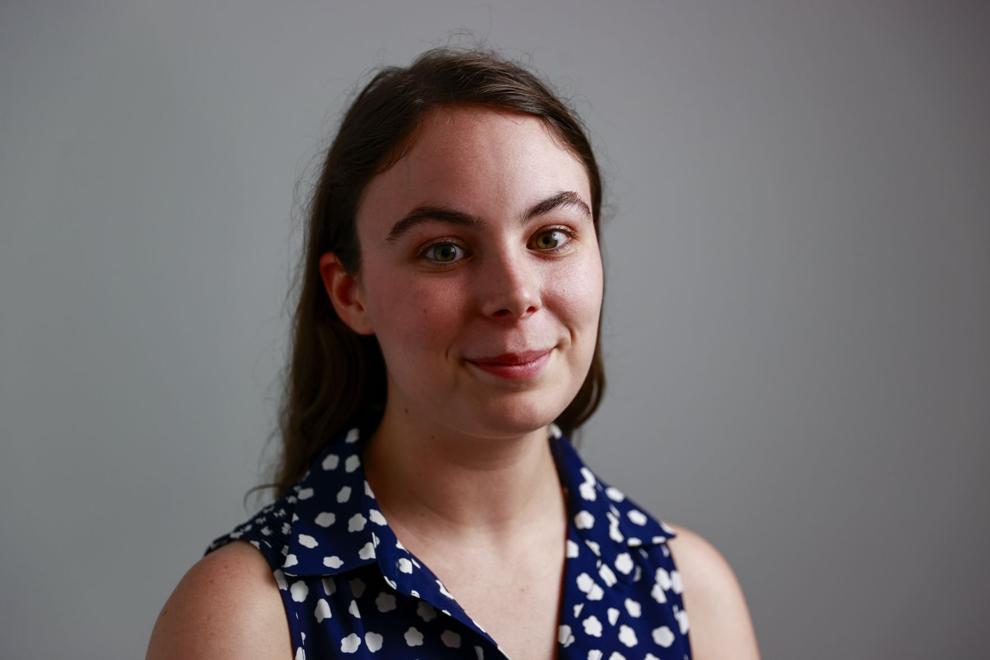 Mary Alice Russell, Business Intern
School, academic status: Washington and Lee, rising senior, majoring in journalism and art history
Interesting fact about yourself: When I was 17, I played Glinda the Good Witch in my school's production of "The Wizard of Oz." In the show, I was raised 15 feet up into the air in a large metal circle that looked like a bubble. It was exhilarating and terrifying at the same time.
Most surprising aspects of your work at the RTD so far: I would say the most surprising aspect of working at the RTD is simply working in the office! Originally, I thought that this internship was going to be virtual, but I have been able to come into the office every day, which is incredible. I have been writing stories in my bedroom for over a year, so it is nice to actually work downtown and collaborate with other journalists.
I have also enjoyed the amount of autonomy I have been given in this internship. On the first day, my editor Greg Gilligan sat down with me and allowed me to pitch as many stories as I wanted. The next day, I was already working on one of my story ideas. The ability to share and write about things I am really interested in has been incredible, but I have to say I also loved the stories that I have been told to work on.
Favorite thing(s) about Richmond: My favorite thing has to be getting to meet and talk with people in the Richmond community. Before this internship, the entirety of my journalism career has been in small-town Lexington, and I was worried that the big city of Richmond would be too much for me to handle. Nothing could be further from the truth. There is just something special about Richmond and all of the people in the greater Richmond area that made me feel immediately at home.
Additionally, I have the incredible opportunity to live with my grandparents, Tom and Jeanne Hughes, this summer. Just having some extra time to spend with them has been truly wonderful. I love going back to their home after a long day at the office and watching "Frasier" with them in the basement.
Career aspiration: From this internship, I have realized that I want to continue with journalism after I graduate from W&L next spring. I am still considering all different aspects of journalism from print news to broadcast to magazine, but I have come to the conclusion that storytelling and sharing valuable information with others is central to my heart and purpose.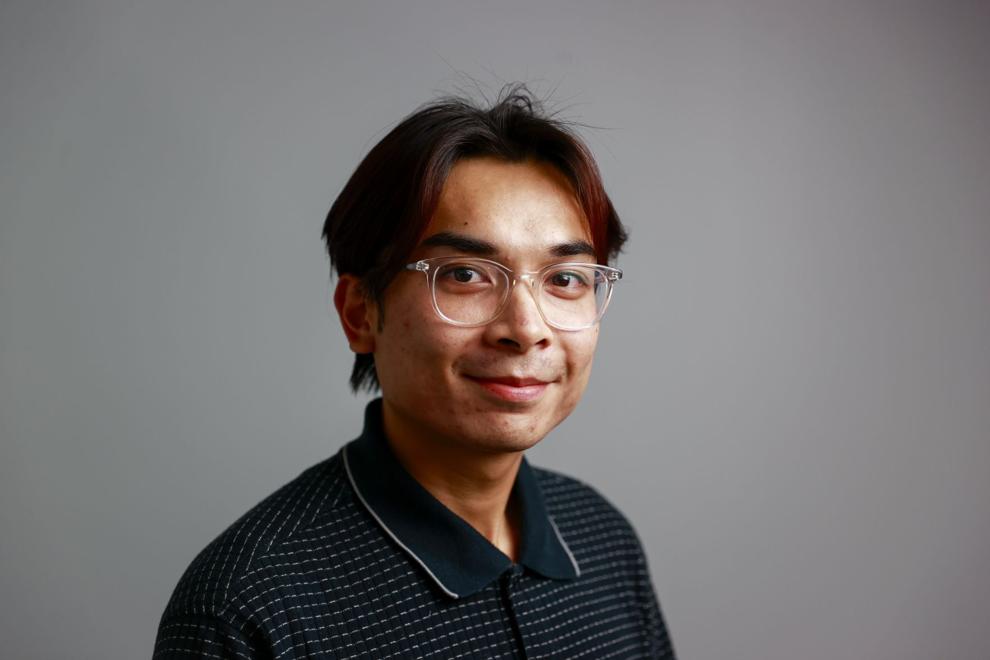 School, academic status: Virginia Commonwealth University, graduated in May 2021 with a bachelor's degree in mass communications with a concentration in online/print journalism
Interesting fact about yourself: I enjoy cooking homemade meals and experimenting with recipes. My proudest dish has to be my vegan mac and cheese. I love cooking so much that I briefly had a YouTube cooking channel. The videos cease to exist now, so good luck finding them!
Most surprising aspects of your work at the RTD so far: I am surprised but very grateful at the freedom we have to pursue stories and issues we are passionate about. The staff is always so welcoming and supportive. I am so thankful to be part of a team and environment where I enjoy going to work every day.
Favorite thing(s) about Richmond: My most favorite thing is the food scene here. Despite living here for almost four years, there are always amazing restaurants and cafes that I am trying for the first time. I also enjoy secondhand shopping, and there's an abundance of thrift and vintage stores in and outside of the city. Lately, I've been appreciative of nature and enjoy going to Texas Beach or Belle Isle, especially during this extremely hot summer.
Career aspiration: I hope I am able to continue to pursue journalism, definitely writing in-depth for either a local newspaper or magazine. Wherever life takes me, I want to strive to report on underrepresented stories and issues most important to the community.