If a judge can remove a portrait of J.E.B. Stuart from a courthouse in a town named for Stuart, no debate about Confederate symbols is out of bounds.
"It will be an unpopular decision in many quarters, especially given that the courthouse is located in a town named in Stuart's honor," he wrote. "Still, it is my goal — and my duty as a judge — to provide a trial setting that is perceived by all participants as fair, neutral and without so much as a hint of prejudice. Confederate symbols are, simply put, offensive to African-Americans, and this reaction is based on fact and clear, straightforward history."
He said much more about a history that even some well-meaning people coat with a sugary glaze.
"Bigotry saturates the Confederacy's founding principles, its racial aspirations and its public pronouncements," he said. "For instance, the Declarations of Causes — the legal and philosophical grounds recited by the Southern states for leaving the Union — could just as easily be called The South's Demands to Mistreat Black People."
And Clark then laid out his argument, citing actual Confederate documents on a breakaway nation based on white supremacy and black subjugation.
This unvarnished assessment can't be blamed on some carpetbagger. Clark is a white Southerner who describes growing up in Patrick County next door to former NASCAR crew chief Leonard Wood as the son of a schoolteacher mom "raised dirt-poor a stone's throw away from Jeb's birthplace."
Clark's statement elicited a "Wow!" on Thursday from Richmond Commonwealth's Attorney Michael Herring.
"Now that took courage. Eloquently and thoroughly articulated. He is absolutely correct that our justice system, and the things that symbolize it (like courthouses), must inspire confidence in its fairness. Otherwise, it's all rhetorical, right?"
At a time when the essential fairness of the criminal justice system is being called into question, that system hardly needs external trappings that suggest bias.
Clark moonlights as an author described by The New York Times Magazine as "not only the thinking man's John Grisham but, maybe better, the drinking man's John Grisham." But he claims his Southern heritage is "far, far distant from the battlefields of the 1860s."
He realizes his brand of regional pride may play to less positive reviews than his books.
"That shows some leadership," said Rob Corcoran, national director of the Richmond-based Initiatives of Change, which works to create partnerships that cross racial, class, religious and political lines.
"What we do about other public spaces, I'm not entirely certain. I think it's a very important conversation to have."
There has been much conversation about the meaning of the battle flag and other Confederate symbols in the aftermath of the June 17 shooting of nine black congregants at a church in Charleston, S.C., allegedly by a man, Dylann Roof, who embraced the Confederate battle flag and other symbols of white supremacy.
In the aftermath, Gov. Terry McAuliffe ordered the removal of the Sons of Confederate Veterans' logo, which includes the battle flag, from the group's specialty license plates but said Confederate statues should be left alone.
This departmentalizing of Confederate imagery perhaps inspired a Style Weekly reader to surmise that You Are Very Richmond If ... "You think displaying the stars and bars is crazy, but you have no problem with an entire avenue dedicated to Confederate soldiers."
Corcoran noted the ongoing conversation at his congregation, St. Paul's Episcopal, about the Confederate symbols within the church. And he recalled his recent visit to New Orleans , where he heard Mayor Mitch Landrieu speak of his desire to remove statues of Robert E. Lee and Jefferson Davis, among other Confederates. "He's pretty committed to putting their monuments in a more appropriate place."
"I'm hopeful that Richmond right now has gotten to a point where we can have that conversation" about the propriety of its Confederate monuments, he said.
Clark is not all hard lines when it comes to Confederate displays. He continues to allow demonstrations featuring the Confederate flag in the courthouse square.
"Despite my disdain for all versions of the Confederacy's flag ... and despite my belief that no one will take us seriously if we continue to insist these emblems represent who we are in 2015, this particular courthouse space — the courtyard — is still the functional equivalent of the town square, a marketplace for speech, ideas and discourse."
Unfortunately, not every judge and jurisdiction is displaying Clark's sensitivity. More egregious than the painting removed from the Patrick County courthouse is a mural that remains on a wall in the courthouse in Baker County, Fla.
Part of the mural, purportedly a representation of local history, depicts Ku Klux Klansmen in white sheets and hoods riding horseback. Nearly as disturbing as the mural, painted in 2001, was the explanation of the scene by its artist, Gene Barber:
"Lawlessness among ex-slaves and troublesome whites was the rule of the day. No relief was given by the carpetbag and scalawag government or by the Union troops. The result was the emergence of secret societies claiming to bring law and order to the county. One of these groups was the Ku Klux Klan, an organization that sometimes took vigilante justice to extremes but was sometimes the only control the county knew over those outside the law. The Klan faded from view at the end of Reconstruction. It had minor come-backs in the 1920s and mid 1950s. Since then it has become the subject of legend rather than a cause of fear."
A Change.org petition calling for the removal of this painting from the courthouse has garnered more than 8,300 signatures toward its goal of 10,000. It's remarkable, and not in a good way, that the petition has yet to reach its goal since its creation in mid-July.
Baker County sounds like it could use a jurist like Clark. And we could all stand more honest talk about the Confederate imagery in our midst.
(804) 649-6815
Twitter: @RTDMPW
More from Michael Paul Williams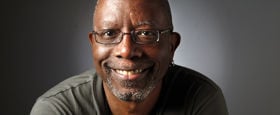 Read more commentary on life in Richmond from Times-Dispatch columnist Michael Paul Williams.