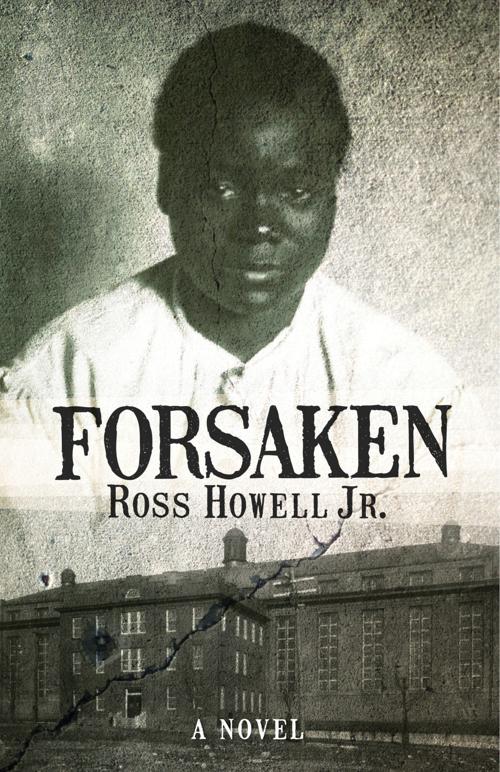 In writing about Virginia's execution of a black teenage girl more than a century ago in the murder of her white employer, author Ross Howell Jr. had what he calls "my Oprah Winfrey moment."
He'd written about a third of the manuscript of his debut novel, based largely on the facts surrounding the electrocution of Virginia Christian one day past her 17th birthday, but the third-person narrative felt flat. He had been so intent on cramming history into "Forsaken" that it read like, well, a history book.
That wasn't all that troubled him.
He fantasized that Winfrey had taken an interest in his book and he imagined her leaning in and asking: "Ross ... Would you please tell our audience what an educated, relatively privileged old white guy today could possibly have to say about the inner mind and heart of an uneducated, impoverished black girl charged with murder in 1912?"
The only honest answer he could give was, "Well, not very much."
"At that moment, I realized I needed a witness to tell this story," said Howell, whom I had the pleasure of introducing Wednesday before his talk at the Library of Virginia. His "witness" would need access not only to the poor black girl, but also to the powerful. He created as his narrator Charlie Mears, a character based on a real-life journalist who befriended Christian and tried to save her life.
The novel is set in the context of a burgeoning eugenics movement led by Walter Ashby Plecker, who in 1912 headed the newly established Bureau of Vital Statistics in Virginia, pushed the state toward the Racial Purity Act of 1924 and later compared notes with Nazi Germany. Also referenced is John Powell, a Richmond musician who co-founded the anti-miscegenation, anti-immigrant Anglo-Saxon Clubs of America.
Mears appeals to Gov. William Hodges Mann for clemency, arguing that Christian's crime was not premeditated. Other supporters of Christian, including businesswoman and banker Maggie L. Walker, petitioned for her life.
It's hard not to view Christian's electrocution at the Virginia State Penitentiary in Richmond as a fait accompli. A jury of 12 white males convicted her in 30 minutes. Her legal team was hamstrung by the pervasive air of racial intimidation; it dared not let Christian testify in her defense for fear of inciting mob violence. Her attorney George Washington Fields wrote to the governor: "In conducting such a case, one has to be careful not to disturb the very cordial relations existing between the races, and which I hope may ever remain." Mears' support of Christian results in threats upon the reporter.
The book's lingering impression brings to mind Southern literary icon William Faulkner, who said: "The past is never dead. It's not even past."
We've come a long way since Christian's time. But as the Black Lives Matter movement evinces, we still have a ways to go.
"When (rocker, hunter and right-wing provocateur) Ted Nugent calls the president of the United States a 'subhuman mongrel,' he is spewing language straight from racial purity screeds of Virginia Christian's era," said Howell, who was reared in Floyd County during the racial turmoil of the 1950s and 1960s.
"Today, we have more young black males incarcerated than at any time of our history. … We've seen videos of unarmed black men and boys being killed by police officers with such frequency that it's mind-numbing. Virgie Christian's life and death were shaped by the fear and hate of one race for another. I saw it a half-century ago. And now, a century after the girl's death, we see fear and hate are with us still. What I hope for this novel is that readers will take away empathy and the firm resolve to honor human rights and human dignity. "
Virginia began using the electric chair in 1908 after the commonwealth took over the role of executions from local courthouses, whose competence at public hangings was uneven and occasionally gruesome. According to the Death Penalty USA website, Virginia electrocuted 43 people before Christian, 36 of whom were African-American males. Virginia would not execute another female until September 23, 2010, when inmate Teresa Wilson Bean Lewis was given a lethal injection.
Howell, quoting his book and Christian, gave the following description of the murder:
Ida Belote, a 51-year-old widow and the daughter of a prominent Hampton grocer, sent for Christian, then 16, to do her laundry. The teen told her disabled mom that she didn't want to go because Belote was unpleasant. The widow, in the past, had accused her of theft of items that later turned up. When Christian arrived, Belote confronted her about a missing locket, an argument ensued, and Belote threw a ceramic spittoon at Christian, breaking it across her shoulder. Both went for sawed-off broom handles, with Christian grabbing one first and beating her employer. To silence Belote's screams, she stuffed a cloth in her mouth, suffocating her.
During a newspaper confession, she said she didn't realize Belote was dead and didn't mean to kill her.
"There were many calls for her to be lynched," Howell said Wednesday. "They were really afraid of mob violence." After her execution, her family did not have enough money to bring her home; a Hampton undertaker paid for her transport and burial out of his own pocket.
Howell was inspired by Derryn Moten's 1997 dissertation, "A Gruesome Warning to Black Girls: The August 16, 1912 Execution of Virginia Christian." A copy of the manuscript "Come On, Children: The Autobiography of George Washington Fields, Born a Slave in Hanover County, Virginia," was provided by Fields descendant Ajena Cason Rogers, supervisory park ranger at the Maggie L. Walker National Historic Site and a descendant of Christian's lead attorney.
Howell used documents in the Library of Virginia collection for his research and in the book. A new exhibition at the library, "Forsaken: The Digital Bibliography," includes documents referenced in the book, including court records, newspaper articles and the coroner's inquest for Ida V. Belote.
"After a century, Virginia Christian is telling her story in full, as she had hoped in her lifetime," Howell said. And now, we can bear witness.
(804) 649-6815
Twitter: @RTDMPW