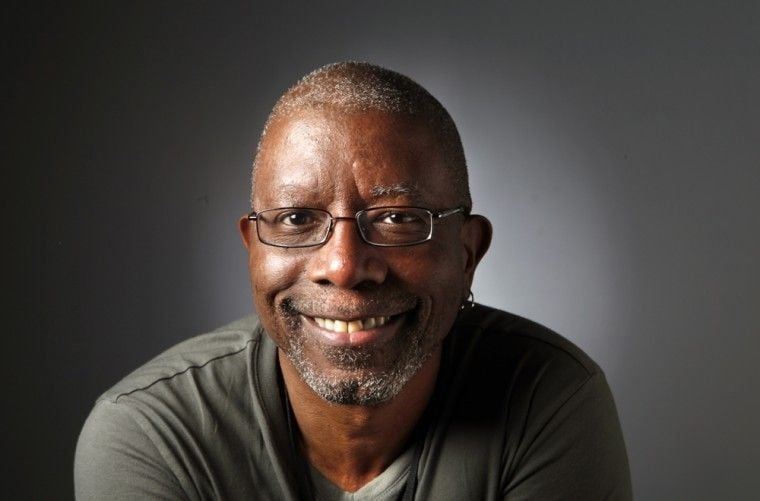 In the police body camera footage, the car rolls through a red light on Chesterfield Avenue as it turns right onto East River Road in Ettrick.
An unmarked Chesterfield County police car flashes its lights and pulls the vehicle over. The traffic stop seems unremarkable until an officer wearing a body camera asks the driver — by now, standing outside the car at the officer's request — if he's in possession of anything illegal. The driver attempts to tell the officer he has a knife and starts to reach for it.
The knife, as it turns out, was legal. But the situation instantly spiraled from calm to chaotic.
"Don't reach. Don't reach. Do not reach," shouts the officer's partner, who points a gun at the driver from the other side of the vehicle.
"He's got something clipped in front of his pants," he shouts to his partner, as the driver continues to attempt to explain himself. "OK, don't you freaking grab for a knife!"
As the driver, a Virginia State University student, is being handcuffed, the gun remains trained on him for 38 seconds. When the handcuffs are secured, the officer lowers the weapon. Throughout the encounter, a passenger in the car who is also enrolled at VSU remains still in his seat.
The video of this Feb. 4 traffic stop has been a source of contention between the police department and the driver's mother, Yesha Callahan, deputy managing editor of The Root, who has written about the incident for the Washington-based online publication.
Callahan's inability to obtain a copy of the video, despite a FOIA request, has grated on her.
Chesterfield police have offered several reasons for not releasing the video, as documented in a story in Sunday's Richmond Times-Dispatch. After the Times-Dispatch began asking questions about the department's shifting rationales for keeping the video private, the department invited Callahan to view the footage at its Iron Bridge Road headquarters. On Monday, Chesterfield police invited me to view the video after I contacted them, and they said Tuesday that anyone else could arrange to see it as well.
I took them up on the invitation to watch the body cam videos, the longest of which runs just under 15 minutes.
The videos confirmed the police department's version of events. But the "right" and "wrong" of this situation is not so simple.
If you're a police officer, that glimmer in the waistband can be your life flashing in front of you.
If you're a young man with that gun pointed at you, 38 seconds can seem like a lifetime, especially if you've landed in this situation for a minor traffic offense.
If you're a young black man, you're recalling other videos. You may be thinking about Philando Castile, the Minnesota man shot to death in July 2016 by a police officer who feared Castile was grabbing for the legally owned firearm that he had alerted the officer that he possessed.
The elders' instruction to young black men on how they should behave when stopped by police has become a sad rite of passage.
Callahan's son survived. The police search of his car — officers said they smelled marijuana — turned up nothing. The young man was not charged with an offense.
"We exercise our discretion. In this particular case, you've got a young man who was respectful. We believe that the traffic stop in and of itself had the desired effect," said Col. Jeffrey S. Katz, Chesterfield's chief of police. "We don't think he's going to be running red lights in the future."
Beyond the seconds in which Callahan's son was held at gunpoint, the interactions between police and the two students were informal, and even jocular at times, their exchanges peppered with "my bad" and "my man."
"You understand why things went down the way they did, my man? So next time, just verbalize it," one officer said toward the end of the stop. He added: "Don't be reaching for stuff, my man. That's how things happen."
But this is not a case of no harm, no foul.
Callahan said Tuesday that her son wants to transfer from Virginia State University, which, to be fair, has had problems with violent crime on campus unrelated to this traffic stop.
"You say, 'Sure, he's lucky he didn't get shot,'" she said. "But living through something like that can be traumatic and cause PTSD. I didn't send my child to college to have to deal with excessive force or deal with police officers who don't know how to police the community at their end."
Katz says part of the reason the department has not released the video to Callahan is that she has "an anti-law enforcement agenda."
To which Callahan replied: "The agenda is, why did you point your gun at someone? Why did you feel that was necessary? ... I have an anti-law enforcement abuse agenda. I have an anti-police brutality agenda."
She doesn't understand why her Freedom of Information Act request for the footage was rejected, something she said has never happened to her before in requests to police.
Department spokeswoman Elizabeth Caroon said Monday that internal investigations, including those initiated by community complaints, are exempt from FOIA and it is the department's practice not to release information, including videos, related to those investigations.
"That being said, it is not uncommon for us to invite community members in to view videos related to complaints they have made. We invited Ms. Callahan to view the video; she has indicated to us she could not come view the video because her attorney was unavailable to join her. In her conversations with us, she has never expressed concerns about the driving distance."
Katz, the police chief, doesn't buy Callahan not wanting to drive 2½ hours to see the video.
"I've got a daughter who's a senior at Florida State University," he said. "If a similar incident occurred, I'd be on a plane down to Florida State, down to Tallahassee, because I'd want to see the video."
But if it's available for viewing, why not just release it?
"I believe we have a responsibility to maintain custody of the video and not put it in the public domain," he said, "because we want to ensure that it is not spliced, that voice overs are not placed over it and that we can maintain and control the authenticity of the video. But we are more than willing to share the video with anybody who wants to come in and view it."
Katz acknowledged that the contentiousness between the department and Callahan, a journalist, has been factored into the decision not to release the footage. But whatever Callahan's attitudes are about law enforcement, they should not have any bearing on the dissemination of this information. Among public servants, matters of transparency should not be governed by whether or not you like someone.
"This is a video we would want out in the public," Katz said. "There's nothing in the video bad for the officer or bad for the department or bad for the profession."
But the public, in the final analysis, should be the judge of that.
(804) 649-6815
Twitter: @RTDMPW