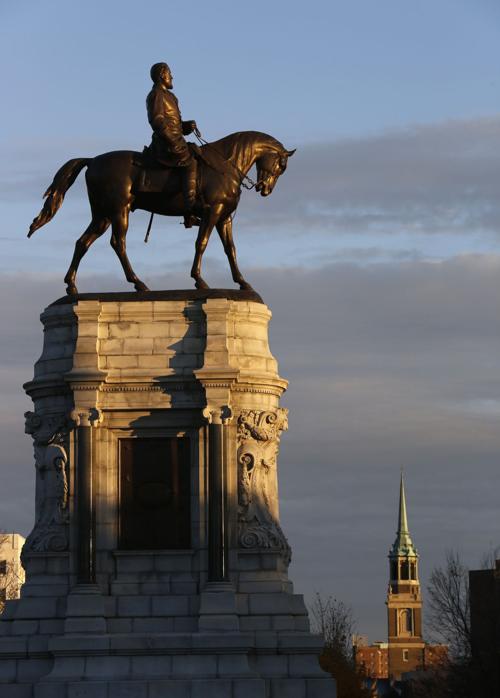 Jesse Jackson, during a visit to the Richmond Times-Dispatch last week, was asked about the vote by the Charlottesville City Council to remove a nearly century-old statue of Robert E. Lee from a city park.
"To keep on flashing these symbols and statues, they should be put in perspective, maybe a museum, or if they stay where they are, write up a true story of what they represent," the civil rights leader said.
Jackson's point of view possibly reflects the mainstream in Richmond, a city where the grip of Confederate glorification may be relaxing enough to allow room for a more balanced perspective.
On Saturday, historians at an American Civil War Museum symposium addressed the question of what should be done about the Confederate statues. Such a discussion would have once been unthinkable in a city where a burning question after the election of the first black majority on City Council 40 years ago was: What will become of Monument Avenue?
"I believe that what they described is as close to a consensus as historians would have (on the need) to explain what these statues are, how they came to be," Edward Ayers, a historian and president emeritus of the University of Richmond, said Monday. "The fact that you could hear people from pretty different perspectives saying that's an important next step is something we can build upon."
Mayor Levar Stoney said that when he was secretary of the commonwealth, his office worked with Ayers prior to the 2015 UCI Road World Championships to provide context on Monument Avenue beyond its "Lost Cause" narrative, a nostalgic take that portrayed the Confederate cause as noble, rationalized its defeat and downplayed slavery's role in the war. The Lee monument, erected in 1890, led the revisionist charge.
They ran out of time, but Stoney said he wants to finish this task as mayor.
"The city is owed some context on each of the statues that stands on Monument Avenue," he said Monday. "I talked about it during the campaign, and I'm about fulfilling my campaign promises. So it's on the agenda"
It won't happen overnight, he said, but "I will do everything working with the community to be sure we get there." And the public will be involved in providing the context, he said.
This is not a back-burner issue.
"There's no reason to wait. The problem's not going to fix itself," Ayers said. A first step would be for people who know the history of the statues "to put them forward in public spaces, virtual and physical, for people to comment on."
He likened the process to that of the Future of Richmond's Past, the conversations that took place around the 150th anniversary of the Civil War and emancipation, "in which the process is as valuable as the outcome."
The interpretation issue was on the table during the administration of Mayor Dwight C. Jones and involved representatives from the tourism community, including the Maggie L. Walker National Historic Site of the National Park Service. But the clock ran out on Jones, just as it did on Stoney and Ayers in advance of the international cycling competition.
Ellyn Parker, Richmond's public art coordinator, said a draft of the Public Art Master Plan recommends that the Public Art Commission be a partner in contextualizing Monument Avenue.
A significant part of the 150-page document — which will require approval from the art commission, the Richmond Planning Commission and the City Council — is "to use public art to reveal many layers of Richmond," Parker said.
The June 2015 mass murder of nine black churchgoers in Charleston, S.C., by a white supremacist served as an impetus for some municipalities to re-examine their Confederate symbols. New Orleans' City Council voted in 2015 to remove four Confederate monuments, triggering an unresolved lawsuit.
Christy Coleman, CEO of the American Civil War Museum, said at Saturday's symposium that we must recognize in Richmond that the landscape is big enough to express all of who we are.
On Monday, she said via email that adding context to existing Confederate statues and erecting more (history-balancing non-Confederate) monuments is a "more viable and reasonable" option than relocating Confederate statues.
This debate moved closer to home this month when the Charlottesville City Council voted to remove a statue of Lee from a downtown park named in his honor.
"Charlottesville, for a long time, didn't acknowledge that it had a Civil War past," said Ayers, previously dean of arts and sciences at the University of Virginia. He recalled giving a talk where he chided residents that "somehow we went directly from Thomas Jefferson to today."
He asked the audience: "You have noticed you have a giant Robert E. Lee statue in town?"
Charlottesville's attachment to Lee and the Confederacy is no match for Richmond's. And removing statues from Monument Avenue is complicated by the fact that not all of them are under the city's control.
Still, the conversation has shifted, Ayers said. We have grown from a community that didn't talk about its past as a major domestic slave-trading market to one that has reached a general consensus on the need to commemorate that legacy. "On the flip side, there are statues that are literally monumental that we don't really know what they mean to us."
"Just as we made the Slave Trail visible, let's make the process by which the statues emerged visible," Ayers said.
(804) 649-6815
Twitter: @RTDMPW